This is the 2nd Day of 5 Days of Dinner Salads and also something very special to bring to you all. I was asked by fellow blogger Kim to join her in this special post. I lost my dad to heart disease many years ago, so this is also personal for me. Dad loved good food and I cooked for him often even from a young age. He would have loved this one, as he had a great appreciation for Japan. This is for you Dad, I miss you!!!
Today we are joining together to help raise awareness for Heart Disease. Kim of Cravings of a Lunatic lost her Mom to heart disease when her mother was 47, and Kim was 15. Each year on the day her Mom passed she shares stories and photos of her Mom. This year she joined forces with Jen of Juanita's Cocina, whose life was also touched by heart disease when her Stepfather had a heart attack. Jen's Stepfather is alive and well more than a decade later, and for that, Jen is thankful every day. The ladies got in touch with other bloggers to ask them to share their own stories about how heart disease has touched their lives. So today we share stories and recipes from our hearts to yours, in memory and honour of Momzie, Kim's Mom. We hope you will share your stories with us today as well.
Sesame and Grape Seed oils are very heart healthy. Check out the benefits in the links I offered. We love to eat a lot of different foods in this house. We do have well rounded meals with lots of fruits and fresh vegetables always included.The little crunchy noodles are not the healthiest but you only have to have a small amount of them to have a big impact. Everything in moderation. One small Ahi tuna steak feeds three people so it doesn't have to be really expensive either. All of these wonderful ingredients make up this heart healthy meal that you can have done in not time and the dressing is delicious!!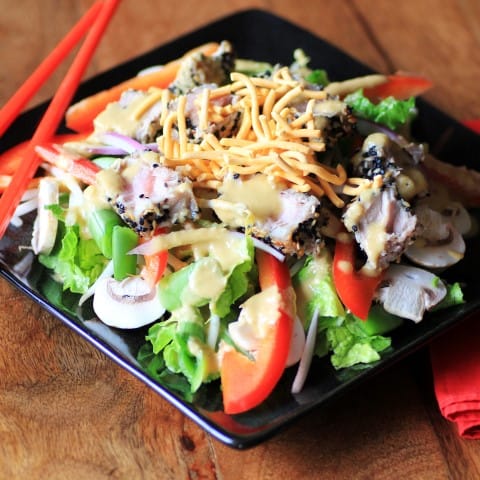 Ahi Tuna Salad
Prep time:
Cook time:
Total time:
Ahi Tuna Salad is a heart healthy meal.
Ingredients
Dressing
½ medium sweet onion, chopped
¼ cup grapeseed oil
⅛ cup good quality olive oil plus 1 Tbsp. for cooking
1 tsp. powdered ginger
1 tsp. sesame oil
1 large clove garlic, minced
2 Tbsp. rice wine vinegar
1 Tbsp. lemon juice
1 tsp. Umani paste
1 Tbsp. low sodium soy sauce
1 tsp. powdered wasabi
Salad
1 Small head of romaine lettuce, washed and torn
1 red pepper, sliced
6 large mushrooms, sliced
1 cup bean sprouts
¼ red onion, sliced
12 snap peas, cut in half
1 medium ahi tuna steak
black sesame seeds
sesame seeds
Salt and pepper
Chow Mein Noodles
Instructions
In a blender add all the dressing ingredients and whirl until smooth. Set aside.
Assemble salad using the romaine, red pepper, mushrooms, bean sprouts, red onion and snap peas onto three plates.
Cut ahi tuna steak into 1½" wide logs. Mix sesame seeds together. Salt and pepper and roll in sesame seeds. Heat olive oil in a cast iron pan and cook tuna for 1 min. per side or until desired doneness. Tuna should be on the rare side.
Slice into small pieces and arrange on salad. Drizzle with dressing and garnish with chow mein noodles.
Enjoy all these wonderful dishes and rest assured they are on the healthier side.
Spicy Oven Fries by Cravings of a Lunatic
Healthy Snacking with Radish Dip by Juanita's Cocina
Arugula, Walnut Pesto by Dinners, Dishes and Desserts
Farro, Apple & Pecan Salad by It's Yummilicious
Chicken-Quinoa Burgers with an Avocado Yogurt Sauce by The Spiffy Cookie
Pasta House Wilted Salad by Frugal Antics of a Harried Homemaker
Gooey Peanut Butter Oatmeal Chocolate Chunk Bars by The Cooking Actress
Dark Chocolate Covered Walnuts by All Day I Dream About Food
Mini Pear Walnut Crisps with Blood Orange Caramel Sauce by Chocolate Moosey
Kung Pao Chicken Tacos by The Dutch Baker's Daughter
Honey Soy Glazed Salmon by Curry and Comfort
Apple Walnut Spinach Salad by Magnolia Days
Broiled Salmon Gyros with Cucumber Feta Yogurt Dip by Damn Delicious
Maple Mustard Glazed Salmon by That Skinny Chick Can Bake
Make-Ahead Chocolate Oatmeal by Crumb
Hoisin Flounder by Taking on Magazines
Roasted Red Pepper Hummus by The Girl in the Little Red Kitchen
Cheesy Quinoa and Asparagus Bake by Hungry Couple
Ahi Tuna Salad by Noshing with the Nolands
Canapes of Apricot, Goat Cheese, Almonds and Rosemary by Cook the Story
Thai Chicken Soup by From Cupcakes to Caviar
Italian Turkey Quinoa Meatloaf by Rachel Cooks
Black Bean Quesadillas by Pastry Chef Online
Sautéed Rataouille with Quinoa by Whipped
Polenta Rounds with Apples and Cheddar by Diethood
SUBSCRIBE TODAY and never miss a recipe!