I love to take something that is divine already but homey and bring it to the next level. Class it up a bit, make it company worthy!! Looks like you slaved away in the kitchen whipping up an amazing dish when all it is, is something you all have loved and made forever. I had this lovely dish for lunch at E11even in Toronto and knew immediately that I had to recreate it.
Rich and delicious mac and cheese with the briny sweet lobster, an excellent combination!! Serve this for a fancy lunch or a pumped up dinner for company. Whenever you serve it you will get rave reviews. ENJOY!!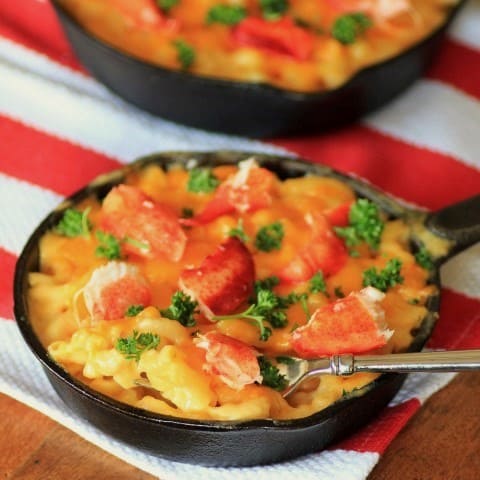 Lobster Mac and Cheese
Bringing mac and cheese up to a whole new level.
Ingredients
6 Tbsp. butter, plus more for dish
5½ cups milk
½ cup flour
½ tsp. salt
¼ tsp. freshly grated nutmeg
¼ tsp. freshly grated black pepper
¼ tsp. cayenne pepper
6½ cups old sharp cheddar cheese, grated
1 lb. elbow macaroni
8-10 oz. cooked lobster claw meat, torn into bite sized pieces
Parsley for garnish
Instructions
Preheat oven to 375F. Butter an 8×11″ and an 8×8″ casserole dishes or one larger pan or small cast iron pans set aside.
In a medium saucepan heat the milk. Fill a large pot with salted water and place on high heat.
In an other medium saucepan melt the 6 Tbsp. butter and then add the flour, stirring and cooking of 1 min.
Whisk in the hot milk slowly and continue cooking and whisking until mixture bubbles and thickens. Remove from heat.
While the milk mixture is still hot. Whisk in the salt, nutmeg, black pepper and cayenne pepper and 5 cups of the cheddar. Stir well with a wooden spoon until cheese melts. Set aside.
When water has come to a boil add the macaroni and cook until 2-3 min. less than manufacturers directions. You want this more underdone than el dente. Drain and rinse in a colander. Stir into cheese sauce.
Pour into prepared dishes, and sprinkle with remaining cheese. Bake for 45-60 min. for the large pans and 20-25 min. for smaller. In the last 5 min. place the lobster claw meat on top. Remove from oven and let cool for a couple of minutes. Garnish with parsley and serve.
Recipe adapted from Martha Stewart
SUBSCRIBE TODAY and never miss a recipe!