As I said yesterday I had received some lovely oils from Blue Door Oil and Vinegar. This made me start to think of pasta but not any ordinary pasta, I wanted something different. I went seeking one of Mario Batali's recipes. Something that would let this good quality olive oil shine through. I found what I was looking for in this delicious pasta. It also ticked off the box of our weekly vegetarian meal. What a delicious dinner this was. Simple ingredients coming together to make something that is so far from simple. Absolutely divine!! I really hope you enjoy this one.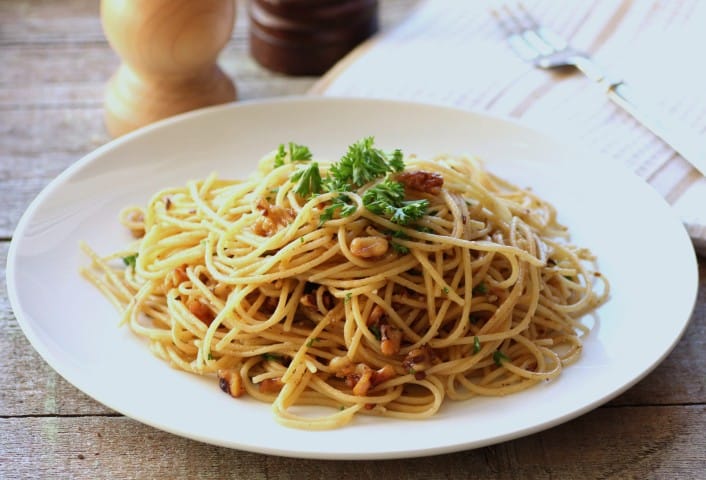 Spaghetti Olio with Walnuts
Prep time:
Cook time:
Total time:
A delicious simple pasta.
Ingredients
¼ cup extra virgin olive oil
3 cloves garlic, minced
1 cup walnuts, roughly chopped
1 tsp. red pepper flakes
1 lb. spaghetti
½ cup parsley, chopped
½ cup parmesan, finely grated
Instructions
Fill a large pot with salted water, about 6 quarts and bring to a boil.
I a large fry pan heat the oil and saute the garlic over medium heat. Lightly brown the garlic then add the walnuts and red pepper flakes and cook until lightly toasted 3-4 min. Remove from heat and set aside.
Place the pasta in the boiling water and cook per package instructions until just al dente. Before draining the pasta add ⅓ cup of the water to the fry pan and stir.
Drain the pasta in a colander and pour it into the fry pan. Place the pan back onto medium heat and toss the pasta with the sauce. When it is heated through stir in parmesan and serve garnished with parsley. Serve immediately

Recipe adapted from Mario Batali

SUBSCRIBE TODAY and never miss a recipe!