For #TheSaladBar this month's theme was sweet potatoes. I kept trying to think of a warm potato salad, a variation of a German potato salad but it never came to fruition in my noggin. I then started thinking more festive, something that would go well with turkey.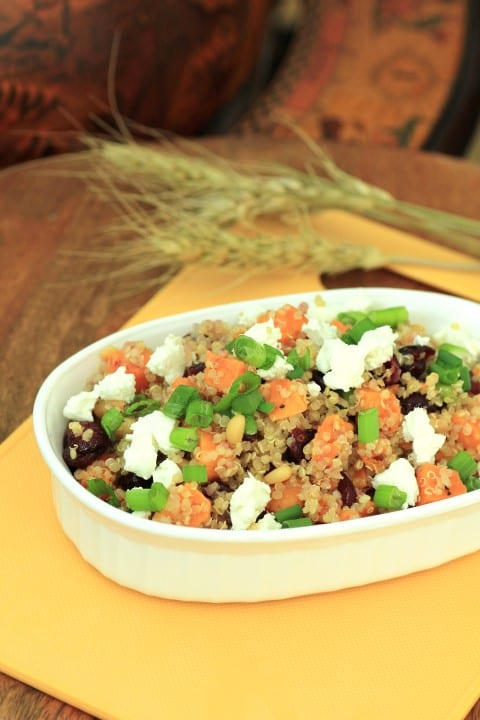 So I added cranberries to start, then went the quinoa root, kept adding a few more ingredients like the crunch from a pine nut and a lovely simple dressing and MAN was this salad good. We had it with a thin quick grill steak. I loved the addition of goat's cheese, it added just the right zing and creaminess. This is a great make ahead salad for Thanksgiving or Christmas. ENJOY!!!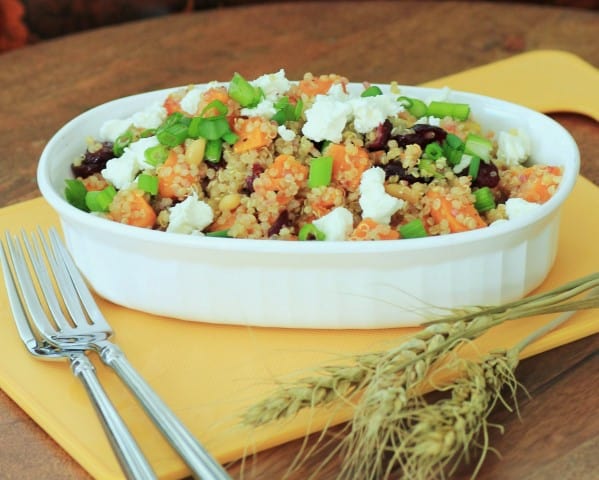 This is a great make ahead salad for Thanksgiving or Christmas. ENJOY!!!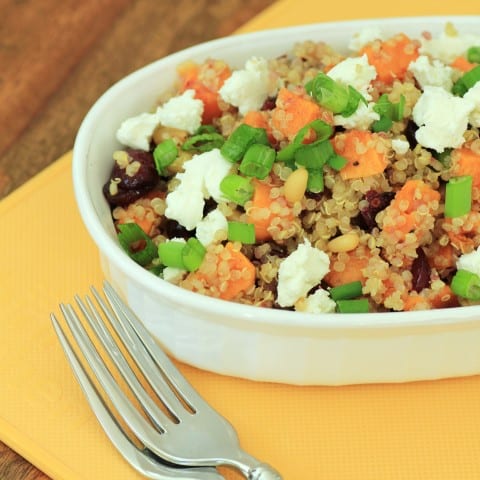 Sweet Potato and Quinoa Salad #TheSaladBar
A great combination of flavors for the holidays!!
Ingredients
2 large sweet potatoes, peeled and cubed
2 Tbsp. olive oil
Salt and pepper
1 cup quinoa, cooked per manufacturer's instructions
½ cup craisins
½ cup toasted pine nuts
4 green onions, chopped
⅓ cup olive oil
3 Tbsp. white wine vinegar
Goat cheese
Instructions
Preheat oven to 350F. Toss sweet potatoes with the olive oil and salt and pepper to taste. Roast for 15-20 min. until browning slightly. Toss again and cook for another 10 min. or until tender. Remove from oven and let cool.
Whisk together the ⅓ cup olive oil and white wine vinegar, salt and pepper to taste. Toss quinoa with craisins, pine nuts and 2 of the green onions. Add the sweet potatoes and the dressing. Garnish with goat cheese and more green onion.
Come and join in the fun monthly on #TheSaladBar Facebook page.