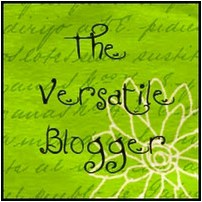 I am very grateful to be nominated for this award from two different sites and will combine them here today. First off a big thanks to Caity from an Awkward Kitchenette. She has a lovely site and lots of great recipes. I love her Taco Egg Rolls of today!!
I have also been nominated by Ormond of Eating With My Family. Another big thank you Ormond!! He also has a great site and I enjoyed this post of one of his Progressive Dinner Parties something I have never done but it sounds like so much fun.
The rules of the award are as follows:
Thank the Blogger who nominated you.
Include a link to their site.
Include the award image to your post.
Include the award image on your blog.
Give 7 random facts about yourself.
Nominate 15 other bloggers for the award.
When nominating other bloggers, include links to their sites.
Let those bloggers know they have been nominated.
Seven Random Facts About Me Are:
1. I love our guinea pigs very much
2. I love to travel and have been to many places in the world
3. I just discovered I really like salted black licorice again
4. I love sitting on the front porch with my hubby
5. My world lights up with a smile from my daughter
6. I love being at home on rainy days
7. A multitude of things make me happy!!
And finally the 15 blogs that I am nominating for this award are:
2. Bev Cooks
4. The Fountain Avenue Kitchen
10. Bakeaholic Mama
12. Chat 'n Dish
15. Spicy Cinnamon
Come and check out all these great food blogs!!