12 Days of Christmas-Safe Holiday Entertaining Tips
It is that time of year where 12 Days of Christmas-Safe Holiday Entertaining Tips is a good idea. There are so many parties to attend and it has to be hard on people that have allergies and dietary restrictions. As a host you should provide a safe meal that all your company can enjoy.
As a person coming to a party or event it should be made it clear to the host what dietary restrictions or allergies there are so the host can plan ahead carefully. Here are 12 Days of Christmas-Safe Holiday Entertaining Tips that will help you through the holidays or anytime of the year.
Safe Holiday Entertaining Tips
The holiday season can present challenges for those at risk of anaphylaxis, a potential life-threatening allergic reaction to allergens such as foods (peanuts, nuts, shellfish, etc). Social activities such as family dinners, work parties, formal events and cocktail parties often mean exposure to food allergens that may be dangerous.
Knowing what to do, look for and ask can help alleviate the uncertainty associated with holiday dining. Both event hosts and guests can play an important role to help ensure safer and less stressful holiday gatherings.
Hosting a holiday event
The holiday season is a time of joy to share with loved ones, but also a time of caution for those at risk of anaphylaxis, who typically have their guard up over the holidays.
While most will not expect a fully allergen-free environment, precautions taken on behalf of these guests are appreciated, as is a host who is informed about what may or may not be safe for these guests.
Whether hosting at home or at a restaurant, consider the following tips when preparing for festive gatherings that could include family or friends at risk of anaphylaxis to make the holiday season safer and more comfortable for all.
Get informed, ask questions
Commit to accommodating guests with food allergies and decide to what extent you will be able to accommodate their needs within your planned menu
When inviting guests, ask if they are allergic or sensitive to any foods or common allergens
Be open and friendly with guests with food allergies when they ask what will be served, recipe ingredients, precautions planned, etc.
Get familiar with the range of obvious and hidden food allergens and "may contain" warnings – for example, shellfish, peanuts or nuts in baked goods are obvious and easy, but consider nut extracts or that butter is made from milk
Learn about cross-contamination (through shared utensils, etc.)
Prepare meals with care
Be aware that prepared food and ready-made products often contain allergens that may not necessarily be mentioned on packaging
Check product labels to ensure foods do not contain the allergens of guests at risk

Basted or self-basting turkeys can include allergens such as soy, wheat, or dairy. Opt for natural or organic turkeys which are minimally processed and do not contain allergens
Do not prepare allergen-free dishes near non-allergen-free dishes
Wash hands before preparing food and only use clean aprons/towels
Ensure work and cooking space including cutting boards, bowls/plates, cooking utensils, etc. have been thoroughly cleaned and have not come in contact with allergens
Prepare allergen-free meal alternatives first and seal them to prevent contamination
Keep a list of ingredients, recipes and/or product labels to share with guests during the event in case they ask about food contents
Serve with care
Consider placing "Allergy Alert" place cards/labels by specific food items, platters, etc. to warn guests or list potential allergens
Keep allergen-free dishes on different tables, away from the non-allergen-free dishes
Keep allergen-free dishes away from children to avoid cross-contamination
If a sit-down meal, serve guests at risk of anaphylaxis before others to avoid cross-contamination
Attending a holiday event
Although many holiday gatherings include food, those at risk of anaphylaxis should not have to shy away from attending. Friends and relatives of those at risk may be generally aware of food allergens but they may not necessarily live with these restrictions on a daily basis. Indulging safely is easily doable by:
Be proactive
Let the host know about any food allergies when invitations are received so they can prepare
Ask questions about the menu and ingredients, etc.
If the host is a close friend or relative, stress the importance of safe food preparation to avoid cross-contamination

If the event is a catered function, ask the host for the name of the caterer and call to advise them of dietary needs. Most caterers will offer alternatives
Bring safe food
Never eat food if not certain that it's allergen-free. Offer to bring a dish or two to share to have built-in safe options
Bring a dessert since they are often allergen-ridden (or have trace amounts of various allergens). These can be enjoyed by all guests as well
Prepare for an emergency
Come prepared with an EpiPen
Be trained on how to use the EpiPen and train any others at the event, as necessary
Know if there is a hospital nearby
And now for the best part, a dessert that is free of gluten, dairy, eggs, soy, sesame seeds, tree nuts and peanuts and looks divine.
COCONUT MILK AND MANGO PUREE PANNA COTTA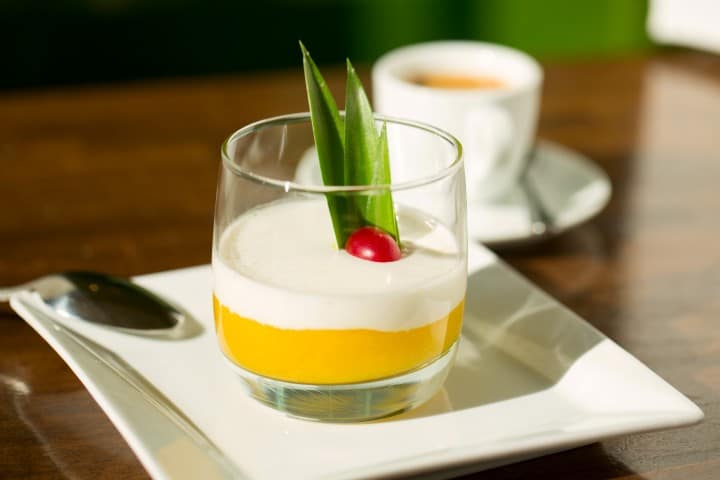 Recipe created by ZERO8 for EpiPen
Makes 4 servings
Preparation time: 20 minutes
Inactive time: 2 hours
Ingredients
1 2/3 cups (400 mL, 1 can) coconut milk, certified allergen-free
2½ oz (7 g) packets of gelatin, certified allergen-free
¼ cup plus 4 tsp (70 mL) white sugar
4 tsp (20 mL) brown sugar
1 mango, very ripe
Juice from 1 lime
1 capful rum, pure (unspiced and unflavoured)
Preparation

Time

Peel mango, remove pit and put fruit in a blender.Add white sugar, brown sugar and lime juice and puree until sugar has dissolved.

Put mango puree in dessert glasses and place in refrigerator.

10 minutes
In a pot, heat coconut milk with white sugar and rum. Bring to a boil and put aside.Dissolve gelatin in a small amount of cold water.

Mix gelatin into hot coconut milk mixture and stir well.

Let cool for 2 or 3 minutes.

10 minutes
Pour gelled coconut milk over mango puree and put dessert glasses in the refrigerator for at least 2 hours.
2 hours