12 Ways How ShelfGenie Changed My Life
Do you have a badly functioning, ugly pantry that really doesn't seem to work for you at all? Well, we sure did! It was the epitome of dysfunction, disorganization, clutter, frustration and really not pleasing to look at, at all! In our last house, we had a huge walk-in pantry, this one didn't even come close to any of our needs. Let me show you the amazing transformation that ShelfGenie did in our pantry and the 12 Ways ShelfGenie Changed My Life.
This has to be my number one for myself and my family. After living out of bins (which were our makeshift attempt at organization) and trying to find where things are, ShelfGenie provided an amazing difference in the ability to be organized. I had tried before but failed miserably due to the situation we were in. There just wasn't enough space for me to be organized. I had spices in 4 different locations before because there wasn't enough room in my pantry to house them. Okay, I might have more than the average person being a food blogger but come on I think we all need a solution for that. Even in my other house with spice drawers built in I didn't have enough room, because odd shaped spices didn't fit in my drawers.
2. EASE IN LOCATING INGREDIENTS
I used to be dragged into that black hole trying to locate items. With ShelfGenie, everything has its place. Everything is made to order, made for what you buy, how you shop, what ingredients you have and purchase regularly. The professional designer, Kathy, and I worked together to create a pantry designed just for me. Completely custom for our needs. Now everything is within reach.
Do you find old items in the back of your pantry that are out of date? I found loads and also found many of two of each as I couldn't locate one when I needed to. Things that you totally forgot about. With everything being more accessible, you can check easily for outdates and keep a fresh pantry at the ready.
Things were disorganized and messy. With ShelfGenie, the entire pantry was cleaned up and now it is so easy to keep clean. The drawers are a quick wipe and the mess stays contained and not falling through from one shelf to the next. I find a lot of people like the wire shelving but I don't understand why, if something spills it is everywhere. This was the case with my last pantry.
Rooting around in my old pantry was a big waste of time when I was trying to locate an ingredient. Very little was done quickly, it all consumed time in finding things and putting them away. Now each area houses just those items and putting away groceries couldn't be faster or easier.
When I couldn't easily locate something in my old pantry, well I didn't think I had it so I bought it again. It was really amazing the amount of duplicates we had and they were wasted as most had expired dates.
I know you will agree our other pantry was pretty hideous when you see the pictures and we had an awkward, difficult space to utilize. ShelfGenie uses real gorgeous birch wood it is very esthetically pleasing. It is amazing construction.
We have a true feeling of freedom from a cluttered, under achieving area of our kitchen. What a wonderful feeling to feel free and decluttered, a perfect spring feeling, you can have at anytime of the year.
We were so frustrated by our situation, not being able to find ingredients when you need to. Having duplicates, paying more for throwing away groceries, having spices in 4 different locations, just to name a few of our day to day frustrations that having ShelfGenie has solved.
We had a difficult space to work with, our pantry is awkward. I had a custom cabinet maker in and he didn't have any ideas for me other than my current situation. I had a kitchen designer in and he didn't have a great solution either. ShelfGenie with their ability to customize each space made use of every inch giving us ample space and changing the compact little pantry into one where I still have extra storage.
All of the drawers are made from quality parts that withstand a load of weight. The spinners in the center of our new pantry are solid construction and able to carry the heaviest of objects, like my big flour and sugar bins, pasta, rice, potatoes, onions and more.
I am short and Ken is tall but with ShelfGenie I can get easy access to all that I need in the pantry. With their easy glide shelves things are always within reach.

Now let me take you on the journey from our hideous pantry to our new divine one and show you all the details that can be now at YOUR arms reach too. Wonderful solutions for every need.
Did we like anything about our pantry that we were now stuck with, the resounding answer was NO!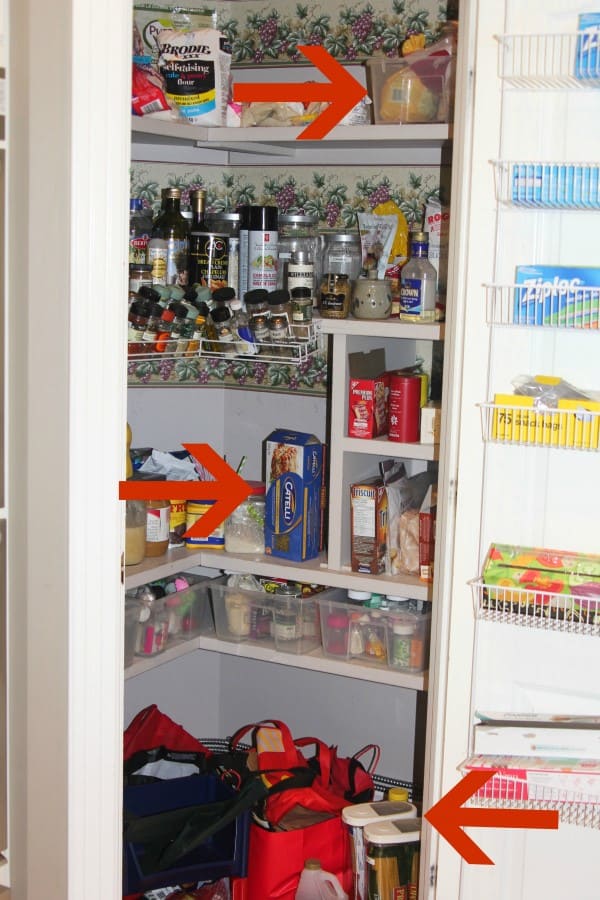 I had three perfect places for pasta, NOT!! Who could really find anything in there??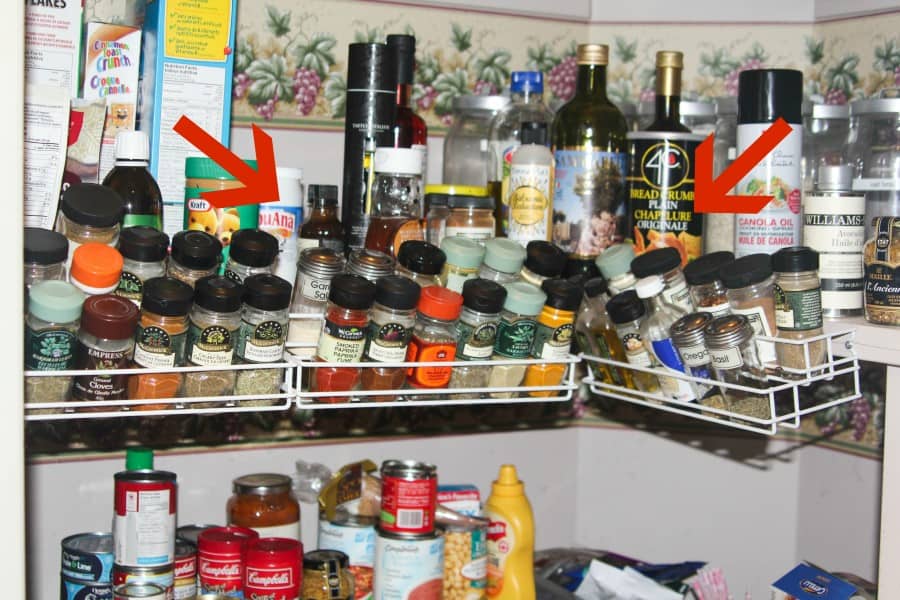 There were these little makeshift spice racks in the pantry, which were pretty much useless. They only housed about a quarter of my spices and anything slightly odd shaped had to go elsewhere. A complete disaster for any home cook, running from place to place to find spices.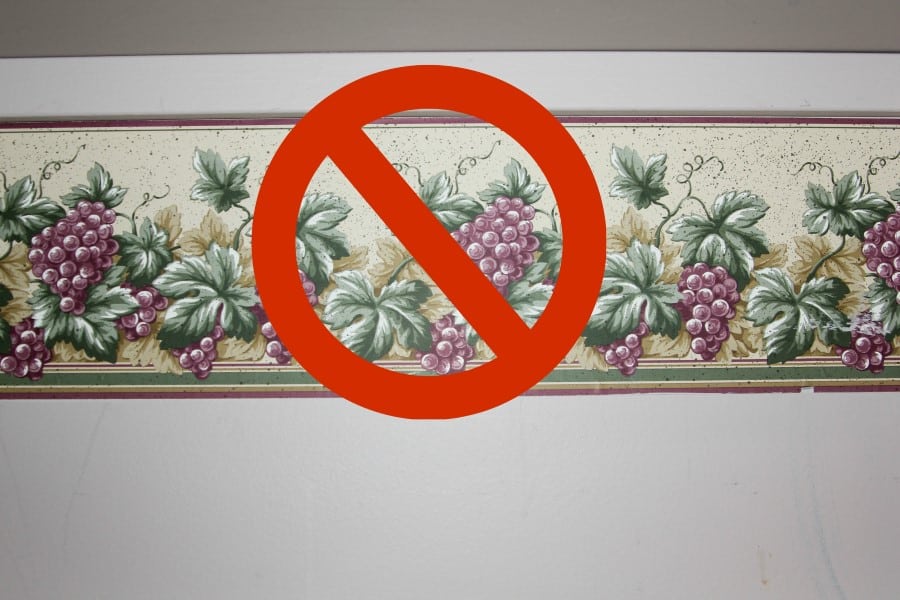 Do not wallpaper this inside of your pantry, EVER! This was a major contributing factor to the hideousness of my pantry. Not sure what some people were thinking, maybe grasping at straws to somehow make the pantry seem better.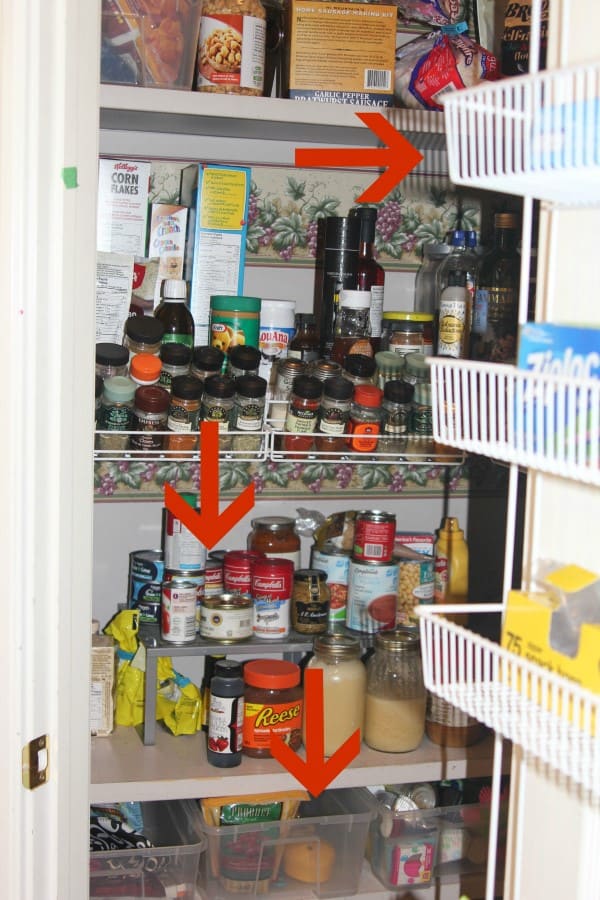 Even with a rack on the door, shelves and bins it still wasn't a great situation. Everything was just not working. The rack on the door, didn't hold longer items like parchment paper, wasn't wide enough to have two boxes deep. The shelves underneath only housed smaller items and that is where things got lost. And the bins you had to drag in and out to find anything. So not working well at all.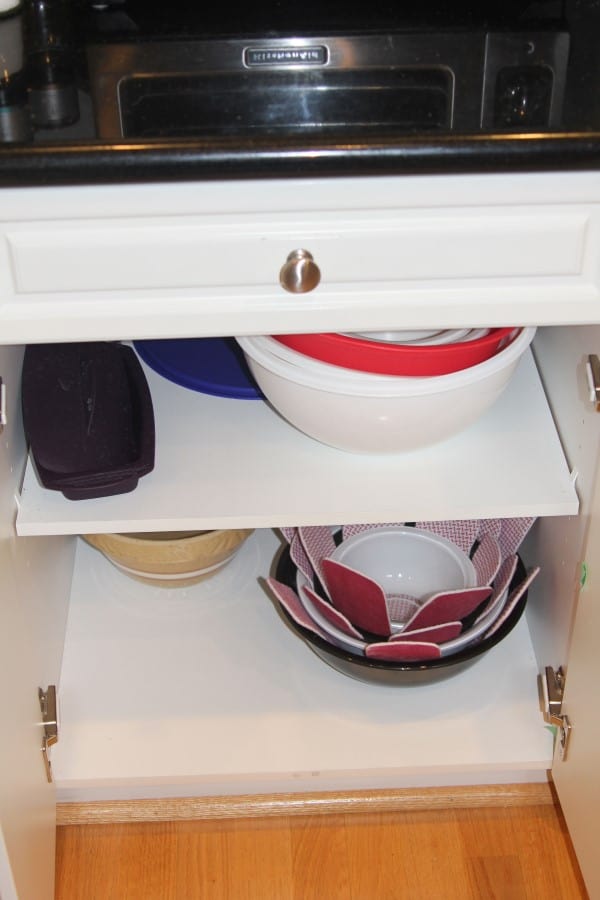 I also had a very underutilized cupboard beside the stove that just housed large bowls. This you will see has a much better use coming up. Okay, let's move on now to the home improvements that ShelfGenie can so easily provide.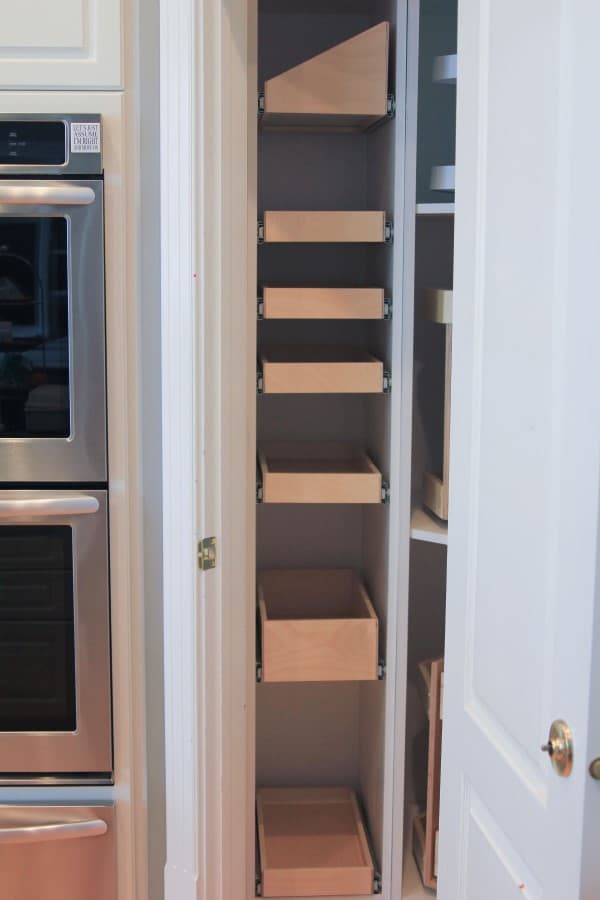 With the help from my personal designer/organizer, we got to designing the new pantry. Everything was drawn up to our personal specification. Kathy was fantastic in giving direction as to what she felt would best suit our needs. Cereal on the bottom, next up is oils and vinegars, then canned goods galore and taller items like chips and munchies. They are best at a higher height to and not at eye level for everyone.
Installation was a breeze and Sascha, the installer was very efficient and professional, coming up with last minute adjustments that he thought might help us better too.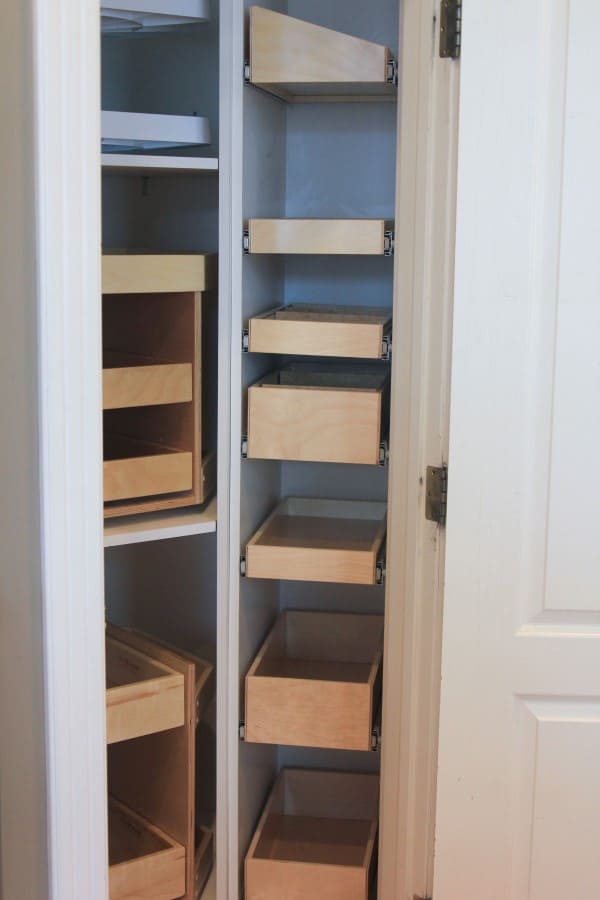 This other side had deeper bins for my different flours, then specific drawers for baking supplies, and drinks like coffees and teas. The middle three spinners can house my large items.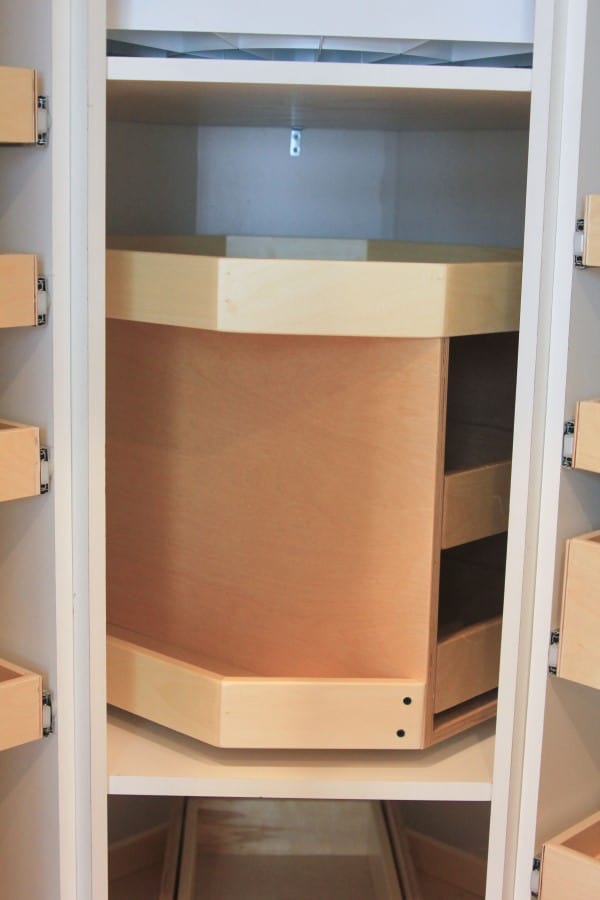 These spinners in the middle are a power house of construction. The middle drawers pull out while the entire unit spins. They are extraordinarily sturdy and can house an amazing amount of items.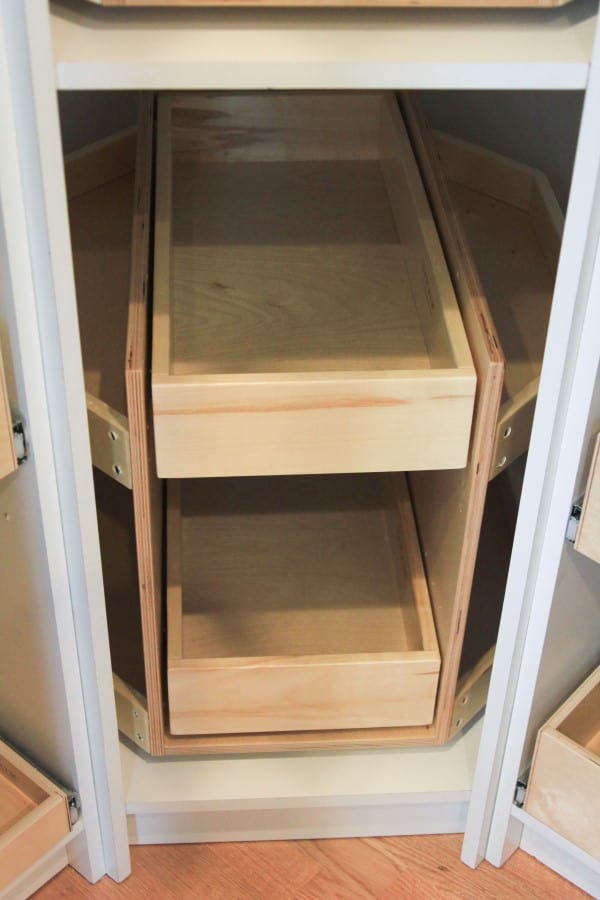 Here is a look at the bottom unit, you have storage on either side, plus drawers that pull out and slide beautifully to a quiet stop, and the entire unit spins, sheer brilliance. So what about that cupboard beside the stove, here let me show you that transformation.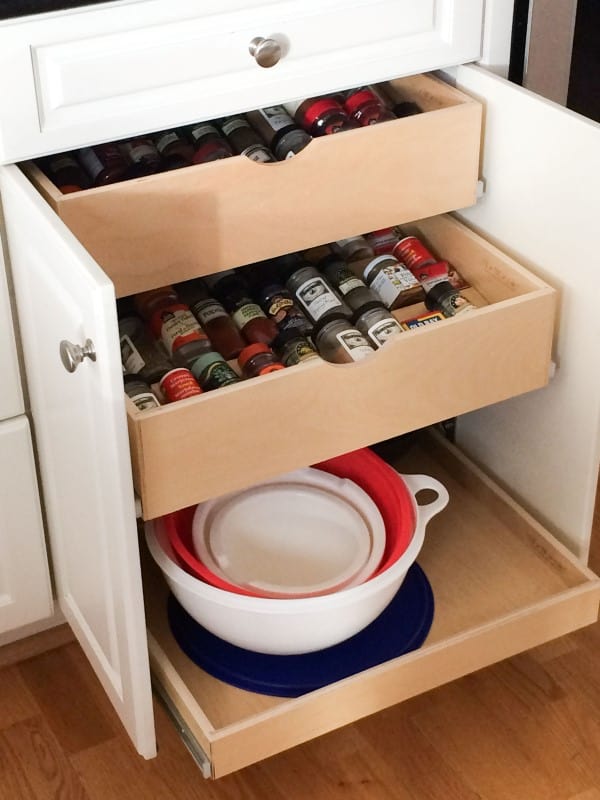 All of my bowls fit on the lower shelf alone and with the easy glide out, you can have big bowl at the back!! Most importantly though, all my spices fit into these two deep drawers. Odd shaped spice jars or large jars are not a problem. I couldn't believe the room they have. I have had spice drawers before but never this fabulous. This alone solved so many of my issues.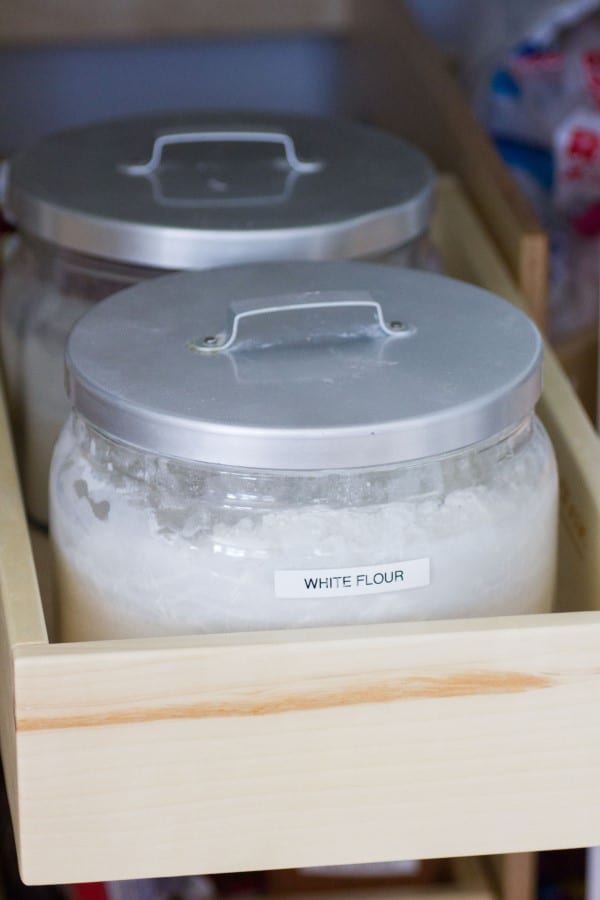 Let's take a look at some other details like where my big flour and sugar are now housed. They are on the top drawer of my lower spinner. Before I had to pull one out to get at the other and they are heavy. Now the drawer glides out and I can easily access both of them without even lifting the container out of the drawer, so easy, so simple, so fabulous.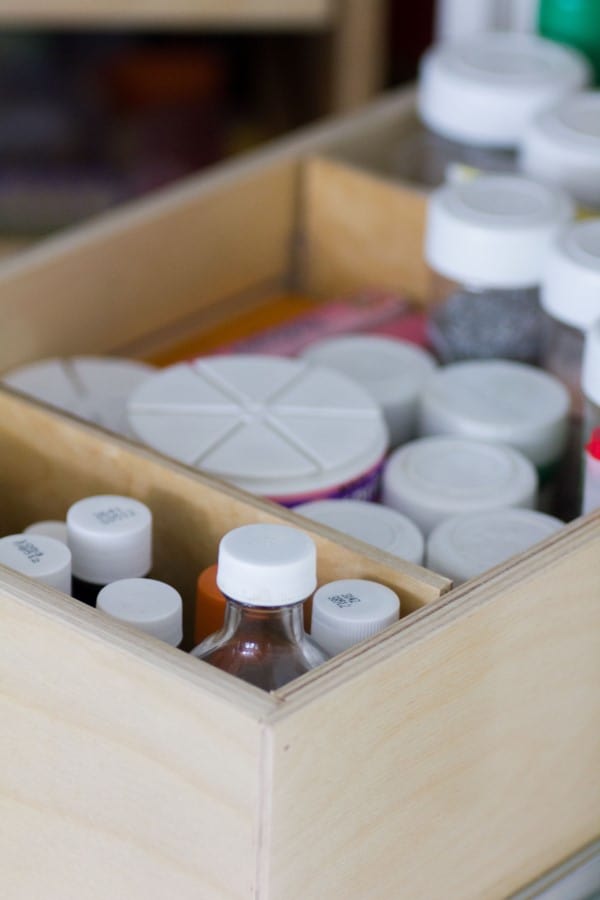 I have lots of little sprinkles, flavoring, dyes and baking needs and this drawer with the dividers is brilliant. Everything is housed and in its' place. A quick peak and I can easily grab what is needed.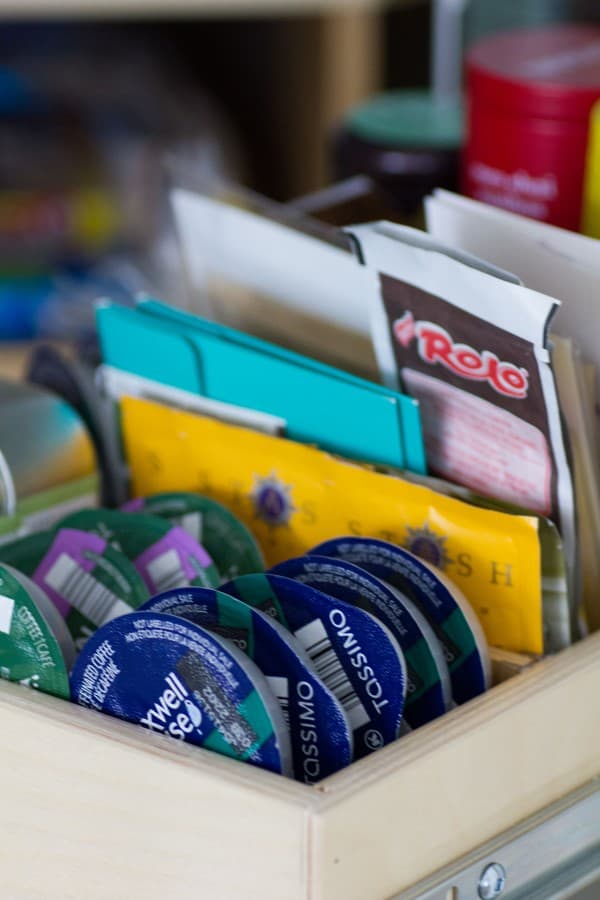 Another drawer I love is the one that contains our beverages like coffee, teas, hot chocolate and more. The discs are up front followed by a selection of our other drinks, the little dividers slide as your needs change.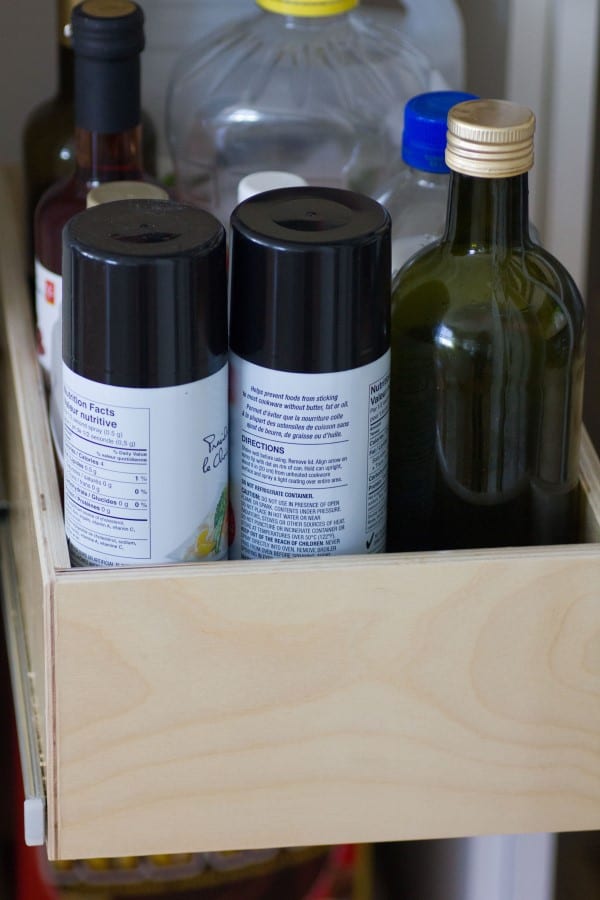 Olive oils, cooking spray, vinegars have found a home in this nice deep drawer. I still have drawers that are half empty and once I work through some more of my doubles I will have even more room. It really is truly amazing how ShelfGenie has transformed my tiny pantry into such a huge space.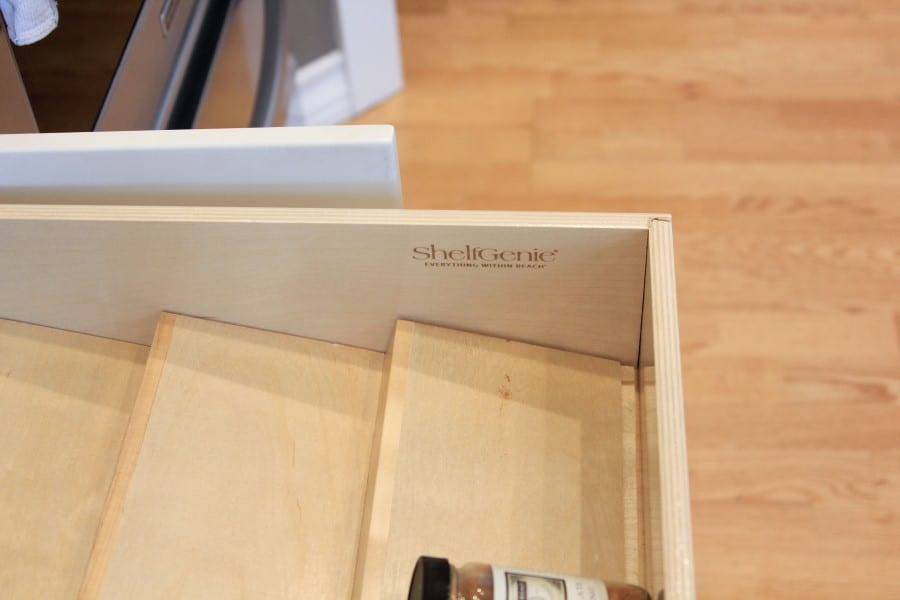 I love their logo, so fitting, "Everything Within Reach"!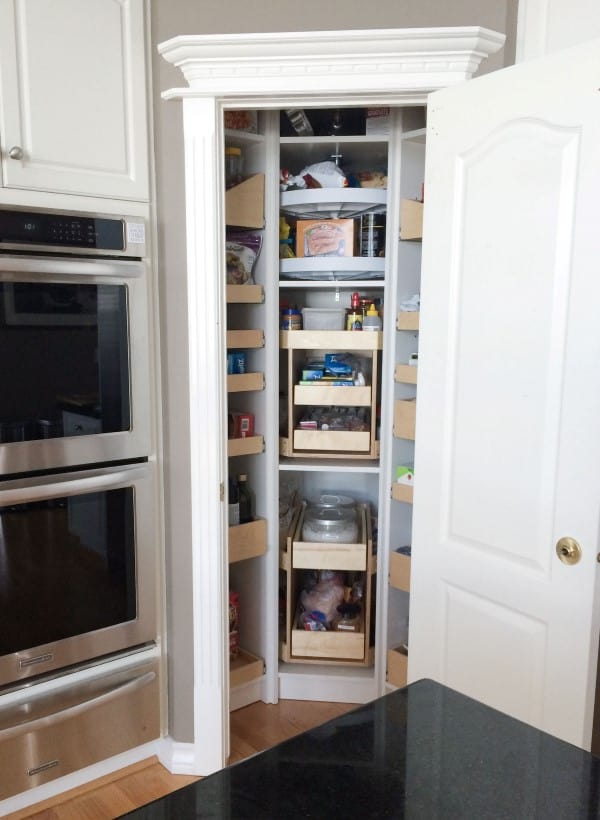 And tada, here is our new very efficient, clean, tidy, well organized, free from clutter and frustration wonderful new pantry. Come over to ShelfGenie to see all their amazing storage solutions. They have some for almost every room in the house.
To see what ShelfGenie can do for your space, call them at 800-362-1068. If you call now, ShelfGenie will even give you a special offer. You'll get 50% off installation with the purchase of five or more Glide-Out shelves. To take advantage of this special offer for readers of my blog, call 800-362-1068. Be sure to mention this blog when you call!
The ShelfGenie offer and testimonials that appear on this site are related to an endorsement agreement with ShelfGenie, from which I receive compensation. Opinions expressed here are mine alone.