A Valentine's Day meal should be something special and seafood is always memorable. With as many kinds of seafood delicacies as cioppino has to offer it is sure to please. A veritable feast for your senses. We have been working on this recipe for awhile, trying to perfect it, we are getting close. Here is what we have come up with so far.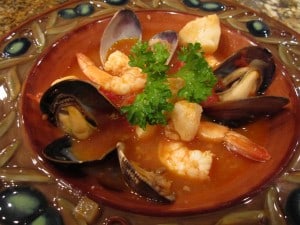 3 Tbsp. olive oil
1 onion, chopped
3 large shallots, chopped
2 tsp. salt
12-16 cloves of garlic
1-2 tsp. crushed red pepper flakes
1/4 cup tomato paste
1 28 oz. diced tomatoes
1 1/2 cups dry white wine
5 cups chicken stock (fish stock if you can find it)
1 bay leaf
1 lb. clams, scrubbed
1 lb. mussels, scrubbed and debearded
1 lb. uncooked large shrimp, peeled and deveined
1 1/2 lb. firm fish such as halibut or sea bass
Precooked snow crab claws (optional)
Heat the oil in a very large pot and saute onion and shallots until translucent. Add garlic, red pepper flakes (to taste) and salt and continue to saute about another 2 min. Stir in tomatoes, tomato paste, wine, stock and bay leaf. Cover and bring to a boil, reduce heat to low and let simmer for 30 min.
Add the clams and mussels and let cook for 5 min. Add the shrimp and fish and let simmer gently for another 5 min. until shrimp and fish are done and mussels and clams are open. Discard any that have remained shut. If using the snow crab claws place them in gently about 2 min. prior to the dish being finished to just heat thru. Serve immediately with crusty bread. Now that says "cara mia, ti voglio bene".