16 Foodie Gift Subscription Boxes for the Holidays
The holidays are coming rapidly now! Have you started to think of gifts? 16 Foodie Gift Subscription Boxes for the Holidays will give you a start!
I love a great mail-order type of gift; not only is it easy for me, but it is exciting for the recipient too. For some of these gift-giving companies, they offer a subscription so you can give a 3 month or year subscription depending on how much you are willing to spend. You can also do a one-off too!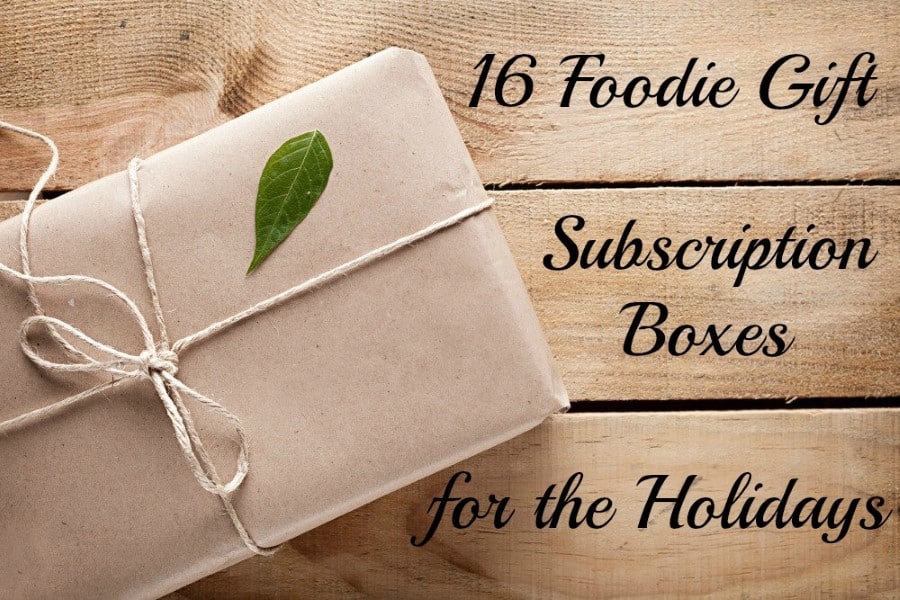 These are new to me but such a wonderful way of sharing the love of food with your family and friends.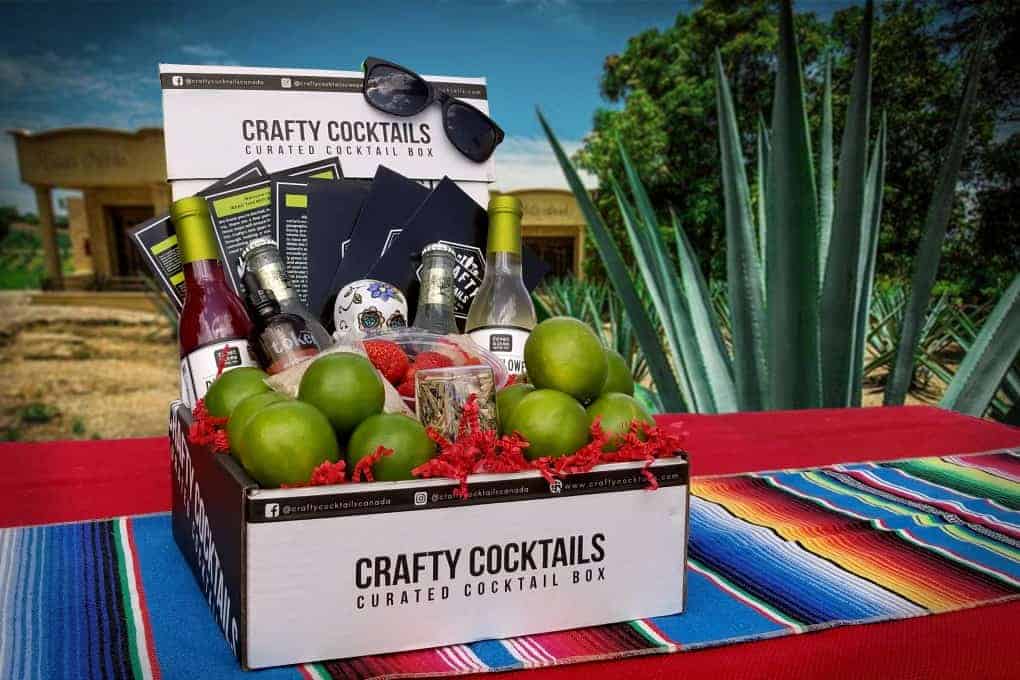 Many of us have sat at a bar on a busy night. Watching in fascination as the bartender twists and turns, stirs and muddles, pours and shakes, chats and laughs, all the while putting out a constant stream of cocktails without hesitation.
It is always fun to watch, and even more fun to imagine yourself in their position. While turning your kitchen into a place where cocktails flow freely can be a challenge, a curated box from Crafty Cocktails makes this transformation easy.
Making it Easy for You
Searching for recipes, running around grabbing unusual ingredients, worrying if you are shaking the drink correctly or using the right amount of lemon juice, by the end, you barely enjoy the drink you went through so much effort to create. Crafty Cocktails have been through this too many times. They were inspired to make it easier for everyone to enjoy a craft cocktail in the comfort of their own home.
Their carefully curated boxes are full of exciting drink recipes using fun and unique ingredients and give comprehensive, step-by-step instructions from the pros to make sure your cocktail comes out perfectly. Have a quiet night at home with a loved one, invite a couple of friends over for a night of casual fun or plan a crazy cocktail extravaganza, there's no wrong way to enjoy a Crafty Cocktail box. Just make sure to have fun while you do it! So what are you waiting for? This weekend, Make A Night In, A Night Out!
Now wouldn't something like this makes the best gift for the foodie on your list or for anyone actually! Altogether I have a list of 16 Foodie Gift Subscription Boxes for the Holidays, ENJOY!
This post contains affiliate links. As an Associate, I earn from qualifying purchases.
DIY cocktail boxes! Crafty Cocktails is a Canadian box subscription service that aims to take the edge off of home-bartending. Each month they send you 3 unique, easy-to-follow recipes with all of the pre-portioned ingredients (except the booze) to mix 4 of each recipe. That's 12 upscale lounge quality cocktails in a box! Spice up your next cocktail party with friends, impress a date with your mixology skills or just improve your overall cocktail culture knowledge. Know someone that loves cocktails? Crafty Cocktails offers a simple gift-a-box service which makes it easy to send a single box or a cocktail box subscription to a friend. Crafty Cocktails website is full of useful tools to help you step up your mixology game. Recipes, blogs, "How To" videos for each cocktail and much more.
Expats rejoice! Expack is the first monthly subscription service for expatriates. Every month, members receive a box of carefully curated goodies from their home country. There's no place like home, and there's no box-like Expack! Ships worldwide.
Snack confidently knowing that everything Naturebox makes is created with high-quality ingredients that are free from artificial colors, flavors, or sweeteners. They also have a number of vegan, non-GMO, and gluten-free options. Each snack is a full-on flavor to keep you and your tastebuds happy. It's time to start feeling great about snacking. Get 50% off your first order! Ships within the US and Canada.
Love with Food is the easiest way to SNACK SMART and DO GOOD. They are a monthly snack box subscription service that helps you discover the best organic or all-natural snacks delivered to your door starting from only $8/month. Ships worldwide.
A chef-curated box of favorite food products, kitchen tools, and exclusive recipes. Each box contains a selection of the chef's favorite cooking products and kitchen tools, a personal letter from the chef and exclusive recipes. It's like receiving a gourmet gift from a top-name chef, delivered right to your door! Get one for yourself and one for your favorite food enthusiast! Currently shipping only to the US but hoping to open up to Canada soon.
For 75 years, Di Bruno Bros. has offered nothing but the highest quality products, infused with the story of the people who made them. Their story is a story of discovery, of two brothers, aunts and uncles, of Culinary Pioneers, and the beautiful city of Philadelphia. Ships within the US.
Home Bistro specializes in handcrafted gourmet meals that are freshly made and naturally frozen. Their meals are shipped frozen throughout the contiguous 48 states. Home Bistro is one of the only gourmet meal delivery companies that doesn't require a subscription or membership. Home Bistro is an established company that opened it's doors in 1999. Our Passion is in Our Food – They believe in challenging the status quo environment that treats food as an industry. They know that gourmet and healthy can live together when innovation, skill, and ethics work together to provide the finest cuisine available with the best, natural ingredients.
Bacon Freak offers a variety of Gourmet Bacon memberships where they offer the very best, blue ribbon, country-style bacon delivered to your door each month.
Yummy Bazaar is a shopping destination for curated gourmet food from around the world delivered at great value and with exceptional customer service. Ships within continental US, Puerto Rico, Hawaii, Alaska, and Guam. Shipping to Canada soon.
Teabox offers a handpicked selection of the freshest and the finest teas from India and Nepal. Their catalog features a wide selection of single-origin teas from over 150 tea gardens across Darjeeling, Assam, Kangra, the Nilgiris, and Nepal. In addition, there is an exciting range of iced teas, flavored and non-flavored blends to choose from. Worldwide shipping.
UrthBox is the Best Way to Discover Healthy New Snacks & Beverages Delivered Right to Your Door Every Month. The UrthBox is a monthly snack subscription company available in Classic, Gluten-Free, Vegan and Diet box options for as low as $19.99 a month!
Carnivore Club is the world's first curated cured meat of the month club featuring artisans from around the world. Each month their members receive an impressive faux-wood box filled with 4-6 handcrafted cured meats from top artisans. Like wine, the laborious craft of cured meats is an art form that requires the diligent pursuit of perfection through endless hours of trial and error. Carnivore Club celebrates the individual recipes of each cured meat savant, no two meats are alike even when similar in name. Ships within Canada, US and the UK, free shipping.
This 40 count care package includes a mix of healthy snacks (that are still sweet and savory). Best essential brands of nuts, fruit chews, bars, popcorn, veggie chips. Best variety on Amazon as it includes all of your favorite individually wrapped snacks and goodies. Healthy snacks for the health-conscious person. Nutritious workout fitness protein diet fit gym value fun pack. Large for a great low price – what a good deal. Wholesale quantity amount of snacks and treats to enjoy!
Choose a trunk, pick a theme, a subscription or build your own. Create a custom greeting card and enjoy gourmet recipe cards. Free shipping on orders over $35. Ships within the US.
Whether you subscribe for yourself to learn about the vast world of wine as a "wine correspondence course" or are giving a membership as a thoughtful gift, the Wine of the Month Club® is the premier wine club in America. Each shipment is accompanied by their famous "Wine Letter." Ships within the US.
International Snack Subscription Box. 5+ treats from a mystery international country each month. Try a different country each month. Free shipping in the US.
We added some BONUS BOXES for you!!
Sweet & Snappy. Tasty Teriyaki. Hot & Bothered. Jammin' Jamaican. And, of course, our Original is well, More Than Just Original. Take your pick from grass-fed beef, turkey or pork. Always tender–the tough part is choosing a favorite.
Pickle & Chip is a monthly snack subscription box for moms-to-be. With an eye toward small-batch producers, we lovingly curate our boxes with salty, sweet, nutrient-rich, all-natural treats to satisfy even the wildest pregnancy cravings. Conceived by two Brooklyn souls (and brand new parents), Pickle & Chip's mission is to surprise and delight expecting mama-bears everywhere.
Every box takes customers on a culinary journey to a new destination every month, which is a fun way to have the travel experience with family & friends each time the box arrives! It's the perfect way to enjoy some adventure and global food discovery from the comfort at home and to enjoy time with family and/or friends. Available for online order and shipping is free all over the US.
PLUS!!
For more subscription boxes exclusive to Canada come over to Simply Stacie!!
8 SUBSCRIPTION BOXES FOR CANADIAN FOODIES
THE ULTIMATE LIST OF SUBSCRIPTION BOXES FOR CANADIANS