Almost Famous Chef Competition
I was invited to help celebrate the upcoming S. Pellegrino® Almost Famous Chef® Competition which is taking place at Cirillo's Culinary Academy in Toronto on Monday, February 25 from 5:30 p.m. to 9 p.m. ET. The winner announcement will be made at 8:45 pm. ET. Culinary students from seven participating schools across Canada are competing for a chance to become the next star of the gastronomic world at this event. The students are given just two hours to create their unique signature dish.
A panel of judges critiques them on every meticulous detail from taste, texture and aroma of the dish, to presentation. The assembled judging panel, local media, chefs and invited guests will have the opportunity to sample all of these dishes during the tasting reception. The winner will go on to compete at the 11th annual Finals Competition in Napa Valley in March, with competitors from 75 schools across North America.
So, for the next three days I will be showcasing this upcoming event with recipes from past competitions, an interview with our local representative Kevan Hafichuk and a wonderful local giveaway.
Last Years Competition
To start off with today I will show you the wonderful dish we made from last years competition, actually Ken (hubby) made most of this one. You are also very lucky to receive this free ebook with lots of amazing recipes, all provided to you by S. Pellegrino.
almost-famous-chef-recipe-book
Winston Lin, who's recipe is featured below, entered the S.Pellegrino Almost Famous Chef competition to see what other culinary students are doing and to explore new ingredients. He believes a great chef is a good teacher, manager and cook—someone who knows how to manage food costs and use interesting ingredients to create a meal that attracts a wide audience.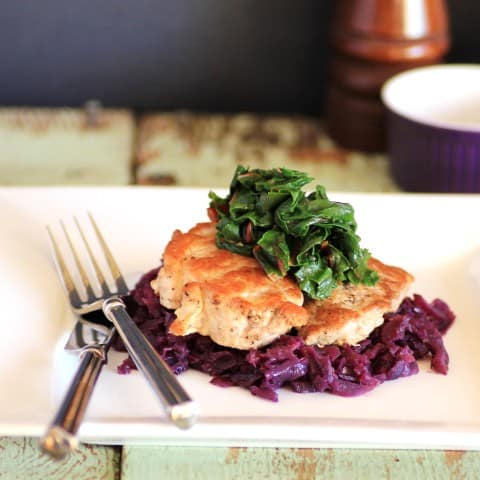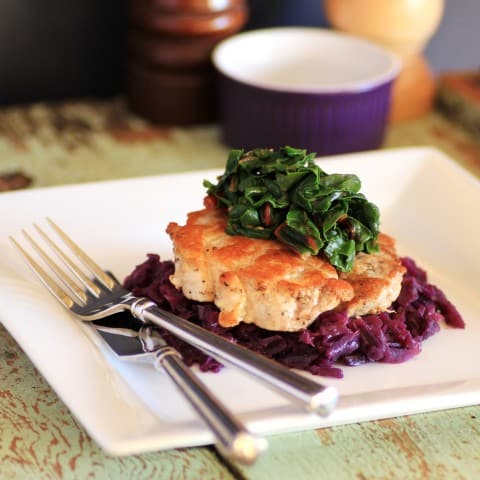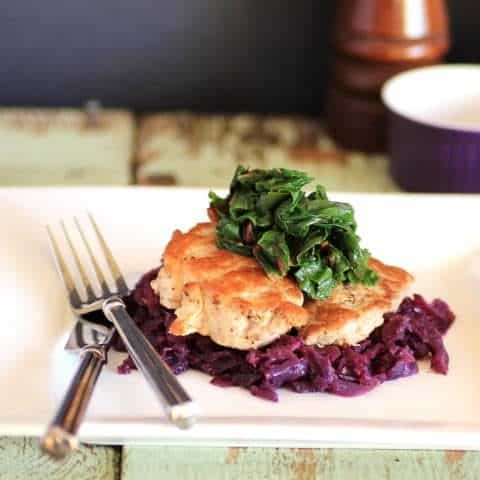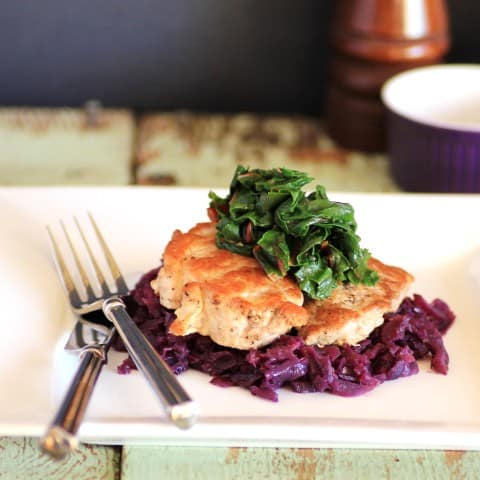 Pork Tenderloin with Braised Cabbage and Swiss Chard
A wonderful meal showcasing a simply pork tenderloin with the sweet and savory flavors of braised cabbage.
Ingredients
2 pork tenderloins, about 2 lbs/1 kg
Salt and pepper
2 tbsp (25 mL) canola oil
2 tbsp (25 mL) butter, melted
Braised Cabbage and Swiss Chard:
¼ cup (50 mL) butter
1 onion, diced
7 cups thinly sliced red cabbage (about 1 small)
¾ cup (175 mL) chicken broth
1 tbsp (15 mL) ground nutmeg
1 ½ cups (375 mL) apple cider
¼ cup (50 mL) red currant jelly
¼ cup (50 mL) packed brown sugar
3 tbsp (45 mL) apple cider vinegar
2 cups (500 mL) S.Pellegrino
6 cups (1.5 L) chopped Swiss chard leaves
(about 8 leaves)
Instructions
Braised Cabbage and Swiss Chard: In a saucepan, melt half of the butter over mediumhigh
heat; cook onion for 5 minutes or until softened. Add cabbage and cook for about
minutes or until just wilted. Add stock and nutmeg; cover and braise for about 20 minutes
or until tender, reduce heat to medium-low. Add cider and cook for 10 minutes. Add jelly, sugar
and vinegar and cook for 5 minutes or until heated through. Keep warm.
Meanwhile, in another saucepan, bring S.Pellegrino water to boil and blanch Swiss chard for
minutes or until tender. Drain and pat dry. Melt remaining butter and return Swiss chard to
heat through; season with salt and pepper to taste. Keep warm.
Cut pork tenderloin into 8 medallions each. Sprinkle with salt and pepper. In a large oven proof
skillet, heat oil over medium-high heat, in batches brown medallions on each side for about
minutes. Drizzle with butter and roast in 400 F (200 C) oven for 5 to 7 minutes or until hint
of pink remains inside and juices run clear.
Divide cabbage among eight shallow bowls and place 2 medallions on top. Top with Swiss chard to serve.