Apple Butterscotch Bars
The smell of home baking wafting through your home!! Is there anything better? Now that the days are getting cooler we can start to have the oven on and baking some lovely desserts again like these easy Apple Butterscotch Bars.
Kids would love these packed into their lunchboxes or they make a great after school treat too. I love the combination of the sweet butterscotch with the apples. It is perfect for fall but these bars could carry you right through the holidays too.
They are a nice change from the usual chocolate chip bars you see. 
I used dry apples in this recipe. They also make a great snack in lunchboxes. Sometimes a whole apple is hard for little ones to eat and when you slice it the wedges brown.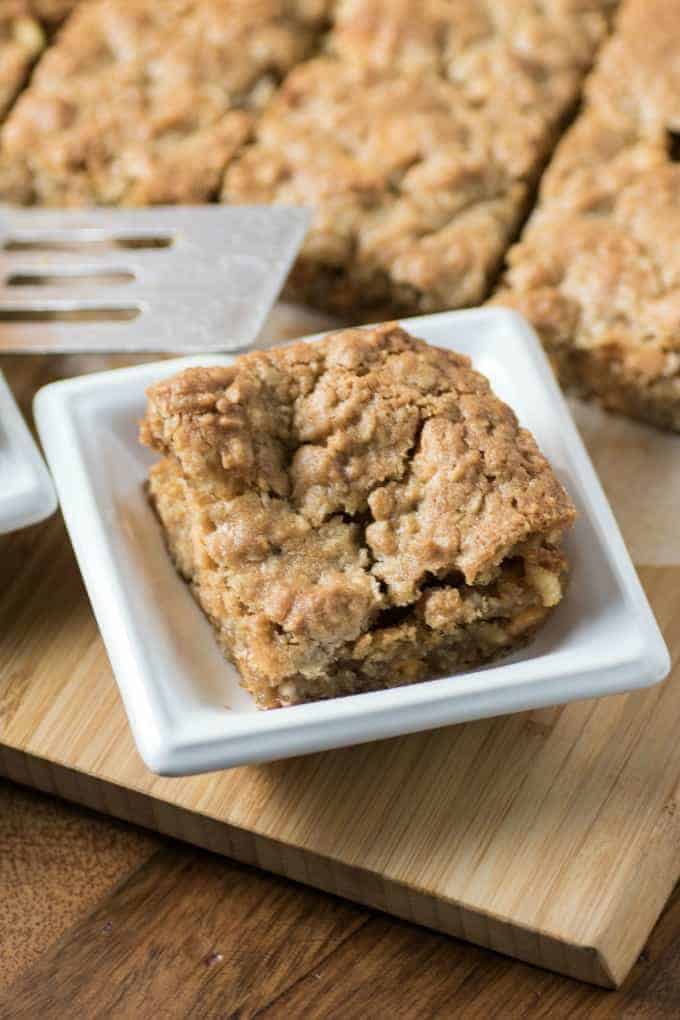 Wholesome simple ingredients go into these bars. Also, I find making bars are so much easier than a cookie. Line your pan with parchment so removing bars are a breeze.
I always cut it to size but keeping the short ends longer so you can grab them and pull the bars out of the pan. Slicing them up then is so much simpler.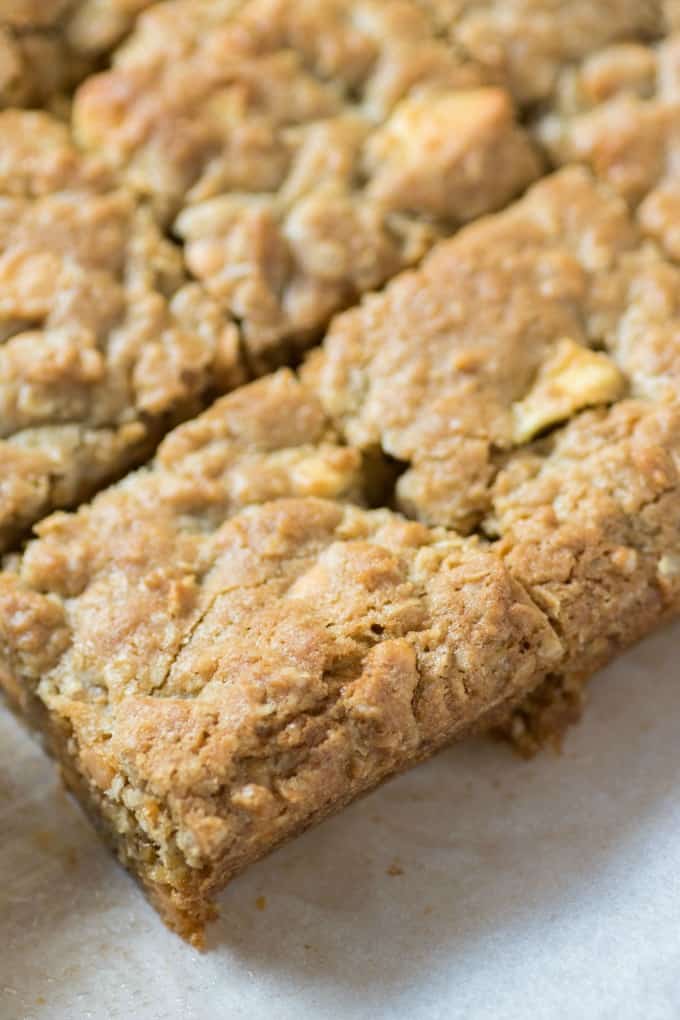 Crispy edges and yummy soft centers make these bars a delight to bake and share! Make someone happy by baking these up soon!!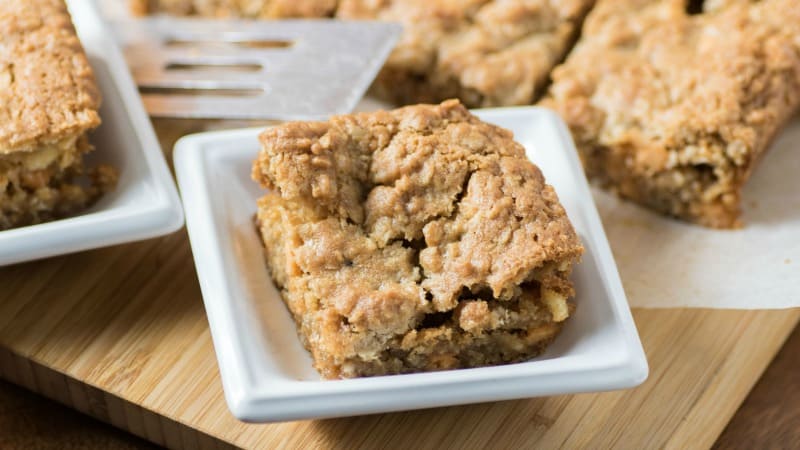 This recipe was inspired by the Apple Butterscotch Cookies I have made in the past. Yes, the picture on that post is blech! But that was a long time ago!
The kids on Amber's volleyball team went nuts for them. They were a huge hit!!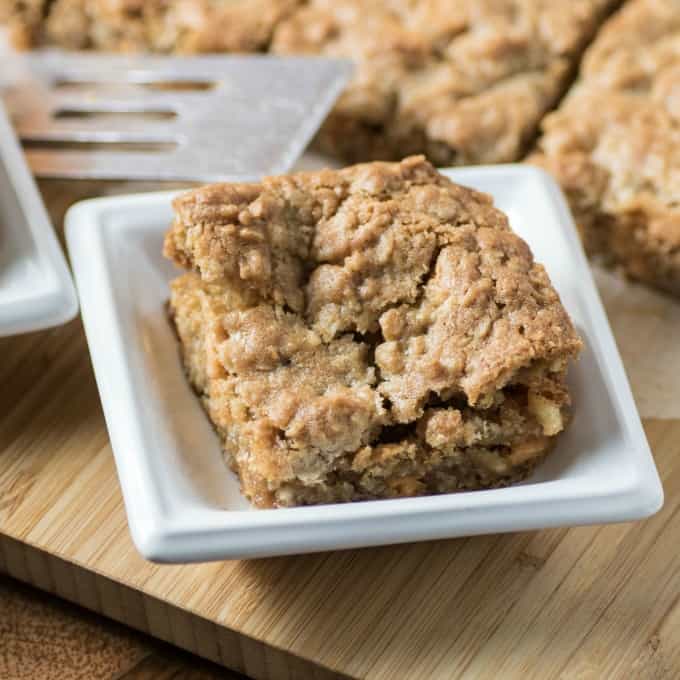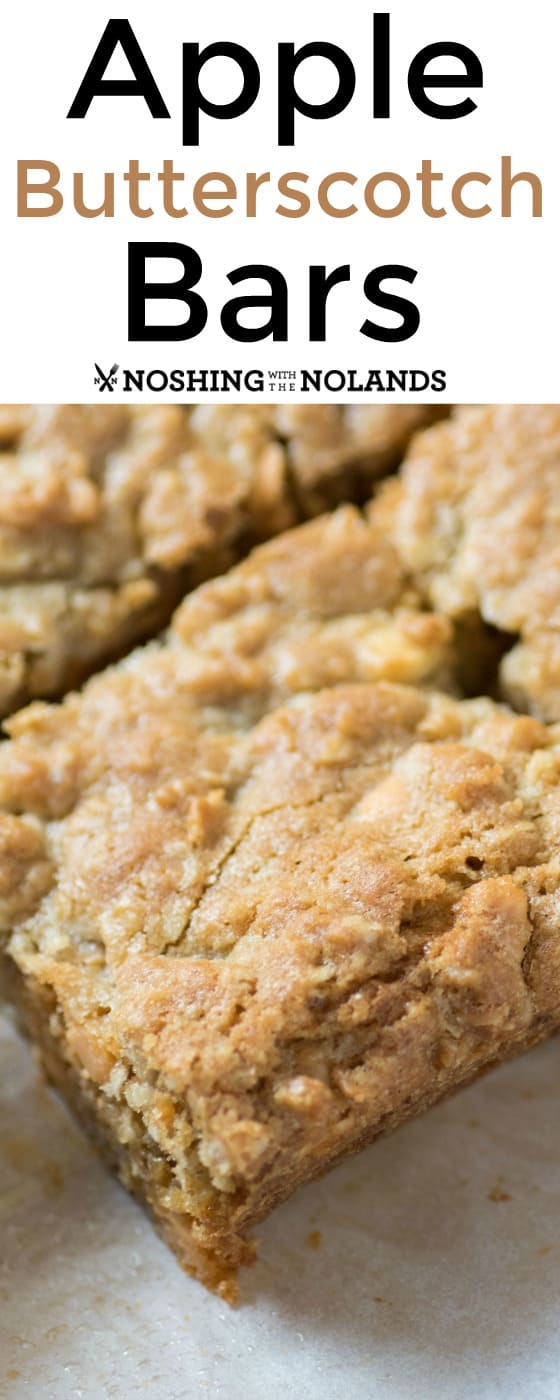 The Recipe
Apple Butterscotch Bars
These sweet Apple Butterscotch Bars are a nice change up from using chocolate chips and are a wonderful treat year round. Kids would love them in their lunchboxes!!
Ingredients
1 cup butter, softened
1 cup light brown sugar, firmly packed
½ cup sugar
2 eggs
2 tsp. vanilla
½ tsp. salt
1 tsp. baking soda
1 tsp. baking powder
1½ cups flour
2 cups old fashioned oats
1½ cups butterscotch chips
1 cup dried apple slices, diced
Cooking spray
Instructions
Preheat oven to 350F. Grease a 9x13 pan with cooking spray. Lay parchment paper in to over hang for easy removal.
In a large bowl cream together the butter and sugars. Add the eggs one at a time and cream well. Add the vanilla and stir.
Mix in the flour, salt, baking powder and soda. Add in the rolled oats and mix. Add in the butterscotch chips and the apples. Combine until just mixed in.
Spread out into the prepared pan. Bake for 25-30 min. or until golden brown. Let cool and then using the parchment remove and slice into squares.