The "Pie Guy" is at it again. Ken had some of his wonderful pie dough in the freezer left over from a previous pie so we put our thinking caps on and came up with these rustic looking pies for Christmas. What he created is one of my favorites so far. Perfect balance of sweet and tart, with hints of citrus, amazingly good!! They are nice individual pies that you can have a whole one or share. Lovely with a little good quality ice cream too!
Try these little pies you will love them!!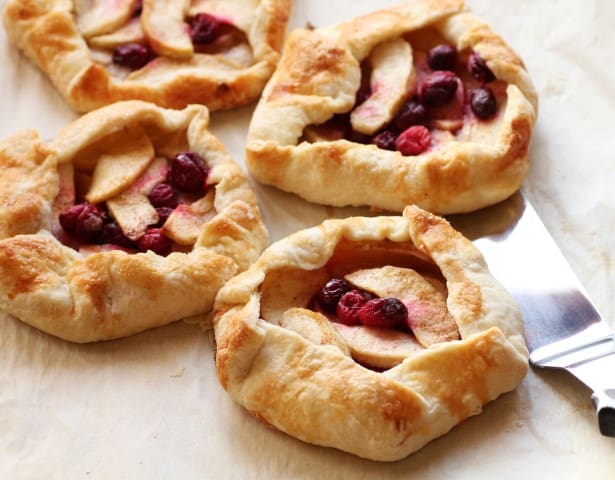 The perfect pie for the holidays!
Ingredients
Filling
4 Granny Smith apples, cored, peeled and thinly sliced
1 cup fresh cranberries
1 Tbsp. lemon juice
¾ cup berry sugar
3-4 Tbsp. berry sugar for sprinkling on top
2 Tbsp. cornstarch
1 tsp. orange zest
1 tsp. cinnamon
¼ tsp. nutmeg
¼ cup butter
1 egg, slightly beaten
Pie Dough
1 lb. lard
2 Tbsp. vinegar
1 egg
1 cup water
4-5 cups flour
Instructions
In a small bowl add egg and stir with a fork. Stir in vinegar and then water. In a separate bowl add the lard and 4 cups flour. Cut the lard into small pieces using a pastry cutter. Add the liquid and continue to cut the lard into the mixture adding more flour as needed. Do not over work. Stop when the dough comes together into a sticky ball. Divide into half and wrap in cello. Place in refrigerator for 30 min. to 1 hour. If making eight pies freeze the remaining half of dough for another use.
Preheat oven to 350F. Mix together apple slices, cranberries, lemon juice, ¾ cup sugar, cornstarch, orange zest, cinnamon and nutmeg in a large bowl.
Roll out the pastry to ¼" thickness using a quarter of the dough at a time and cutting out two 8" circles. Place on parchment lined cookie sheets. Continue with the remaining dough until you have 8 circles.
Place ⅛ of the apple mixture into the center of each circle and folding the edges of the dough towards the center leaving a 3-3½" opening.
Brush the pastry with the egg and sprinkle the remaining sugar. Just before the pies go in the oven brush the fruit with the melted butter.
Bake for 25-35 min. until the pastry is golden brown and the apples and cranberries are cooked.