Day 5 of 5 Days of Soup-Asian Meatball Soup
Here is the final day of our Day 5 of 5 Days of Soup – Asian Meatball Soup. I hope you liked what I came up with for you. We love soup and have made a few extra that will be coming in the next week or so.
Today is my blogs anniversary. One year today was the official launch date. I didn't plan a big celebration but still might do something if I find some time.
Onto this soup!! I love the flavors of Asia!! And this has all the yummy ingredients in this soup!! An easy dinner to pull together in no time. Filling, satisfying but light on calories and fat. I hope you enjoy it!!!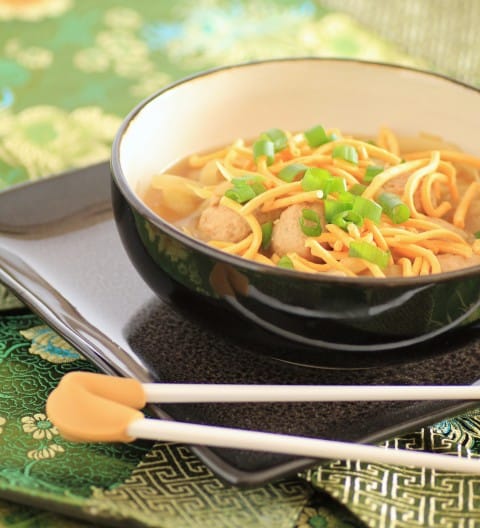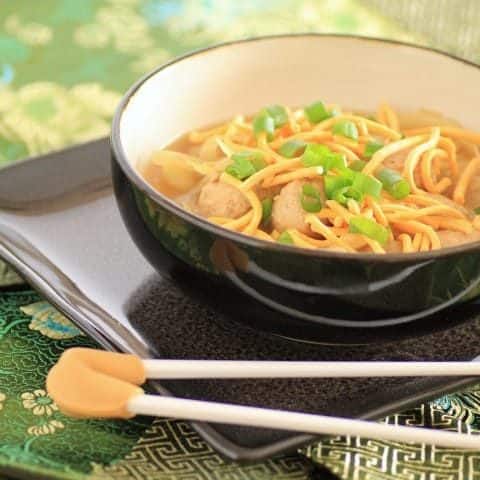 Day 5 of 5 Days of Soup-Asian Meatball Soup
Yield: 6
Prep Time: 20 minutes
Cook Time: 22 minutes
Total Time: 42 minutes
A delicious Asian inspired soup!
Ingredients
Meatballs
400 gms. ground extra lean chicken
1 egg, beaten
1 large garlic clove, minced
1 tsp. finely grated ginger
2 green onion, finely chopped
2 tsp. black molasses
2 tsp. soy sauce
Salt and pepper to taste
Pinch of red pepper flakes
1/2 cup fine bread crumbs
Soup
6 cups chicken broth
1 Tbsp. sherry
2 tsp. black molasses
1 Tbsp. garlic, minced
1 Tbsp. ginger, grated
1/2 Tbsp. canola oil
4 cups sliced cabbage
Salt and pepper to taste
Green onions for garnish
Crispy chow mein noodles for garnish
Instructions
Mix all meatball ingredients together and with wet hands roll into approx. 40 small meatballs. Set aside.
In a large pot add the canola oil and saute the garlic and ginger until fragrant, 1-2 min. Add the chicken broth, sherry and molasses. Bring up to a boil and simmer for 5 min. Add the meatballs one at a time so they don't all stick together and simmer for 8 min. Add the cabbage and cook another 5-7 min. until the cabbage is done to your liking.
Serve with green onion and crispy chow mein noodles.
Adapted from BodyIncredible.com