I love making homemade cookies for Amber's lunch box. One lucky kid I say!! I have been thinking about redoing the recipe that has floated around for many years of Mrs. Fields chocolate cookie. You may have seen it. You know the one that someone supposedly thought that the recipe was $25 but the transaction on their visa was $250 and they wouldn't retract it so the person shared the recipe with the world. It is what urban legends are made of!!! Anyway I have had the recipe for years and yesterday got jiggy with it. This is a fantastic cookie that is soft on the inside and crispy on the outside. When Amber and her friends came home from school these were waiting for them hot out of the oven. I got lots of ooohhs and aaaahhs from them, they loved them.
This recipe makes a huge batch so it could easily be cut in half. I put 2-3 cookies in a small Ziploc bag and freeze them so they are ready for Amber's lunch box.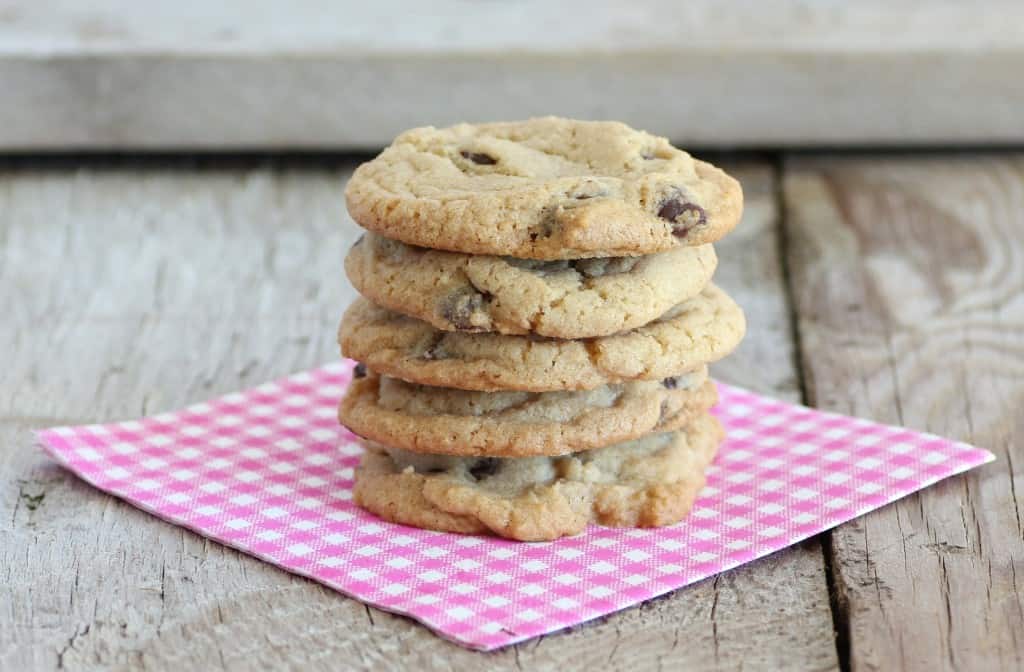 Back At School/Mrs. Fields Copycat Chocolate Chip Cookie
A great cookie that is crispy on the outside and soft on the inside!!
Ingredients
2 cups butter
2 cups sugar
2 cups brown sugar
4 eggs
3 tsp. vanilla
6 cups flour
2 tsp. baking soda
2 tsp. baking powder
3 cups semi sweet chocolate chips
Cooking spray
Instructions
Preheat oven to 350F. Whisk flour, baking soda and baking powder together. Cream butter and sugar together in a standup mixer. Add eggs and vanilla and continue to mix until blended. Slowly add flour in batches mixing well in between. Remove dough if necessary to a larger bowl and mix in chocolate chips with a spoon or by hand.
Lightly spray cookie sheets with cooking spray and using a 1¼" cookie scoop place dough 2" apart. Bake 12 min. until just done and lightly brown. Don't over cook them as then will then be crisp all the way through.