Back At School/Oat Cereal Cranberry Squares
Here we are now in the thick of it for everyone is back at school. I thought now when you are trying to get snacks and lunches ready after the first week you might like some ideas. If I sent this out with all the flurry of back to school it might get lost. So over the next five days, I will give you some recipes and ideas that I hope you try.
Today is a great healthy square called Back At School/Oat Cereal Cranberry Squares that Amber loves to take in her lunch box. These freeze well and I package them up in twos in Ziploc bags that I can quickly add to her lunch. She does get them pinched every once in a while as other kids in her class love them too. Try them out as little ones really like them also!!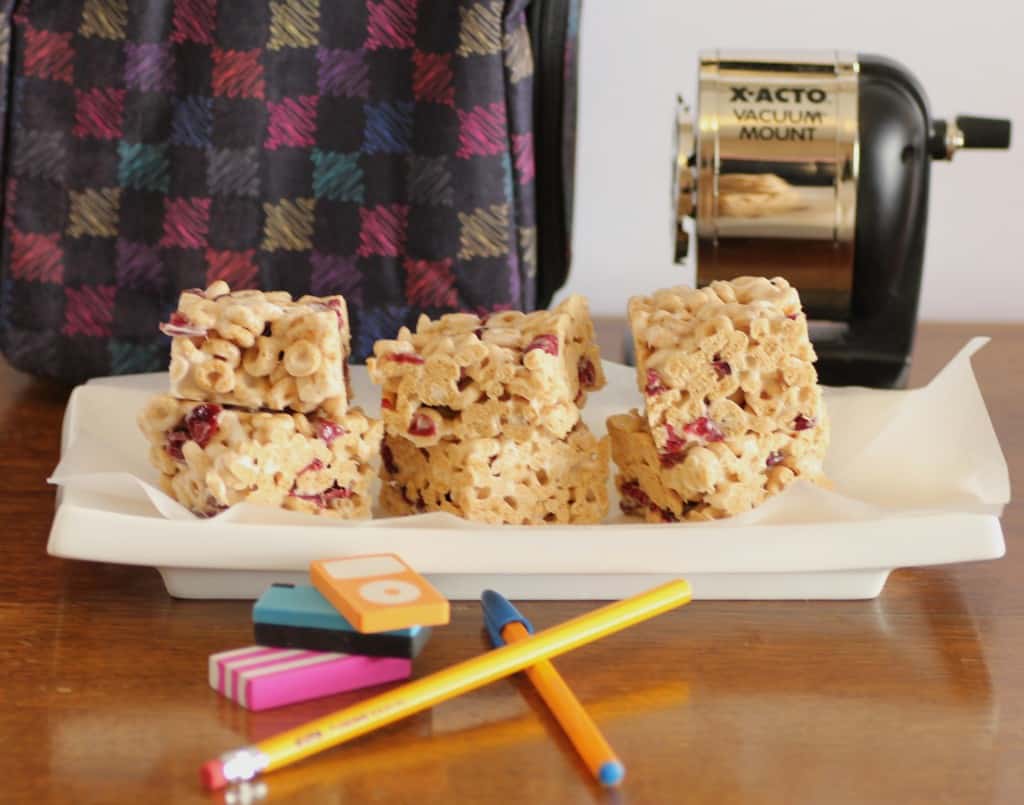 Recipe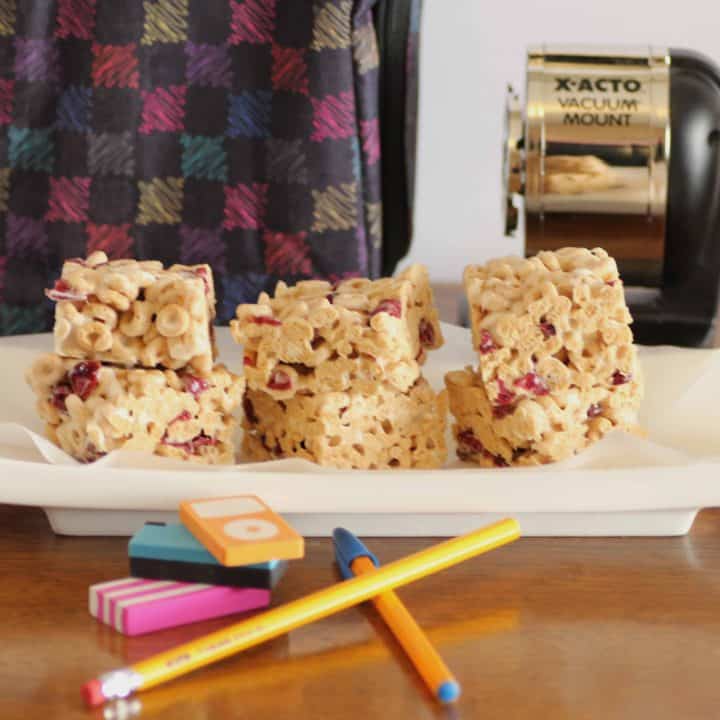 Back At School/Oat Cereal Cranberry Squares
Yield: 24 squares
Prep Time: 5 minutes
Cook Time: 5 minutes
Inactive Time: 1 hour
Total Time: 1 hour 10 minutes
A great snack for your child's lunchbox.
Ingredients
Cooking spray
4 Tbsp. unsalted butter
10 oz. of marshmallows
1/2 tsp. salt
6 cups toasted oat cereal like Cheerios
1 cup dried cranberries
Instructions
Spray a 9x13" pan and then line with wax paper and spray again. Let the wax paper hang over the edges so you can just lift out the entire rectangle when they have cooled. Set aside.
Place the butter in a large microwave safe bowl and melt on high heat for 30 seconds to 1 min. Add salt and stir. Add marshmallows and microwave for 1 min. Check and stir. Continue to microwave for 30 sec. intervals until completely melted, stir to combine butter and marshmallows. Quickly stir in cereal and cranberries.
Immediately transfer to the prepared dish. Using a spatula coated in cooking spray press mixture into the pan firmly. Let cool for at least one hour.
Lift out entire rectangle onto a cutting board using the wax paper. Cut into desired size squares. For school lunches place two smaller or one larger into a Ziploc bag and store in the freezer or store in a airtight container for up to 2 days.
Nutrition Information:
Yield: 24
Serving Size: 1
Amount Per Serving:
Calories: 106
Total Fat: 3g
Saturated Fat: 1g
Trans Fat: 0g
Unsaturated Fat: 1g
Cholesterol: 5mg
Sodium: 99mg
Carbohydrates: 21g
Fiber: 1g
Sugar: 12g
Protein: 1g
Recipe calculation was provided by Nutritionix and is estimation only. If you need nutritional calculations for medical reasons, please use a source that you trust.
Recipe adapted from Martha Stewart