Back At School/Rubbermaid LunchBlox Salad Kit with 20 Lunch Ideas
I came across this little salad kit and I thought how great is that!! Amber loves salad and wouldn't have a problem eating any of these. Oh course if you have a pickier child then suit it to what they like. Also if you are not allowed to bring nuts to school omit them and substitute something else. All of the dressings are from Kraft, so they should be easily accessible.
It has wonderful little compartments that you can put an endless variety of toppings in. Never have that same old boring salad again. I have come up with 20 different salad ideas that you could use this little container for. Of course you don't have to use this container, others will work well too! To read the list below I have started with the name of the salad – then what goes in the large compartment/then what to fill in the small compartments/if there are four toppings the dressing goes in the large container with the salad/if there are only three the dressing or salsa can sit up top in one of the little compartments. Hope that is clear as mud. I am very sure you will figure it out!! I have used a lot of romaine but you can substitute whatever greens you like. For lettuce I find romaine stays the freshest longest!! The set comes with a convenient ice pack too and of course a lid. Get your salad on!!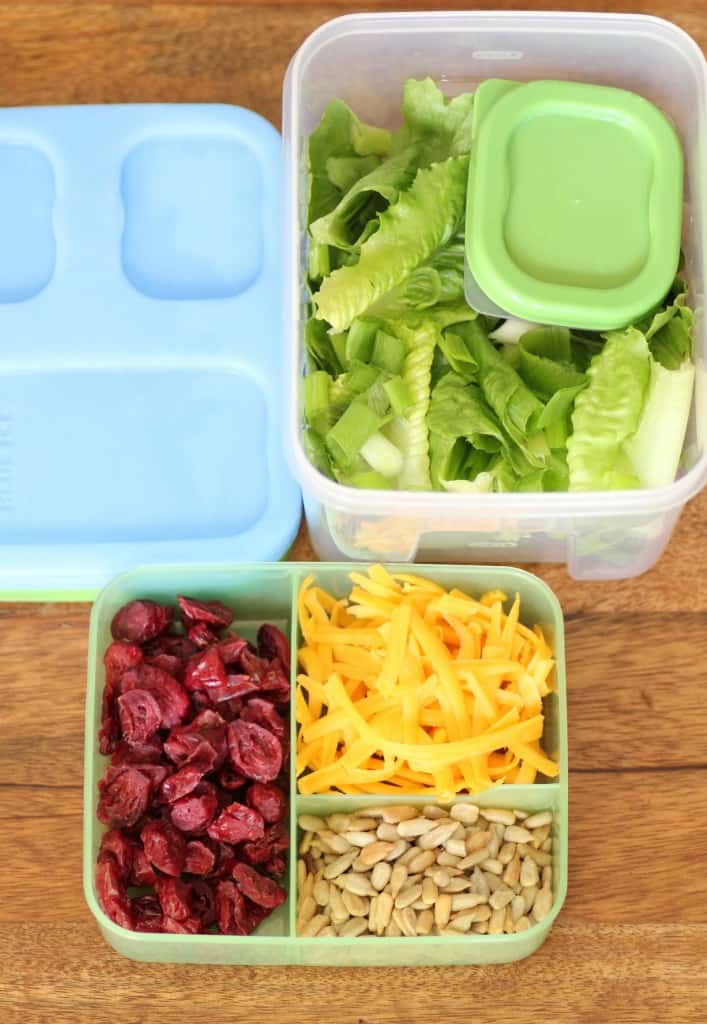 20 Salad Kit Ideas
1. Cranberry Salad – Romaine lettuce with green onions/cranberries/sunflower seeds/cheddar cheese/balsamic vinaigrette
2. Taco salad – Romaine lettuce with green onion/salsa/sour cream/cheddar cheese/Italian dressing and a bag of nacho chips
3. Nachos – Tortilla chips/salsa/sour cream/guacamole/cheddar cheese
4. Mixed Green Salad – Mixed Greens/dried blueberries/slivered almonds/raspberry vinaigrette
5. Fruit Salad – Pineapple and strawberries/mini marshmallows/shredded coconut/grapes halved
6. Caesar Salad – Romaine/croutons/Parmesan/Caesar dressing
7. Waldorf Salad – Apples diced and tossed with lemon juice/ grapes halved/mayo/walnuts
8. Asian Salad – Coleslaw/crunchy noodles/bean sprouts/Asian Sesame dressing
9. Chef's Salad – Iceberg lettuce/hard boiled egg/ham/cheddar/Ranch dressing
10. Greek Salad – Romaine lettuce with tomatoes/cucumbers/feta/black olives/Greek dressing
11. Pasta Salad – Penne pasta/cooked chicken/mandarin orange slices/grape halves/mayo
12. Chicken Salad – Cooked chicken/green onions/celery/red pepper/mayo
13. Chipotle Mango salad – Romaine with green onions/dried mango/cooked chicken/chipotle mango dressing or a sweet onion vinaigrette
14. Creamy Bacon Salad – Romaine with green onions/halved grape tomatoes/bacon bits/creamy bacon dressing
15. Spinach Salad – Spinach salad with green onions/raspberries/walnuts/raspberry vinaigrette
16. Quinoa Salad – Cooked Quinoa/cucumber/tomato/feta/oil and vinegar dressing
17. Tuna Salad – Romaine with red peppers/tuna/hard boiled egg/oil and vinegar
18. Avocado BLT Salad – Romaine with a halved avocado rubbed with lemon (then placed back together)/bacon bits/grape tomatoes halved/ranch dressing
19. Carrot Salad – Shredded Carrots/raisins/diced apple with lemon juice/Russian dressing
20. Cheesy Cheese Salad – Romaine with green onions/cheese cubed/cheese fish crackers/three cheese ranch