Bacon Wrapped Chicken & Pineapple Skewers
What a delicious idea these Bacon Wrapped Chicken & Pineapple Skewers are using Pulo Cuisine marinade. For this recipe I specifically used the Pineapple Tamarind from Pulo which is my favorite of these marinades but I really enjoy the other two also. The Lemongrass Atsuete and Mango Chili marinades are great with so many recipes too. Recipes like Pulo Cashew Chicken or Quick Easy Asian Meatballs highlight the lovely flavors of the Lemongrass Atsuete. While Mango Chili Steakhouse Salad is perfect for the Mango Chili marinade. Come and enter our contest to win all three of their marinades and 2 of their cooking sauces.
I am a chicken and pineapple gal though. That is one of my faves on a pizza, it may be taboo to some, having that combination on a pizza, but I just love it. So I wanted to make a lovely summer dish using pineapple and chicken together. Wrapping the marinaded chicken in bacon furthermore upped the flavor in these gorgeous skewers. I could eat skewers all week long!! Such a fun and delicious summer treat.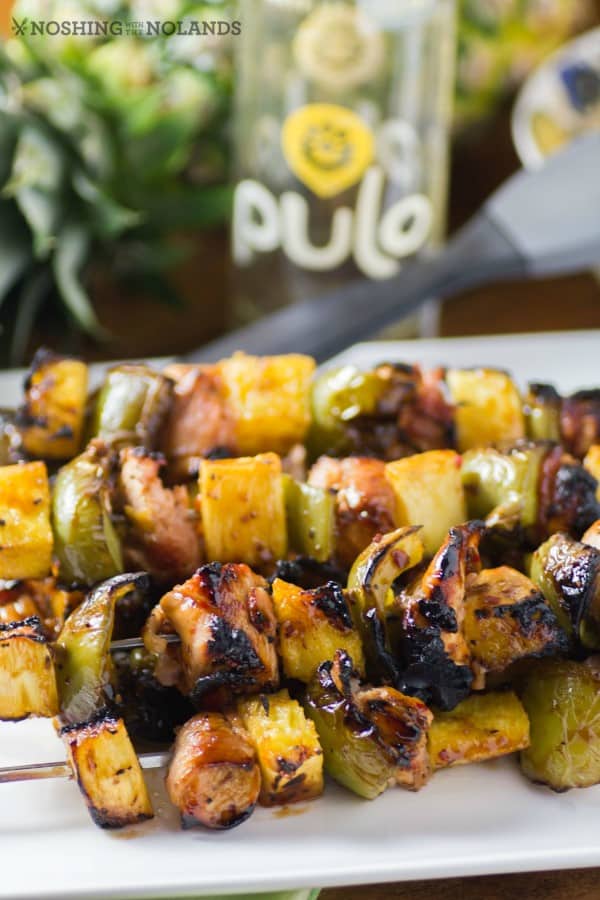 I love that caramelized char that you get from the BBQ, making it rather scrumptious. The chicken was marinated for 2 hours in the Pineapple Tamarind and then the skewers were brushed with the marinade while grilling. Nothing can be easier for a completely simple sauce. Plus this sweet and tangy marinade creates some much added flavor to all your BBQing needs this summer. The marinade goes wicked on a steak too, don't just keep this one to chicken.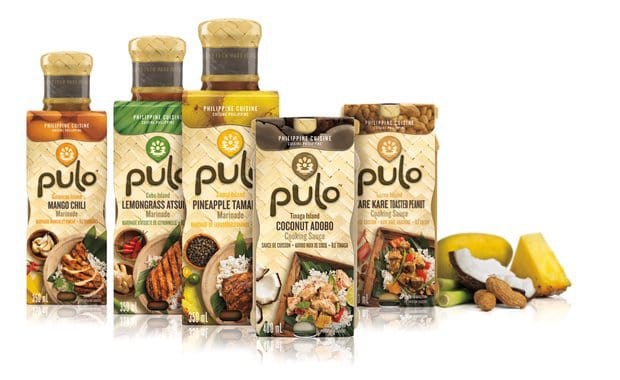 Pulo Cuisine has a beautiful array of marinades and cooking sauces inspired by the 7000 Islands of the Philippines. The cuisine of the Philipines is diversafied with a dynamic mix of Malaysian, Chinese, Spanich and Indian influences. Their food is bursting with wonderful flavors and you can now enjoy that with all that Pulo has to offer.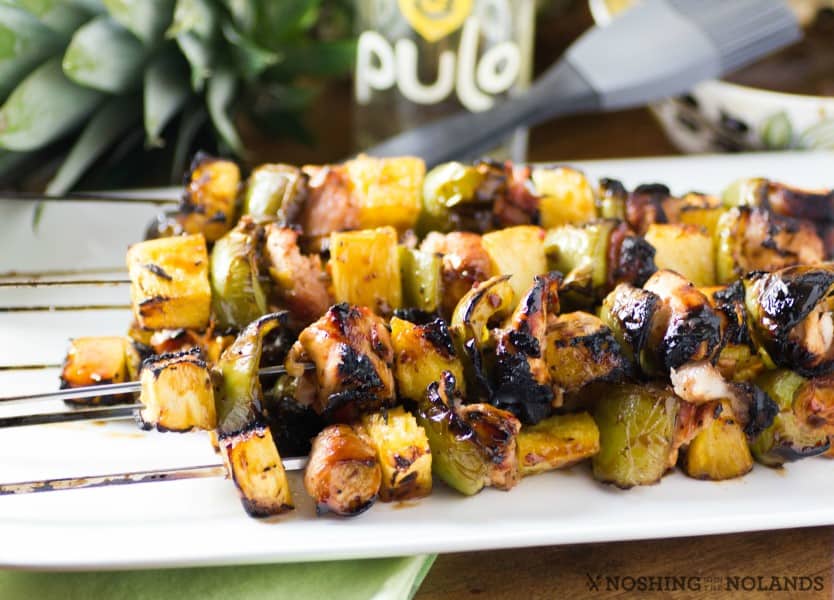 Using fresh ingredients like a wonderful pineapple makes all the difference. Pineapple being one of the key crops of the Philipines therefore plays heavily into their cuisine.
Most of all, there are no artificial flavours, colours or preservatives used in their products and in addition they are also vegan.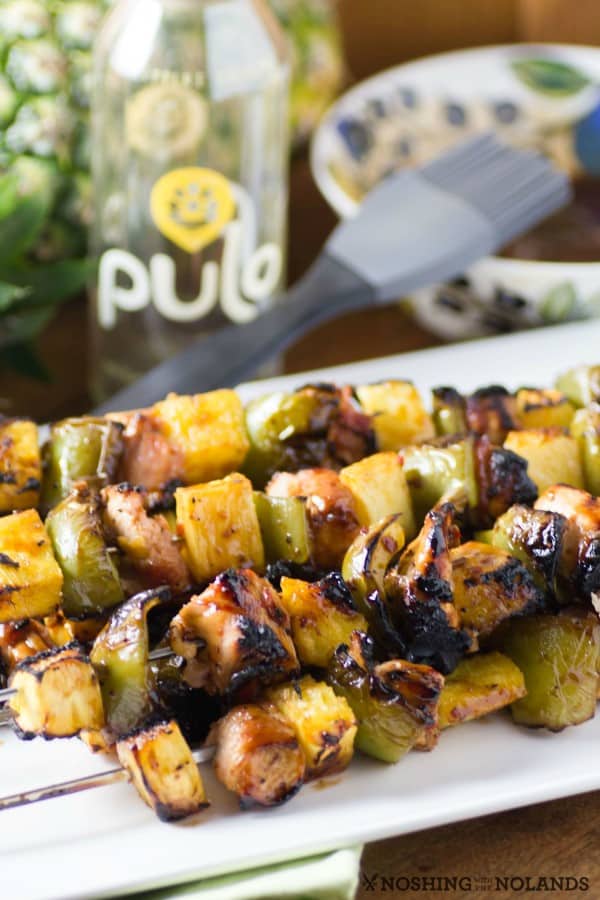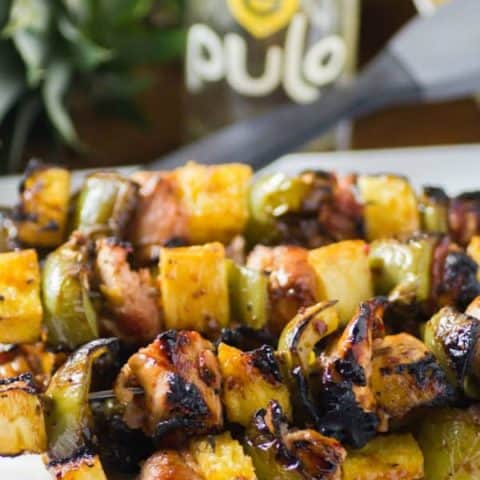 Bacon Wrapped Chicken & Pineapple Skewers
Yield: 4 servings (8-9 skewers)
Prep Time: 20 minutes
Cook Time: 15 minutes
Total Time: 35 minutes
Easy Bacon Wrapped Chicken and Pineapple Skewers are heightened with flavour using amazing Pineapple Tamarind from Pulo Cuisine.
Ingredients
2 large chicken breasts, cut into 1 1/2" cubes (approx. 36 pieces)
12 slices of maple smoked bacon, cut into thirds
36 chunks of fresh pineapple
36- 1 1/2 " pieces of green pepper
I bottle of Pulo Cuisine Pineapple Tamarind
Instructions
Mariante the chicken cubes in about 2/3 of a bottle pineapple tamarind for about 2 hours or longer.
Wrap each cube of chicken with a slice of bacon and place on a metal or water soaked wooden skewer. Follow that by pineapple and green pepper. Repeat until skewers are full, approx. 4 of each.
BBQ on medium heat for about 10-15 min or until the chicken is cooked and the bacon is done. Baste while grilling with the leftover Pulo marinade.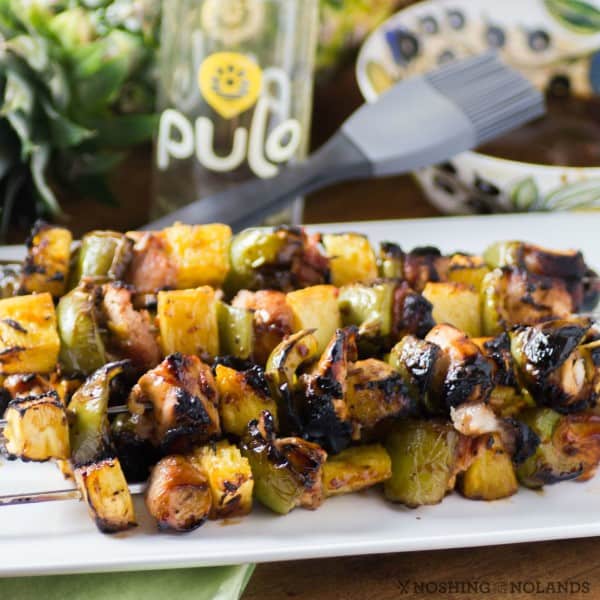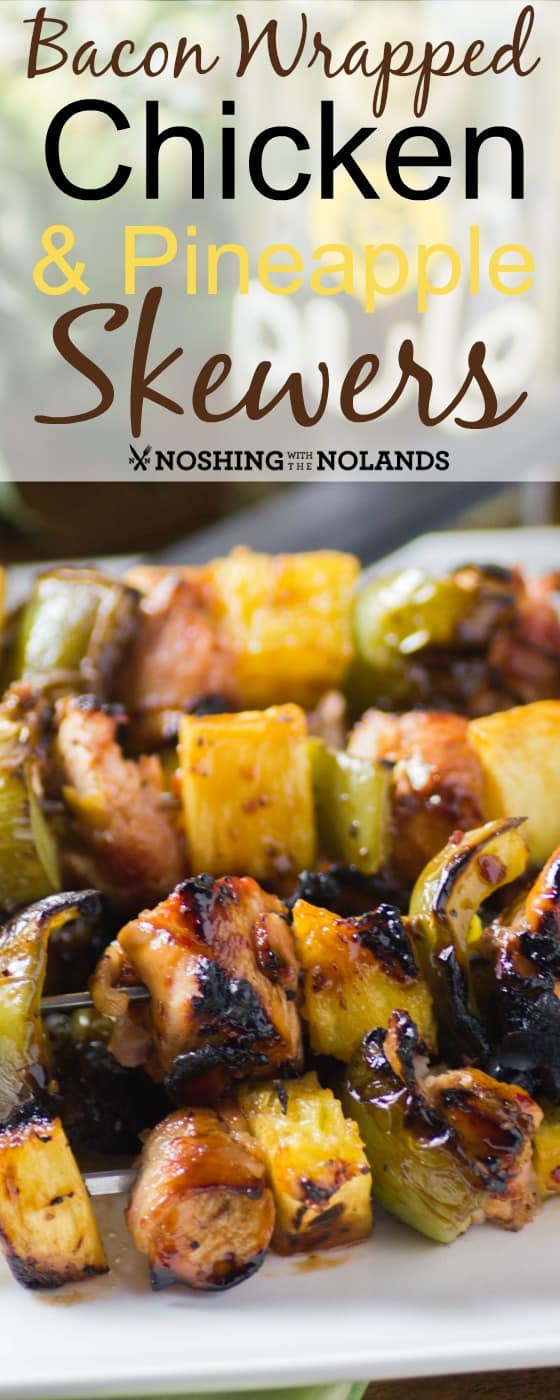 Come and enter our contest to win all of there marinades and cooking sauces. Contest is open to all Canadian residents. The contest is open until August 8, 2016 at 12:00 am. At that time a random winner will be chosen. The winner has 48 hours to respond by email or another winner will be chosen. Good luck everyone!