Mouth Watering Mondays – Baked Cheesy Spaghetti!!! It is still cool enough here, June is our rainy month and it is not a problem to put the oven on and sometimes you feel like a pasta in the summer. Not too heavy though, this one is deliciously light with a spinach ricotta center. This would be a great way to use up leftover pasta too!!
I love an easy one dish dinner like this, add a little fresh salad and you have a healthy meal, one that the whole family will enjoy!! Kids love spaghetti and incorporating a little spinach into the center will get them eating their greens!! I have made this a few times and I love the simplicity of this meal. Great for a busy weeknight!! I always like to relax a bit or get extra chores done with something baking in the oven.
Life is busy and when you have a moment make up a dish like this to put into the freezer to have at the ready for those insane nights that you know you won't have time to prep a meal. I love having things like this at the ready.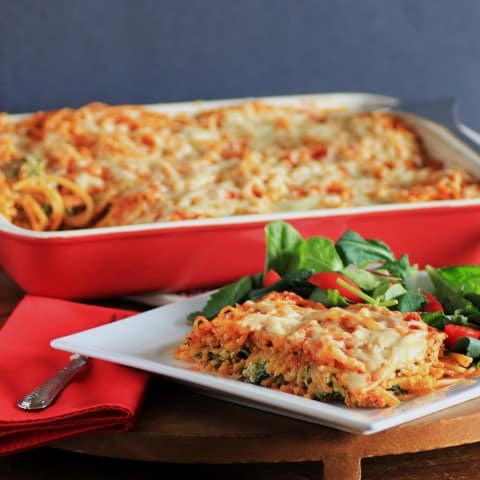 The ingredient list is short and it is easy to put together. Come HERE for the recipe!!