Day 2 of our little tropical getaway and it is with Baked Coconut Shrimp. I love these and I am not opposed to deep frying when it is a treat but to make these for a weekday meal that is a bit over the top even for me.
So the real treat here is having coconut shrimp midweek and have them taste just as good with fewer calories!!! Have these with a big salad and your family will be thrilled.
My friend Jill gave me this recipe and it is from a site called Simply Gluten Free. They can easily be made gluten-free by purchasing the rice flour Panko crumbs. With the shrimp, the recipes also include a mango dipping sauce.
I thought it was perfect with the shrimp but Amber and Ken felt it didn't go. Oh well, to each their own. I am a huge lover of mango and I now have some in the freezer for smoothies, can't wait.
Recipe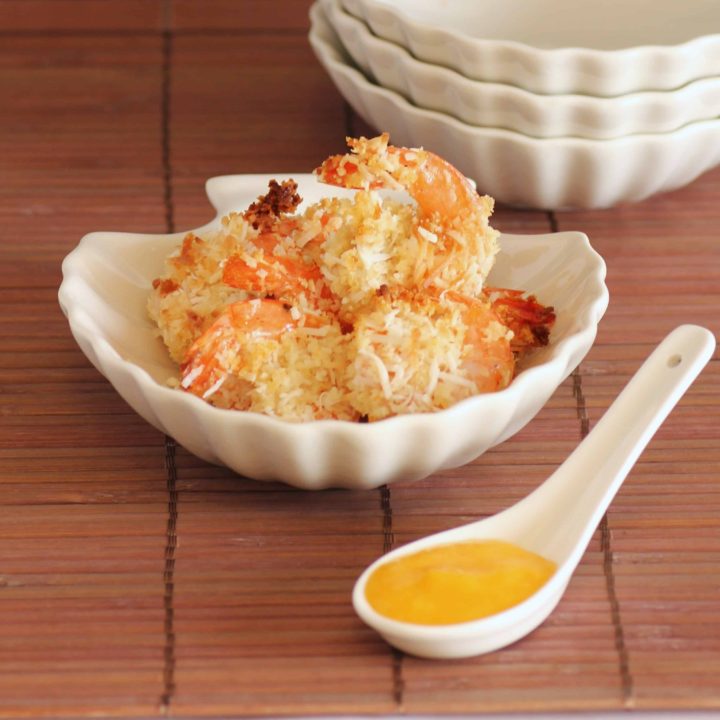 Baked Coconut Shrimp
Yield: 4 Servings
Prep Time: 25 minutes
Cook Time: 12 minutes
Total Time: 37 minutes
Ingredients
4 large egg whites
1 tsp. Kosher salt
1/2 tsp. black pepper
1 tsp. garlic powder
1 lb. large shrimp, peeled and deveined with the tails left on
1 1/2 cups Panko Bread Crumbs or Gluten-Free Panko Crumbs
1 cup shredded coconut
Cooking Spray
1 1/2 cups mango chunks, thawed
1 tsp. Sriracha sauce or to taste
Juice of 1 lime
Instructions
Preheat oven to 425F. Prepare two baking sheets with either parchment or Silpats.
Beat the egg whites and then whisk with the salt, pepper, and garlic powder. Toss in shrimp and then remove to another bowl reserving the extra egg white onto a rimmed dish.
Have two other plates ready one with 1 cup of bread crumbs and the other with the remaining bread crumbs mixed with the coconut.
Now dip the shrimp in the bread crumbs then back into the egg whites and then into the coconut mixture pressing to adhere the coconut to the shrimp. Place on the prepared baking sheets.
Spray each shrimp with the cooking spray and bake for 6 min. Then turn the shrimp over and spray the other side with the cooking spray and bake another 5-6 min until they are golden brown and the shrimp are pink.
Measure out the mango into a glass measuring cup. Add the lime juice and the Sriracha sauce. Using a hand blender blend until smooth. Alternatively use a blender. Pour into small serving bowls and serve with the shrimp.
Nutrition Information:
Yield: 4
Serving Size: 1
Amount Per Serving:
Calories: 480
Total Fat: 11g
Saturated Fat: 7g
Trans Fat: 0g
Unsaturated Fat: 3g
Cholesterol: 239mg
Sodium: 2152mg
Carbohydrates: 58g
Fiber: 5g
Sugar: 20g
Protein: 37g
Recipe calculation was provided by Nutritionix and is estimation only. If you need nutritional calculations for medical reasons, please use a source that you trust.
Recipe adapted from Simple Gluten-Free by Carol Kicinski