Baked Roasted Squash, Ricotta and Fusilli
This recipe is from Guiding Stars, Baked Roasted Squash, Ricotta, and Fusilli. They contacted me about an important topic of overeating for the holidays. We are all so tempted by divine appetizers and desserts over the holidays but if you eat a healthy meal before you go out you will be less likely to overindulge.
I was drawn to this recipe as you know we love to do vegetarian meals at least once a week. This sounded amazing and it really was. Simple ingredients combined together to give a very satisfying meal. The nutmeg plays a very important role in the recipe, so if possible use freshly grated or at least a newer nutmeg that hasn't lingered in your spice cabinet for decades.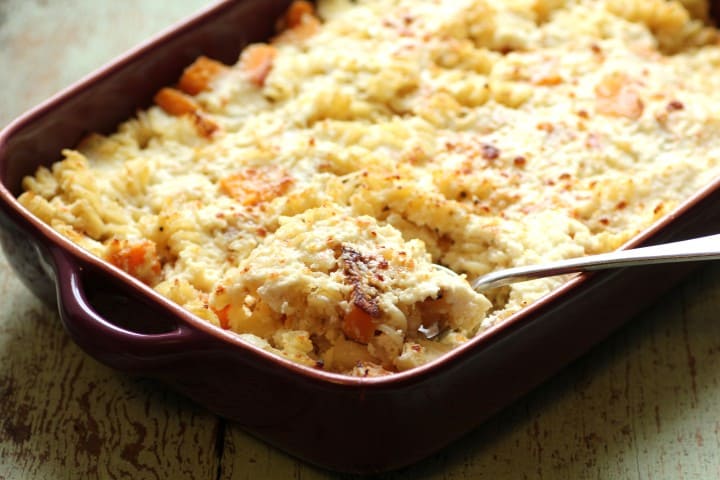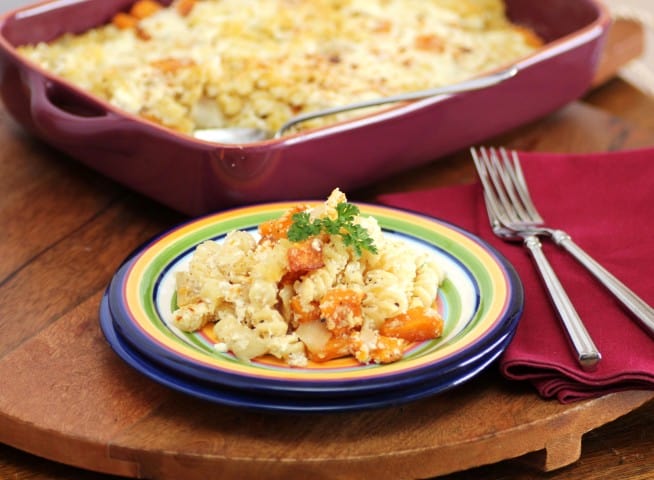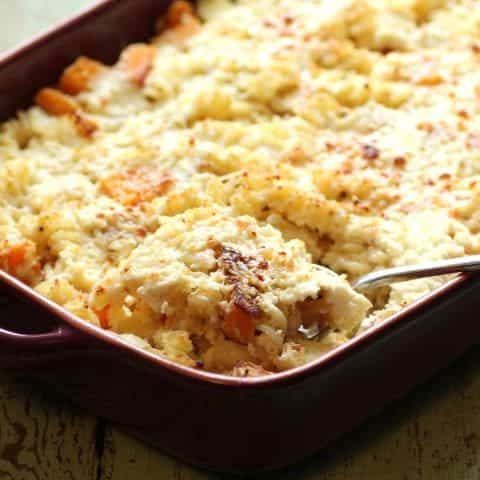 Baked Roasted Squash, Ricotta and Fusilli
Yield: 7 Servings
Prep Time: 20 minutes
Cook Time: 1 hour 5 minutes
Total Time: 1 hour 25 minutes
A delicious vegetarian meal for the holidays
Ingredients
1 lb. peeled, seeded butternut squash, cut into 1/2" pieces, about 3 cups
1 large sweet onion, Vidalia, Walla Walla, Maui, large diced
3/4 tsp. freshly grated nutmeg
Salt to taste
Freshly ground black pepper
1 1/2 Tbsp. olive oil
8 oz. pasta, like fusilli or Rotelli
2 cups fat-free ricotta cheese
3 Tbsp. Parmesan cheese
Instructions
Preheat oven to 375F. On a large rimmed baking sheet. Toss squash and onion with the olive oil. Season with salt, pepper, and nutmeg. Layout the vegetables to a single layer. Roast for 35-40 min. Stir for the last 5-10 min. The squash and onions will start to brown lightly. Reduce heat to 350F.
Meanwhile, cook the pasta according to the package instructions and drain.
Mix together 1 12/ cups ricotta and 2 Tbsp. Parmesan. Toss the warm pasta into the cheese. Season with salt and pepper.
Add the roasted veggies to the bowl and gently toss to combine. Spray an 8x12" pan with cooking spray and transfer the pasta to this dish. Spread on the top the remaining ricotta and sprinkle on the Parmesan cheese. Cover with aluminum foil and bake for 15-20 min. Broil for 3-4 min. until lightly browned and serve.
Nutrition Information:
Yield: 7
Serving Size: 1
Amount Per Serving:
Calories: 254
Total Fat: 10g
Saturated Fat: 4g
Trans Fat: 0g
Unsaturated Fat: 5g
Cholesterol: 24mg
Sodium: 199mg
Carbohydrates: 30g
Fiber: 4g
Sugar: 4g
Protein: 13g
Recipe calculation was provided by Nutritionix and is estimation only. If you need nutritional calculations for medical reasons, please use a source that you trust.
Recipe adapted from Guiding Stars