Baked Tortiglione with Three Cheeses, Vine Tomatoes and Herbs
I was given this cookbook to review and it intrigued me right away with the fact that it was written by the former Personal Chef to TRH The Prince and Princess of Wales and TRH Prince William and Prince Harry. I wanted to see what divine dishes they ate. I choose the Baked Tortiglione with Three Cheeses, Vine Tomatoes and Herbs and was not dissappointed for a second with any part of this recipe, it was sheer divinity!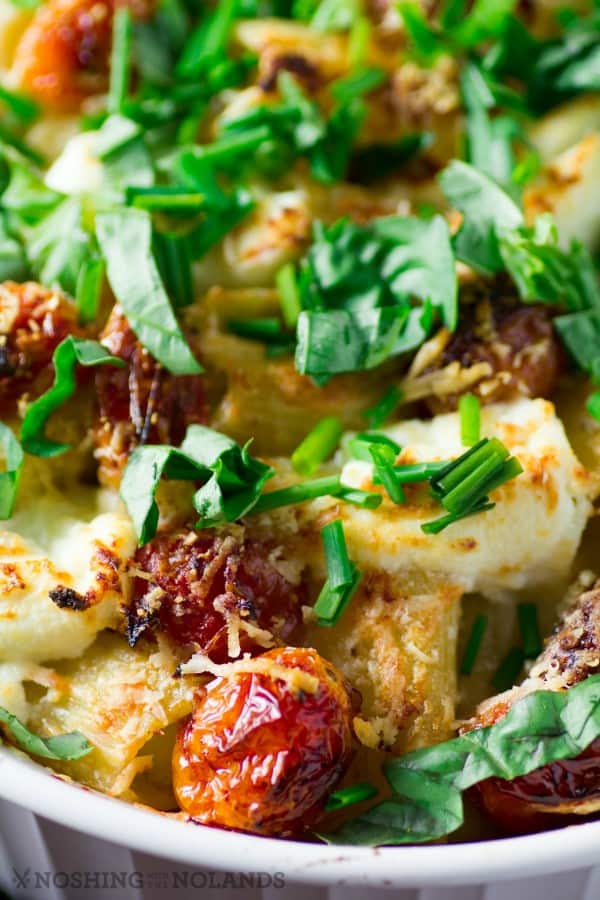 This recipe was scrumptious and so easy to make, instead of a cheese sauce the pasta gets a quick toss in creme fraiche and then there is layers of tomatoes, herbs and cheese. We lightened it up slightly by just putting the ricotta on top and it was still totally amazing.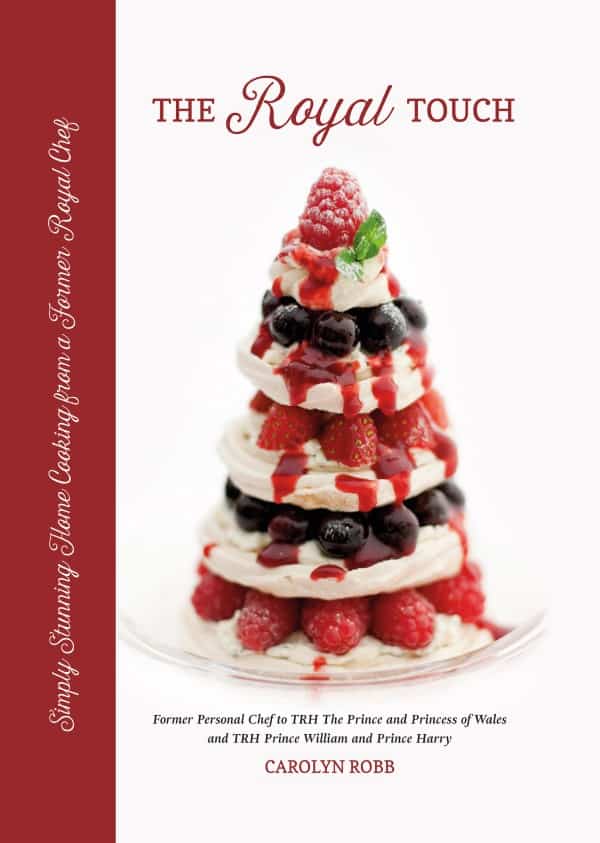 Carolyn Robb, the author, is a former personal chef to TRH The Prince and Princess of Wales, Prince William and Prince Harry, with 13 years of experience in the royal household. In her cookbook she presents the food that she loves to serve her family and friends. It is fit for a king but easy enough for you to make at home also. The gorgeous hard cover is filled from front to back with stunning photography and mouth watering recipes. The cookbook runs the gamet of delicious recipes with 100 to choose from, great nibbles, to starters, light and summery dishes, warm and comforting mains, litte bites for kids, to bread, cakes and desserts. A plethera of recipes to carry you from season to season. Recipes like Spinach and Feta Triangles, Double Baked Cheese Souffle, Mini Roast Chicken and Leek Pies, Pea and Ham Risotto, Potato and Sage Torte, Little Sausage Man and Mash (I can see the princes eating this one) and Lemon and Lime Posset, just to name a few.
During Carolyn's time working in the royal household she had unique access to many aspects of the culinary world and in particular some of the world's most renowned chefs, with whom she worked when she was still only in her early twenties. Her job required that everything she produced was of the very highest calibre and this book clearly demonstrates that perfection in the simplest of food has far greater appeal than food of great extravagance. The recipes in this book are testament to Carolyn's great love of all things food related, her thirst for ever more culinary knowledge and the very varied experiences of her 25 years as a chef.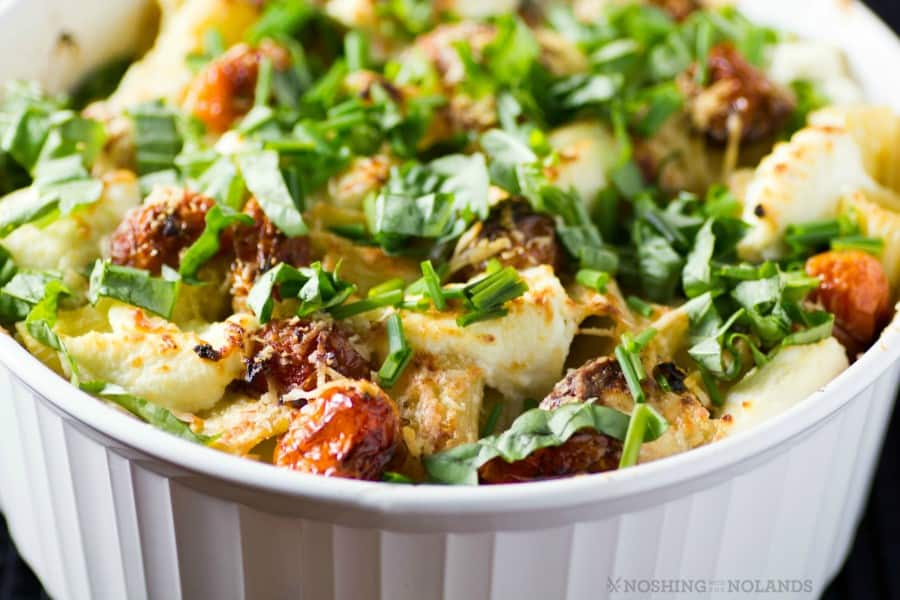 I can't say enough about how delicious this pasta was and it will be something I will make again and again, a gorgeous vegetarian dish or perfect side. Especially with spring on its' way this a perfect comforting meal but yet still feels lightened up as the ingredients are fresh and wonderful.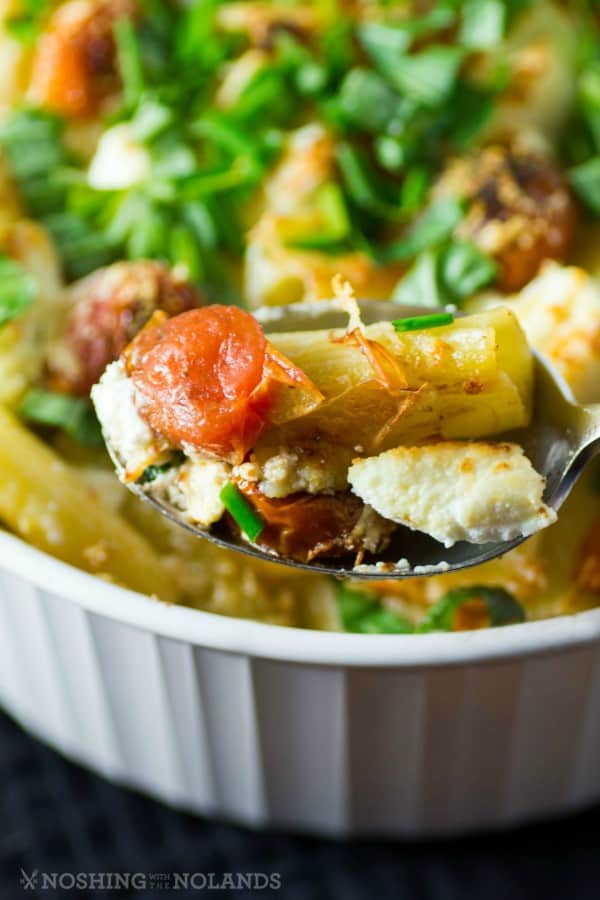 If you would like to purchase this cookbook and I highly recommend you do, use the promotional code RT50 upon purchase for a 50% discount. ENJOY!!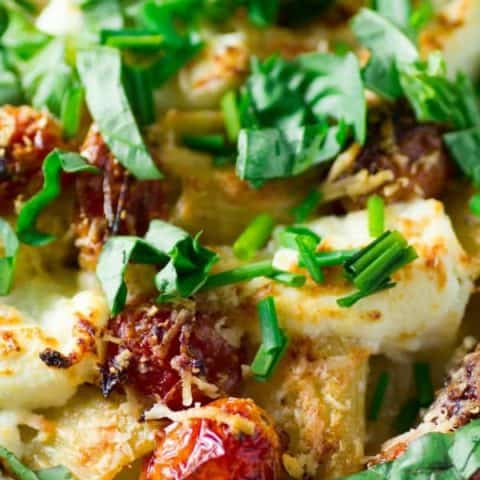 Baked Tortiglione with Three Cheeses, Vine Tomatoes and Herbs
Yield: Serves 4
Prep Time: 25 minutes
Cook Time: 1 hour 25 minutes
Total Time: 1 hour 50 minutes
Ingredients
225g / 8oz mini plum tomatoes *
4 sprigs of fresh thyme
A splash of olive oil & balsamic vinegar
Salt, black pepper and sugar
225g / 8oz tortiglioni pasta
300ml / 1¼ cups crème fraîche
150g / 5oz ricotta (¾ cup)
100g / 3½oz gruyère cheese (1 cup)
60g / 2oz finely grated parmesan (½ cup)
Fresh basil and chives
Instructions
Preheat the oven to 150ºC / 300ºF.
Wash the tomatoes and prick each one with a fork. Place on a small non-stick baking tray with the thyme. Drizzle with a little olive oil and balsamic vinegar, sprinkle with salt, pepper and a pinch of sugar. Roll them around to coat each one.
Bake for 45 - 60 minutes, until they look slightly 'shrivelled'.
When the tomatoes are ready, cook the pasta, as per the instructions on the packet and drain it.
Stir the crème fraîche through the pasta and layer it in a buttered oven-proof dish with the tomatoes, herbs, spoonfuls of ricotta, cubes of Gruyere and the grated parmesan cheese.
Place the dish on a baking tray and bake at 200ºC / 400ºF for 25 minutes.
Sprinkle with fresh herbs before serving.