Balsamic Chicken Wings
This recipe for Balsamic Chicken Wings is a quick fix for dinner from Giada De Laurentiis. Something I have made a few times. I love when you can marinade something earlier in the day and then just toss it in the oven and viola, dinner is at hand!!!
These drumettes are sticky, sweet and savory. I have also made this recipe with the larger chicken thighs and it is very good too. Serve up a little rice and a nice big green salad and you will have dinner on the table in no time. ENJOY!!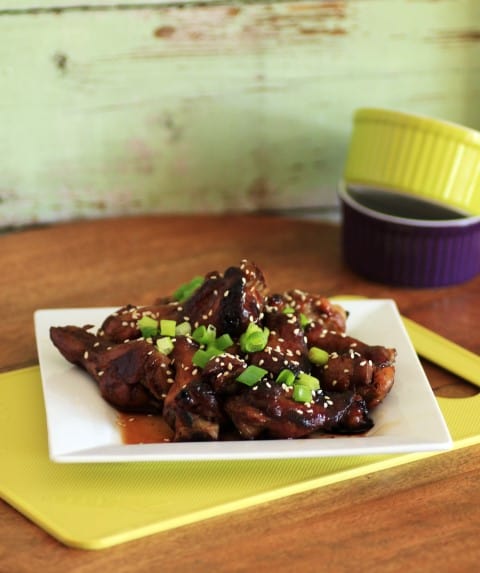 Balsamic Chicken Wings
A sticky, sweet and savory chicken wing!! YUM!!
Ingredients
½ cup balsamic vinegar
½ cup honey
½ brown sugar
¼ soy sauce
5 sprigs rosemary
5 garlic gloves, smashed slightly
Salt to taste
24 chicken wing drumettes or 8-10 thighs
2 Tbsp. toasted sesame seeds
2 green onions chopped, green tops only
Instructions
In a large resealable plastic bag add in the balsamic, honey, brown sugar, soy sauce, rosemary, garlica and salt. Shake and squeeze the bag to mix the contents. Place in the chicken and massage to coat the chicken. Remove as much air as possible. Let marinade in the refrigerator for 2-6 hours.
Preheat oven to 425F.
Line a rimmed baking sheet with foil and place the chicken out of the marinade onto the sheet. Reserving the marinade in a small saucepan. Bake until the chicken is well caramelized and very dark in spots, about 30-35 min. for the wings and 45 min. for the thighs.
Bring the marinade to a boil and then reduce the heat to simmer. Cook over low heat until thickened for about 15 min.
When the chicken is done brush with the cooked marinade, sprinkle with sesame seeds and green onions and serve.
Adapted from Giada De Laurtentiis