I was kindly invited again to enjoy nature's candy, BC Blueberries!!! This year they had come up with a very creative and fun afternoon with a blogger/kid day at the Cookbook Co. Amber and I were happy to join in.
This was Amber's first time at the Cookbook Co. where I had been countless of times for wonderful afternoons spent learning and cooking!!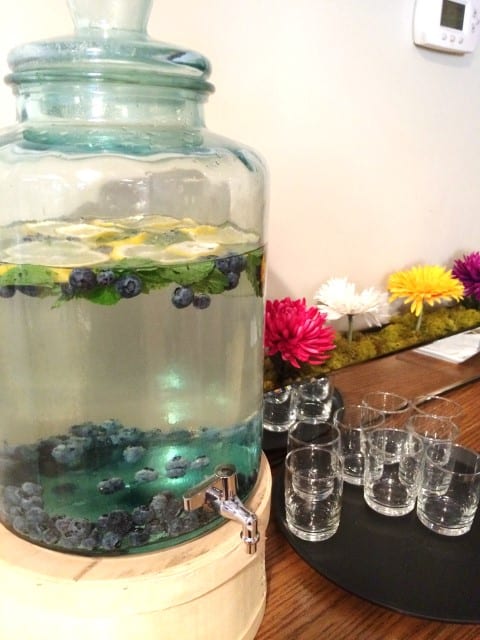 We started off the day with a "spa" water with lemon, blueberries and mint. It was delicious and almost tasted like a tea it was so flavorful. This is one of my favorite things and it is so simple!!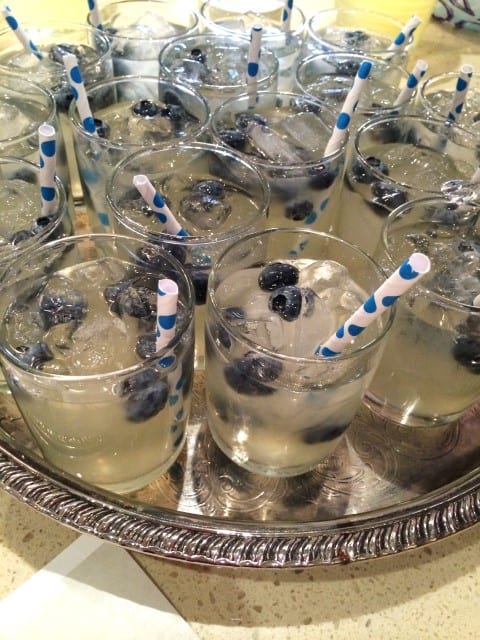 Then came blueberry lemonade, sweet and tart and fun for summer. The addition of the wonderful blueberry just upped it a whole bunch of notches!! Here are some wonderful blueberry beverage ideas!!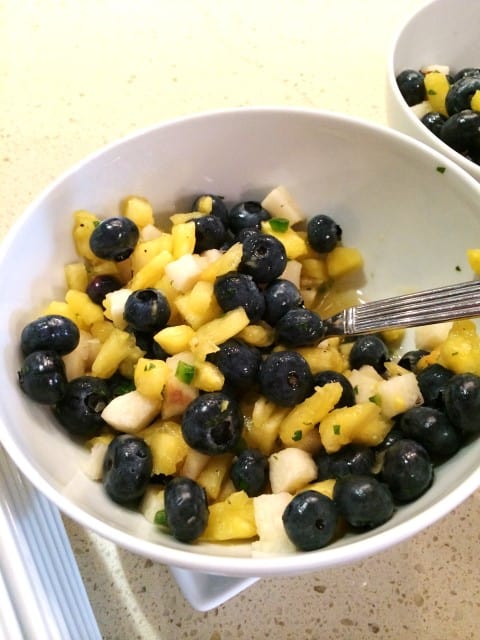 Blueberries can be enjoyed in so many dishes from drinks to starters to entrees and of course dessert. This was an amazing salsa that Amber said she could eat "all day long". It was a combination of blueberries, pineapple, jicama and cilantro, fabulous!!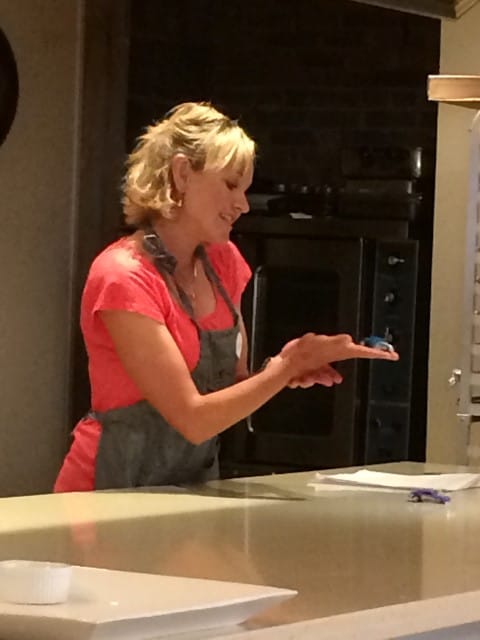 While we were munching and sipping on our first yummy offerings, we heard some wonderful information from the delightful Kristyn Hall, Culinary Dietitian & Nutritionist! Kristyn, whom I met last year is a wealth of information and such a delight to listen to and speak with. The blueberry is a little power house of nutrition as many of you may already know. They are full of antioxidants, low in fat, low in calories, high in fiber and have a wide range of health benefits.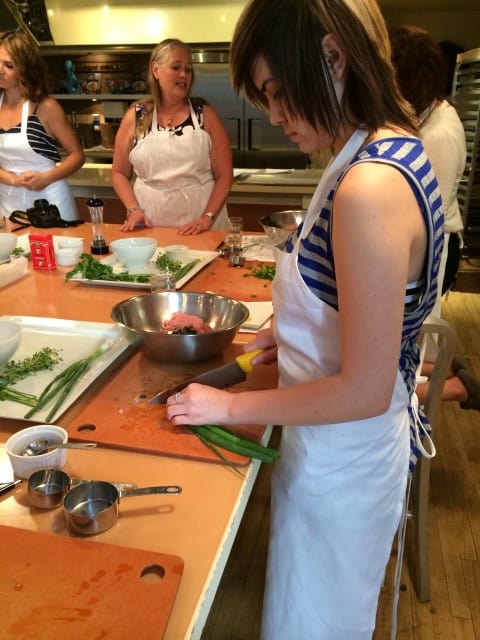 Then it was our turn and to get the little hands in motion. Amber's aren't too little anymore and she is quite talented already in the kitchen. So she was straight to work and I was relaxing!!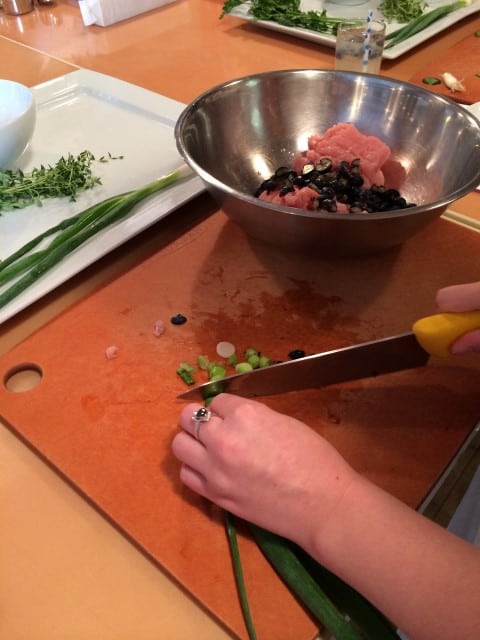 We first whisked up the dressing for the salad which I will show you in a minute and then onto the turkey blueberry burgers.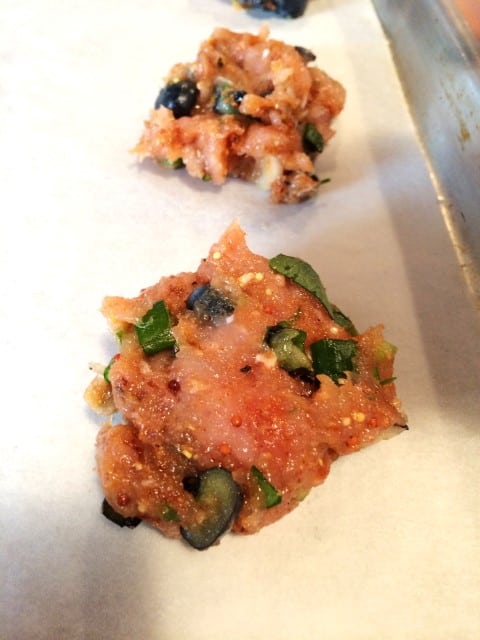 These were then ready for the oven. The recipe for the Turkey Burgers is fantastic and really full of flavor!! Turkey can be quite moist, so you may want to omit the egg in the recipe as we did. We opted for the extra nutrition of ground flaxseeds for a healthy binder.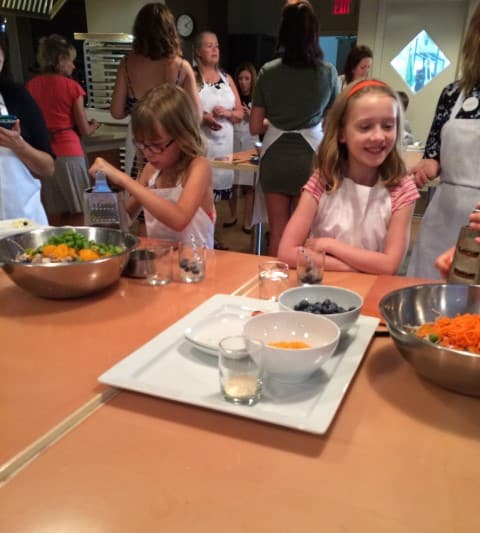 There were different stations and this one was making a scumptious Soba Noodle Salad, here it is with other great recipes.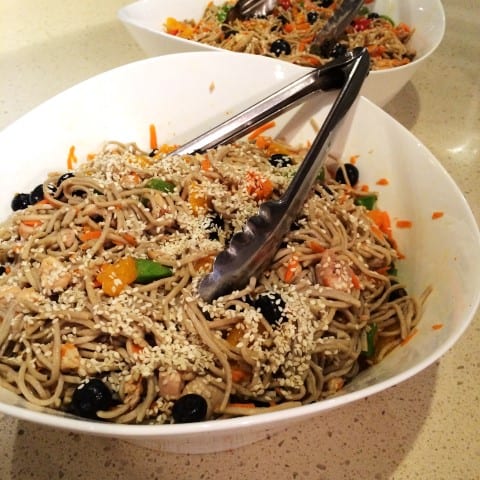 This recipe is a keeper along with all the others, so full of amazing flavor, veggies and of course BC Blueberries. The dressing is also perfection!!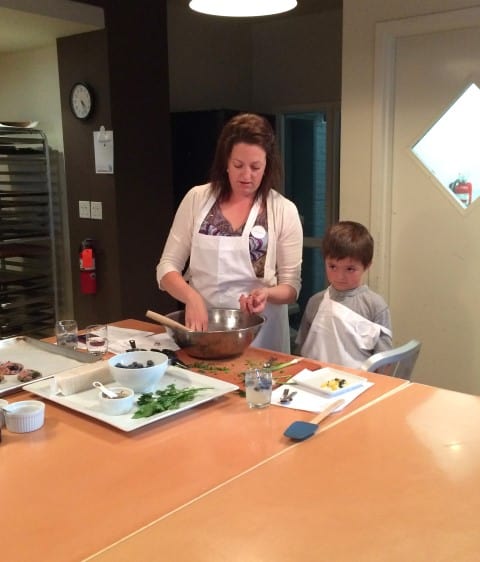 Starting your children off in the kitchen at a young age is important for so many reasons. They will love their food and understand it so much better!!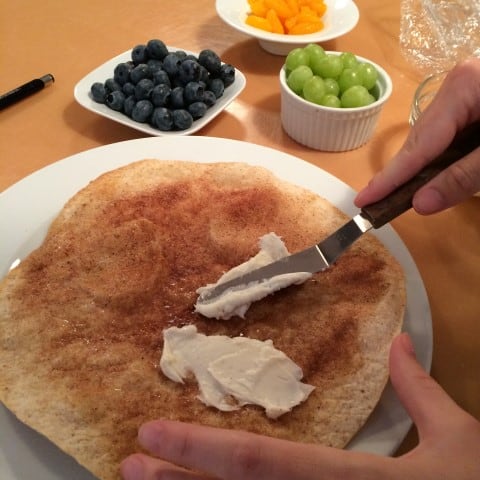 Last was a Blueberry Dessert Pizza and this one I will share the recipe with you. Children love to be creative in the kitchen. This is an easy recipe that will have kids coming back for more. Kids can decorate as they like, this would be a fun birthday party project too and so healthy!! Check out all their amazing BC Blueberry Dessert recipes!!
BC Blueberries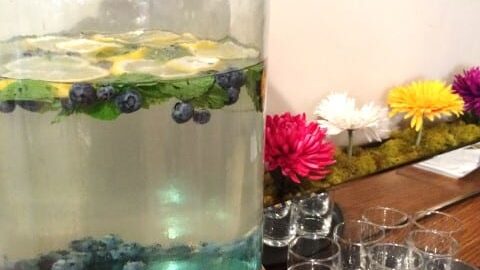 A fun and healthy dessert pizza featuring gorgeous BC Blueberries!!
Ingredients
1 (10-inch) flour tortilla
1/2 teaspoon butter, softened
3 teaspoons sugar, divided
1/8 teaspoon ground cinnamon
1/2 cup whipped cream cheese
1/2 cup fresh blueberries
1/2 cup mixed fruit (such as grape halves and mandarin oranges)
Instructions
Preheat oven to 400°F. Place tortilla on an ungreased baking sheet; spread with butter. In a cup, combine 1 teaspoon of the sugar and the cinnamon; sprinkle evenly over the tortilla. Bake tortilla until edges just begin to brown, 3 to 4 minutes; remove to a serving plate. In a small bowl, combine the remaining 2 teaspoons sugar with the cream cheese; spread evenly over the crisp tortilla. Arrange blueberries and other fruit on top. Cut in 4 wedges and serve immediately.
Yield : 2 portions
Recipe courtesy of
BC Blueberries