When I saw this #SundaySupper I had no idea what to make. I knew it wasn't going to be Tuna Noodle Casserole, not that there is anything wrong with that, it just wasn't where I wanted to go with this.
Instead of decreasing ingredients to make it work for this #SundaySupper I wanted to up the game!! Flipping through Fine Cooking magazine gave me exactly what I wanted to do.
Taking a simple steak and making it out of this world!! I tweaked it slightly and I give you this divine steak that will make it seem like you fussed all day but actually you can pull this together in no time!!
And you don't have to stand outside and freeze you tuckus off in those winter months barbecuing. Salt and pepper are free and the parsley is an optional ingredient. Accompany with simple boiled potatoes and asparagus if you like. Enjoy!!!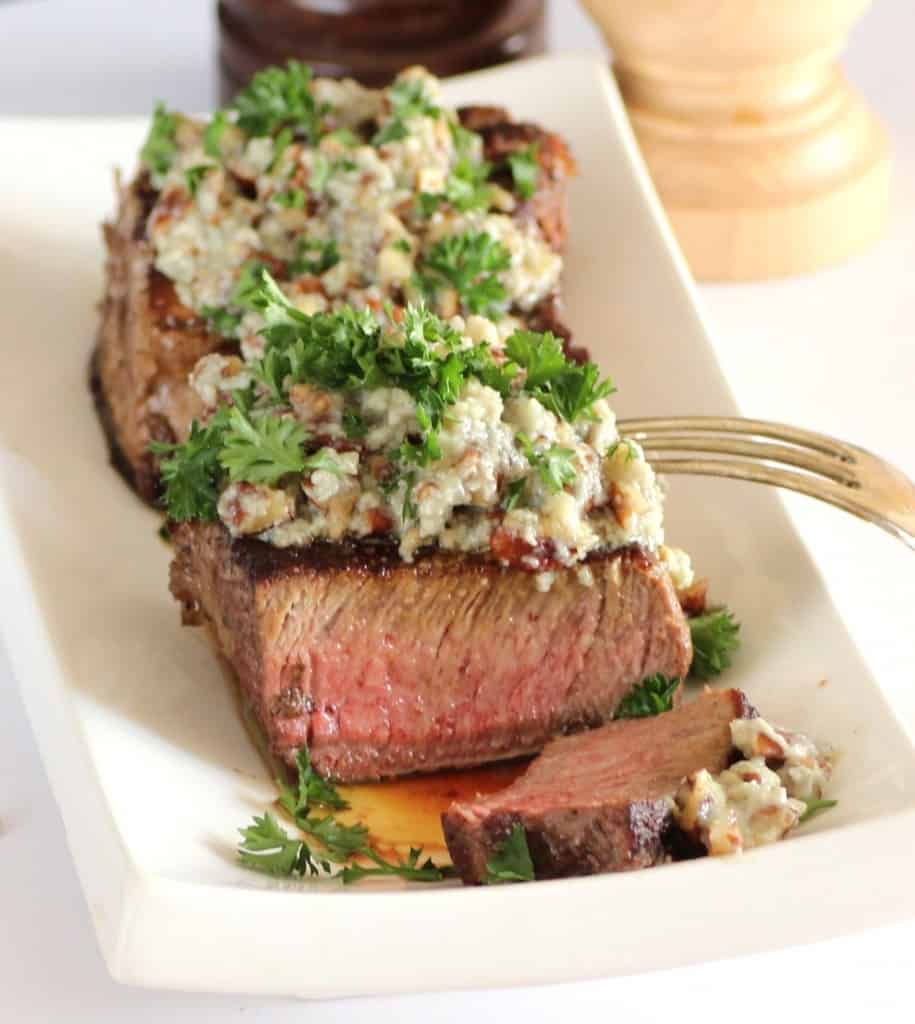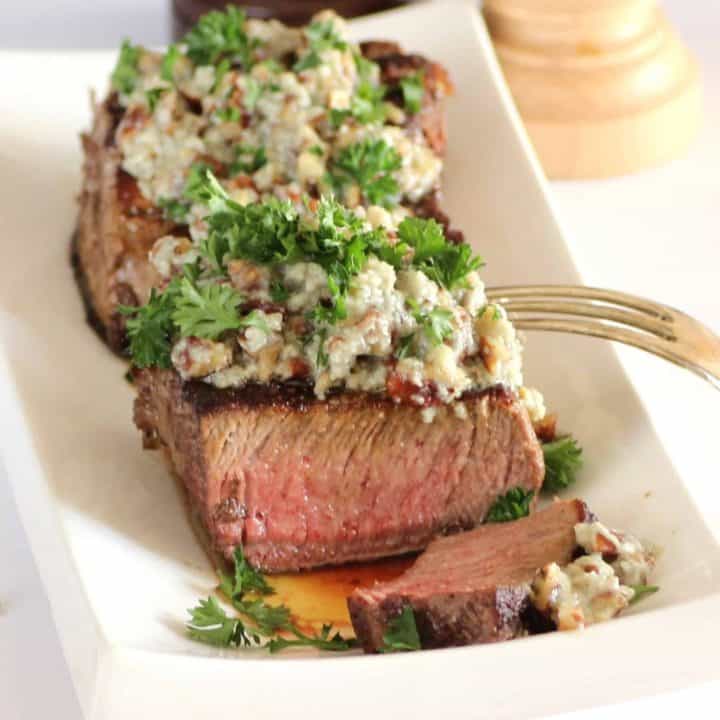 Beef Tenderloin with Stilton Pecan Butter for Dishes in 5 Ingredients or less #SundaySupper
Yield: 4 servings
Prep Time: 10 minutes
Cook Time: 12 minutes
Inactive Time: 5 minutes
Total Time: 27 minutes
A divine steak to WOW your company!!
Ingredients
4 1 1/2-2" thick beef tenderloins, 6-7 oz. each
1/2 cup pecans toasted and chopped
1 Tbsp. canola oil
3 oz. Stilton cheese
1/4 cup unsalted butter
2 Tbsp. parsley, optional
Salt and Pepper
Instructions
Preheat oven to 400F. Let the steaks come to room temperature and pat dry, salt and pepper to taste. Heat a cast iron pan over medium high heat for 2 min. then add the oil and cook the steaks for 3 min. per side.
Meanwhile mix cheese, butter and pecans together. Chop parsley if using.
Once steaks are done transfer the pan to the oven for 5-6 min. using a meat thermometer to make sure it has reached 125F for medium rare. Remove the steaks from the skillet and top with the cheese topping, cover with tin foil and let rest for 5 min. Sprinkle with the optional parsley and serve.
Nutrition Information:
Yield: 4
Serving Size: 1
Amount Per Serving:
Calories: 436
Total Fat: 41g
Saturated Fat: 16g
Trans Fat: 0g
Unsaturated Fat: 22g
Cholesterol: 83mg
Sodium: 344mg
Carbohydrates: 2g
Fiber: 1g
Sugar: 1g
Protein: 16g
Recipe calculation was provided by Nutritionix and is estimation only. If you need nutritional calculations for medical reasons, please use a source that you trust.
Adapted from the Fine Cooking magazine
Here are all the delicious contributions for this week's Dishes in 5 Ingredients or less.
Breakfast, Starters, Butters, and Jams:
Main Dishes:
Desserts:
Beverages:
If you would like to CHAT with us personally….Please be sure you join us on Twitter throughout the day during #SundaySupper. We'll be meeting up at 7:00 pm(Eastern) for our weekly #SundaySupper live chat where we'll talk about our favorite 5 Ingredient Recipes! All you have to do is follow the #SundaySupper hashtag, or you can follow us through TweetChat! We'd also love to feature your easy go-to recipes on our #SundaySupper Pinterest board and share them with all of our followers!