I was asked by the Dairy Farmers of Canada if I would like to try their new recipe for Berry Delicious Potato Salad. My first thought was berries in potato salad? How could that possibly work? Well, I couldn't have been more wrong.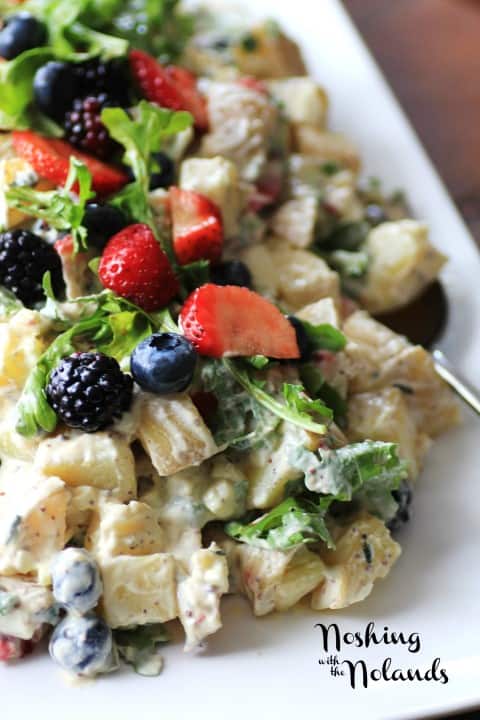 Berries and cream is such a simple pairing for the summer. In this recipe the sweet berries married so nicely with the rest of the ingredients. We all simply loved this recipe. The dressing is rich and creamy with whipped cream added along with mayonnaise and sour cream. Fresh mint and arugula ties all of the flavors together, rounding out the best potato salad I have ever had.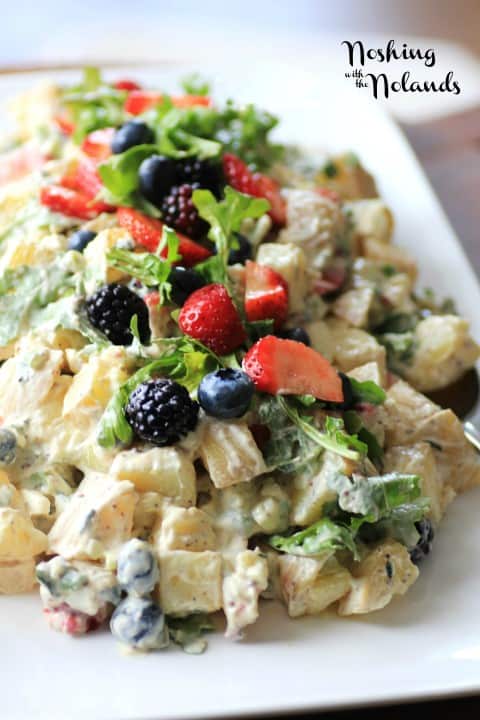 I love exploring new recipe combinations. Things that I would never think of are created by so many wonderful chefs. Michael Allemeier, CCC is the local Calgary chef that has created this wonderful recipe. Born in South Africa but moved to Hong Kong when he was 12 with his family and was bitten there by the culinary bug. He career has spanned across Canada from Winnipeg to Vancouver with him landing in Calgary where he was the executive chef at Teatro Restaurant from 1998 to 2002. Chef Allemeier has made numerous TV appearances and has co-authored the book Bishop's – The Cookbook and has also contributed recipes to many others. He is currently pursuing a career long passion as an educator at SAIT here in Calgary and is a CMC candidate, which is Canada's highest professional accreditation.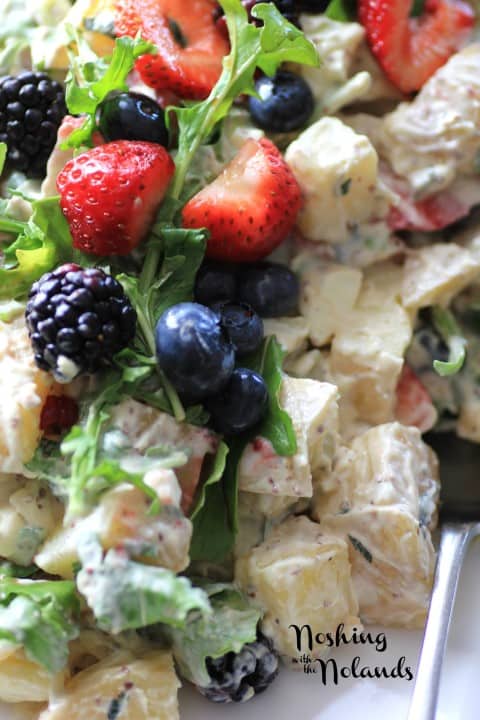 Try adding cream to savory dishes as well as sweet. Think outside the box by adding flavors to your whipped cream like I did HERE!! Also a great chef tip that I always do is to put your bowl and whisk in the freezer for at least 1/2 hour. Your cream will whip up in half the time!!
I hope you love this recipe as much as we did!! ENJOY!!
Berry Delicious Potato Salad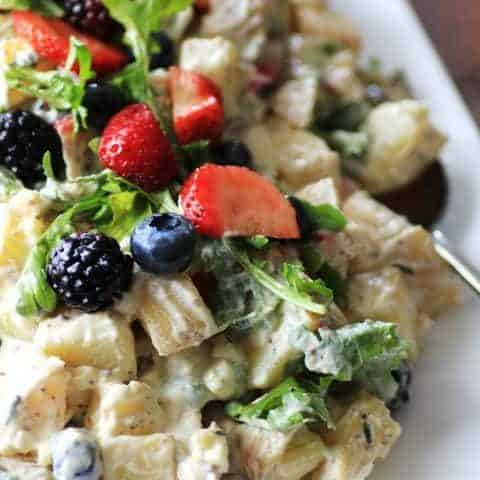 Berry Delicious Potato Salad
Yield: 8
Prep Time: 15 minutes
Cook Time: 20 minutes
Total Time: 35 minutes
An amazing pairing of berries and cream with potato salad
Ingredients
5 medium yellow-fleshed potatoes (about 2 lbs.)
2 hard cooked eggs, peeled
1/2 cup mayonnaise
1/3 cup 35% whipping cream
1/4 cup sour cream
2 Tbsp. Dijon mustard
1 Tbsp. fresh lemon juice
4 green onions, green parts only, thinly sliced
1/4 cup loosely packed, thinly sliced fresh mint
Salt
2 cups mixed berries (such as blueberries, strawberries, blackberries, raspberries)
1 cup firmly packed baby arugula leaves, stems removed
1 Tbsp. balsamic vinegar
Instructions
Scrub the potatoes and dice into 3/4 inch pieces. Cook in a large pot of salted water until tender. Drain well; let cool slightly.
Meanwhile, in a large bowl, mash eggs with a fork. Whisk in mayonnaise, whipping cream, sour cream, mustard, lemon juice, onions and mint until creamy. Add warm potatoes to dressing; season to taste with salt. Cover and refrigerate until serving.
To serve, in a medium bowl toss berries , arugula and balsamic vinegar; reserve some of the berries and arugula. Fold berry mixture into potato salad. Serve in a bowl or on a platter; garnish with reserved berries and arugula.
Chef's Tip: There are many varieties of yellow-fleshed potatoes. They have a wonderful flavour and texture, perfect for potato salad. Look for Yukon Golds, Agria and Kennebec potatoes - all are perfect for this salad.