Cookbook review day at Noshing With the Nolands and we have a gorgeous Simply Vietnamese Cooking cookbook by Nancie McDermott for you. I adore Vietnamese food and was very excited to make this Big Cool Chicken Noodle Bowl. In some Asian dishes there is quite a few ingredients but that is what makes them so delicious, an awesome layering of flavors that marry so well together. This is one of those dishes, but with a little forward thinking and some planning ahead of time it all pulls together easily. Nancy has lots of tips and tricks to help you with this too.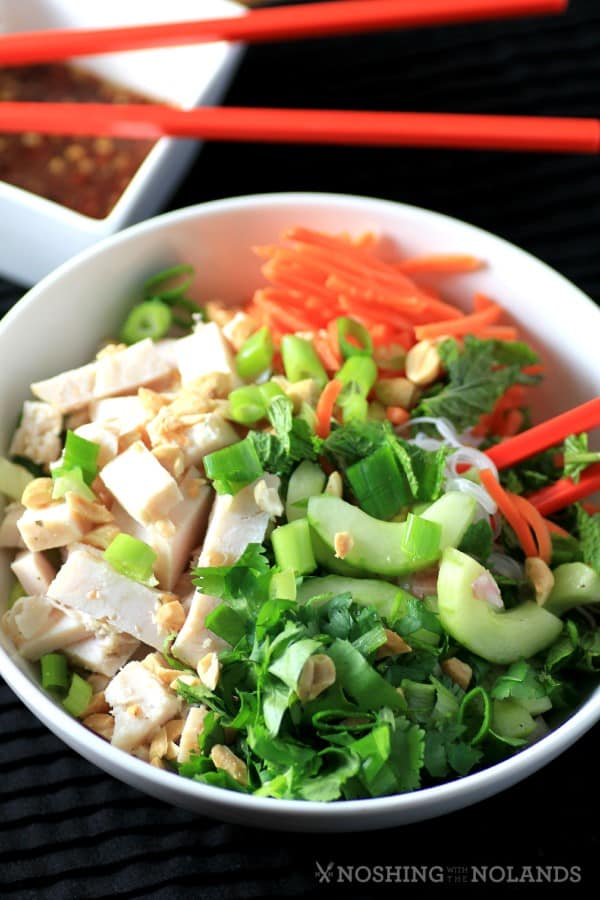 In Nancie's cookbook she helps you make an array of traditional dishes with simple ingredients that are easily accessible. Recipes that include, stir-fries, soups, salads and lots of wonderfully grilled meats and seafood. When asked what would her top five tips be for Vietnamese cooking, Nancie responded with:
Stock your pantry with items like fish sauce, soy sauce, rice, rice noodles, rice papers and then fresh ingredients like garlic, lime, cilantro, mint, shallots, sesame oil and freshly ground pepper, (I personally have all these ingredients on hand at most times).
Get a rice cooker, (I recently obtained one and now can't live without it!!).
Embrace the concept of mis en place, (this is what I touched on at the beginning, forward thinking and having things prepped ahead of time, makes Vietnamese cooking very easy).
Become a student of Vietnamese culture, (I personally hang out in lots of Vietnamese restaurants trying new dishes so that I feel comfortable in creating them again at home, my favorite is, bun, which is this recipe we have today for you).
Enjoy it, start anywhere and move forward (we have had a Vietnamese dinner party to explore more dishes and have fun).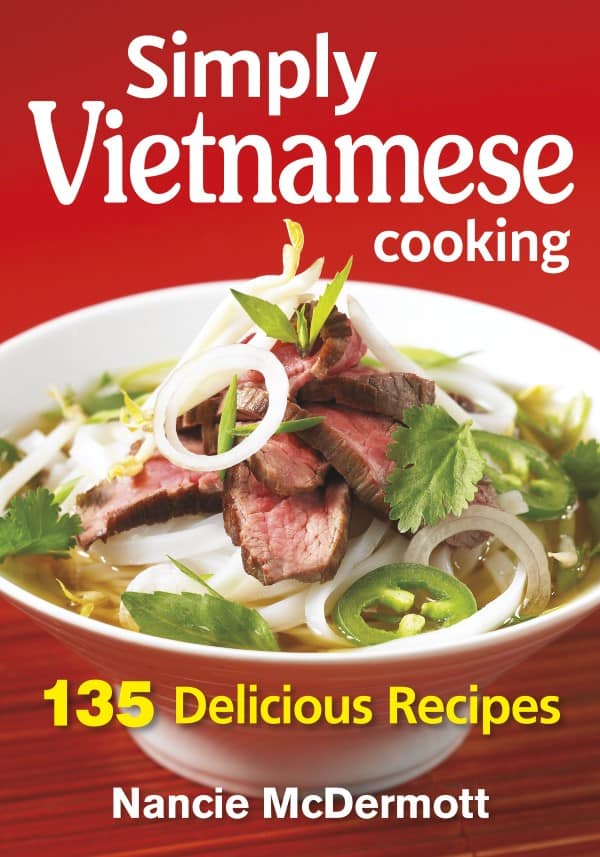 This cookbook is a great place to start to explore the many dishes of Vietnamese cooking. Recipes like Summer Rolls with Shrimp and Mint, Sweet and Tangy Soup with Pineapple, Tamarind and Shrimp, Shaking Beef with Purple Onions and Watercress, Cha Ca Fish with Fresh Dill and Vietnamese Iced Coffee.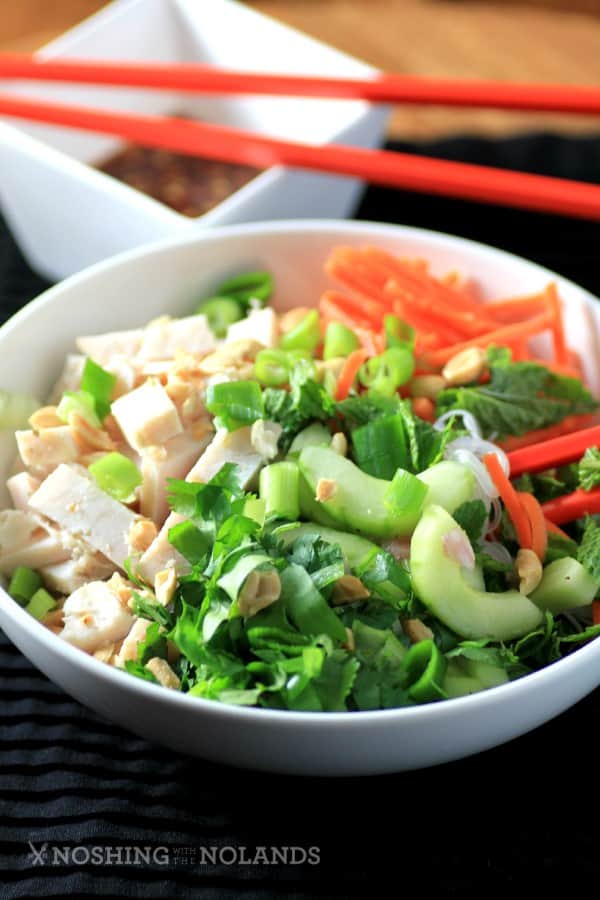 This recipe was fabulous and I had some leftover that I so enjoyed for lunch the next day too. My whole family loves a fresh bowl of goodness like this.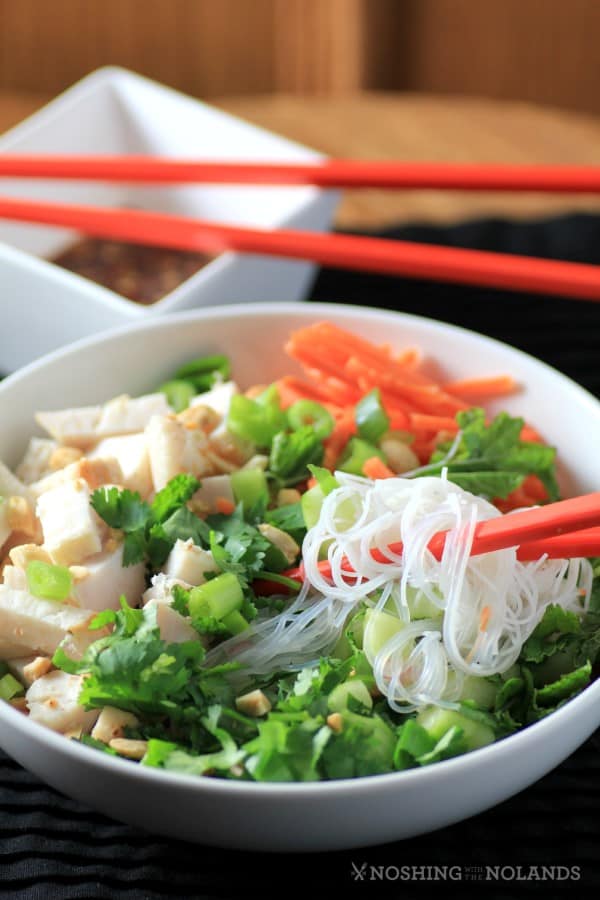 I love digging down and grabbing the deliciously sauced rice noodles. A bowl like this you can mix it all together, or as I like it, pick and choose and add flavors together as I am enjoying it.
About the author Nancie McDermott, she is a food writer and cooking teacher. She is also the author of now 10 cookbooks. Nancie gained her Asian culinary wisdom when she was a Peace Corps volunteer in Thailand. She has a passion for the cuisines of Asia and South America. Nancie resides in Chapel Hill, North Carolina with her family.
Big Cool Noodle Bowl with Roast Chicken, Cucumbers, and Mint
This recipe is a pattern for innumerable delicious variations on the meal-in-a-bowl known in Vietnam as bun. You can compose a go-to version using ready-to-savor ingredients, such as chunks of rotisserie chicken, slices of Char Shiu-Style Pork (page 88), roast duck from an Asian market, or tender slices of grilled flank steak from yesterday's grill-centered feast. Keep a couple of packages of dried rice noodles (or angel hair pasta) in your pantry, stay stocked up on fresh herbs and lettuces, and mix up a jar of pickles (pages 128 to 131), and you'll be set for pantry meals of irresistible deliciousness on a moment's notice.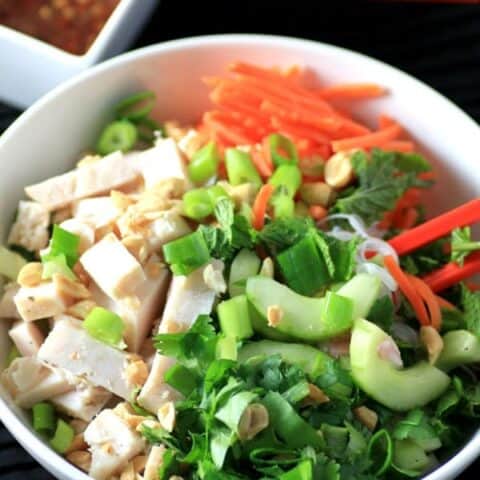 Big Cool Chicken Noodle Bowl
Yield: 4 Servings
Prep Time: 15 minutes
Cook Time: 15 minutes
Total Time: 30 minutes
This easy-to-follow recipe will have you dining on chicken noodle bowls in no time...Enjoy!!
Ingredients
Chicken Noodle Bowl
1 lb thin dried rice noodles
2 cups shredded lettuce or spring salad mix
3 cups shredded roast chicken
2 cups sliced peeled cucumber
1 cup small sprigs fresh mint and fresh cilantro combined
2 cups mung bean sprouts, optional
1 cup shredded carrots, optional
1⁄3 cup thinly sliced green onions
3⁄4 cup chopped dry-roasted salted peanuts
Double recipe Everyday Dipping Sauce (see below recipe), about 1 cup
(250 mL)
1 tbsp chopped garlic
2 tbsp granulated sugar
1⁄2 tsp Chile-garlic sauce, finely chopped fresh hot red chilies or 1 tsp (5 mL) hot pepper flakes
3 tbsp fish sauce
3 tbsp water
2 tbsp freshly squeezed lime juice
Cool Shredded Cucumber Salad (see below recipe)
2 lbs cucumbers, such as Kirby or hothouse cucumbers
1 tbsp salt
2 tsp granulated sugar
1 tsp freshly ground black pepper
2 tbsp chopped cilantro
1⁄4 cup chopped dry-roasted salted peanuts 60 mL
Instructions
Noodle Bowls
Bring a large saucepan, Dutch oven, or pasta pot of water to a rolling boil over high heat. Drop in noodles, remove from heat, and let stand, using tongs or a slotted spoon and a fork to separate the noodles and let them cook evenly, for 10 minutes.
When noodles are tender, drain, rinse in cold water, and drain again. You'll have about 6 cups (1.5 L) of cooked noodles. Let stand while you prepare the remaining ingredients.
Set out 4 big Asian-style noodle or soup bowls. Divide ingredients evenly among the bowls: lettuce first, topped with 1 1/2 cups (375 mL) noodles in each bowl.
Place roast chicken on one side and cucumber, fresh herbs, and any optional ingredients you're using on the other.
Sprinkle green onions and peanuts over chicken, pour 1/4 cup (60 mL) of Everyday Dipping Sauce over each portion of the noodles, and serve at once, inviting your guests to toss everything together as they begin to eat.
Everyday Dipping Sauce
In the bowl of a mortar, if using, combine garlic, sugar, and chile-garlic sauce and mash with a pestle to a paste. (Or combine them on your cutting board and mash to a coarse paste with a fork and the back of a spoon.)
Scrape the paste into a small bowl and stir in fish sauce, water, and lime juice. Stir well to dissolve sugar. Transfer to small serving bowls for dipping. Or cover and refrigerate for up to 1 week.
Cool Shredded Cucumber Salad
Trim cucumbers, removing ends and peeling each one.
Using a box grater placed in a large bowl, shred whole cucumbers into a small mountain of tiny cucumber ribbons.
Sprinkle salt over cucumbers and toss well. Set aside for about 20 minutes or for up to 1 hour.
Rinse and drain cucumbers well. Add sugar, pepper, and cilantro and toss well. Transfer to a small serving plate or shallow bowl and sprinkle with peanuts. Serve at room temperature or chill and serve cold.
Nutrition Information:
Yield: 4
Serving Size: 1
Amount Per Serving:
Calories: 1209
Total Fat: 44g
Saturated Fat: 10g
Trans Fat: 0g
Unsaturated Fat: 29g
Cholesterol: 135mg
Sodium: 4047mg
Carbohydrates: 140g
Fiber: 11g
Sugar: 25g
Protein: 65g
Recipe calculation was provided by Nutritionix and is estimation only. If you need nutritional calculations for medical reasons, please use a source that you trust