Black Bean and Butternut Squash Quinoa Wraps
This Black Bean and Butternut Squash Quinoa Wrap recipe caught my eye for a few reasons. Number one, I love black beans. Secondly two, I already had butternut squash in the pantry. Number three, I love my vegetarian meals as much as I love my meat!! And fourth, it was made by one of my favorite sites and that is Peanut Butter and Peppers!!!
I have known Jennifer through blogging from almost the beginning. She has a wonderful site filled with healthy and fantastic meals, salads, desserts, cookies, smoothies and so much more. Check out this amazing drink. I have stared at this one for a long time, not only wanting that wonderful Frappe but maybe a dip in that pool too!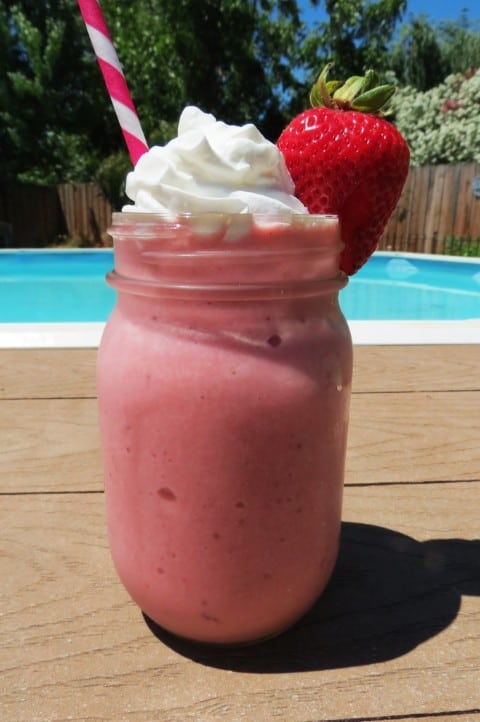 Look at how gorgeous this drink is, a Rise and Shine Tropical Smoothie.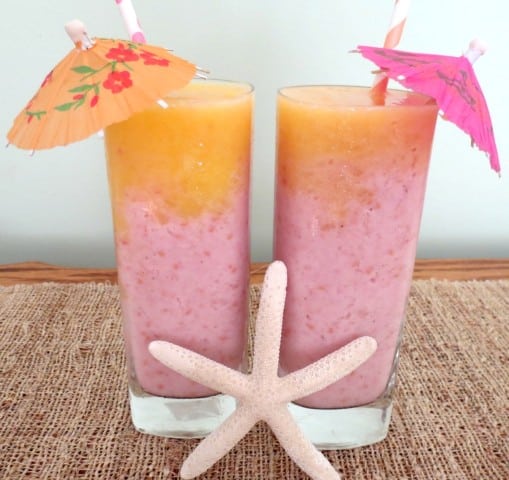 Trader Joe's!
Jennifer is also a huge fan of Trader Joe's which makes me jealous, I have to admit because I love that store and we don't have anything like that up here in Canada. I have to say I am a huge fan too!
Anyway to the meal at hand. This quinoa dish can be made as a salad but also a taco and that is how we all enjoyed it. How delicious was this all wrapped up in a flour tortilla?
I love roasting the squash so that it turns out sweet and slightly caramelized. We added a bit more spice with some Frank's hot sauce and some sour cream and salsa on the side and man was this good.
Amber and Ken both loved it and we had some for leftover lunches for the next day! I know you will enjoy it too!! Thanks, Jennifer for a great recipe!!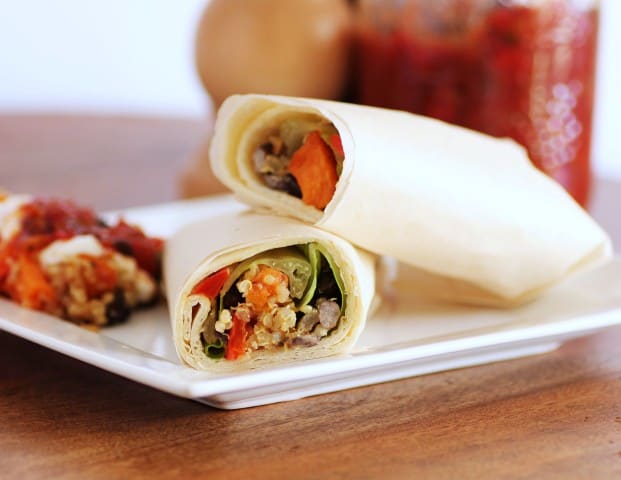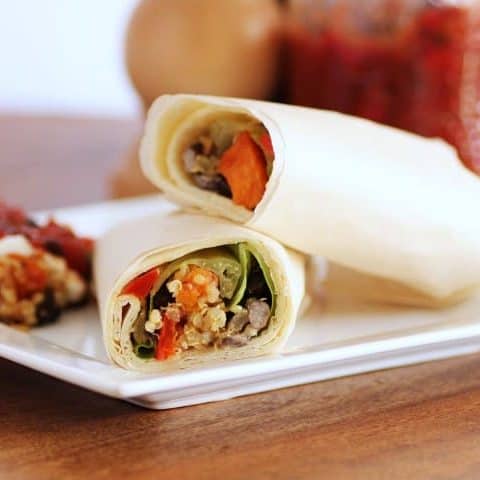 Black Bean and Butternut Squash Quinoa Wraps
Yield: 8 Servings
Prep Time: 10 minutes
Cook Time: 35 minutes
Total Time: 45 minutes
A great healthy wrap that you will love!!
Ingredients
1 cup quinoa, uncooked
2 cups of water
1Tbsp. + 1 tsp. olive oil
1/3 cup onion, diced
1 large sweet red bell pepper, diced
1-15 oz. can of black beans, drained and rinsed
1 butternut squash
1/2 tsp. cumin
Salt and pepper to taste
Flour tortillas
Romaine lettuce leaves
Frank's hot sauce
Sour cream
Salsa
Parchment paper, optional
Instructions
Preheat oven to 400F. Peel, remove seeds and cut up the squash into small cubes. Drizzle with the Tbsp. of olive oil and salt and pepper.
Roast in the oven for 20min. or until they start to brown, flip over and cook for another 10min. or until tender.
Meanwhile, cook quinoa according to package. Then in a large skillet heat the tsp. of olive oil and saute the onion and bell pepper for about 5 min.
Add the black beans, cumin, and butternut squash. Cook until warmed through. Add the quinoa and toss.
Layout the flour tortilla topped with a lettuce leaf and add the quinoa mixture.
Sprinkle with hot sauce, salsa, and sour cream or serve them on the side.
Wrap them up in parchment paper if you like and serve.
Nutrition Information:
Yield: 8
Serving Size: 1
Amount Per Serving:
Calories: 197
Total Fat: 3g
Saturated Fat: 1g
Trans Fat: 0g
Unsaturated Fat: 2g
Cholesterol: 1mg
Sodium: 128mg
Carbohydrates: 35g
Fiber: 8g
Sugar: 2g
Protein: 9g
Recipe calculation was provided by Nutritionix and is estimation only. If you need nutritional calculations for medical reasons, please use a source that you trust.