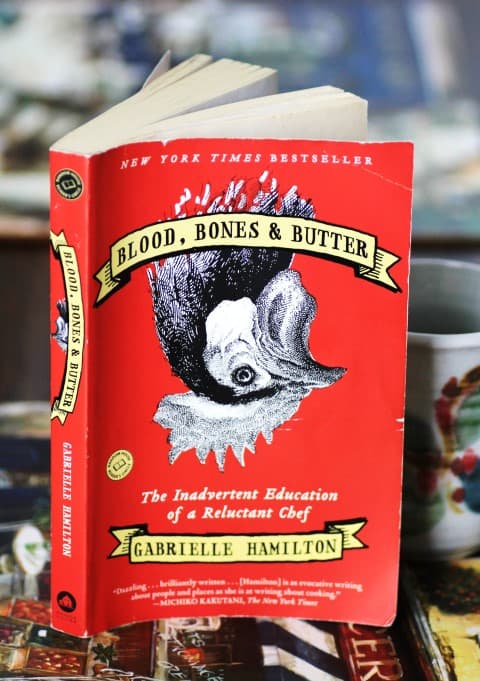 I received this book as a present last Christmas and because of this blog mainly, I don't have a lot of time for reading but I so enjoy it. I also love a good read, one that will take me on a journey from start to finish and this book did that.
I had never heard of Gabrielle Hamilton, Blood, Bones and Butter or her New York restaurant Prune but I am a foodie true and true and love memoirs or autobiographies of chefs and their lives.
This started 14 years ago with Anthony Bourdain's book Kitchen Confidential, a gritty read that I lapped up! Anthony said of Blood, Bones and Butter, "Magnificent, Simply the best memoir by a chef. Ever." Well, that was good enough for me and I dove in while on holiday over Christmas.
The book starts off in an idyllic world with Gabrielle growing up in rural Pennsylvania. Her family threw a party every year, the same party, a spring lamb roast for almost 200 people, who would come from far and wide. Those were the good days that she remembered so well. Those parties and the happy family meals were cooked by her "loving" mother, but it wasn't to last as her world was shattered when her parents abruptly separated.
Ms. Hamilton's memoirs continue on in rural 1970s Pennsylvania where she had no parental guidance until she leaves for New York and finds the wild coke-filled nights of the 80's. Along with food as her guidance, provoking and shaping her way until she opens Prune and marries into an Italian family.
Gabrielle writes that the driving force behind her opening up a restaurant was to "harness a hundred pivotal experiences relating to food — including hunger and worry — and translate those experiences into actual plates of food." She succeeded with a critic's choice restaurant.
I enjoyed the read and the travel through her life, not always like what she was doing nor like her at times, but that's all right, it makes for good reading.