Bocce Brunch
As much as the Noland's like to cook, we also love to dine. One of our favorite things to do is brunch. You can really get an amazing meal that fills you for the whole day. We were kindly invited down to Bocce's to try their magnificent brunch menu and I really mean magnificent!! So off we went to enjoy a Bocce Brunch! We were blessed to have an extravaganza of fine brunch items at Bocce. I had been to Bocce's casual Italian eatery before, for their grand opening and was excited to go back.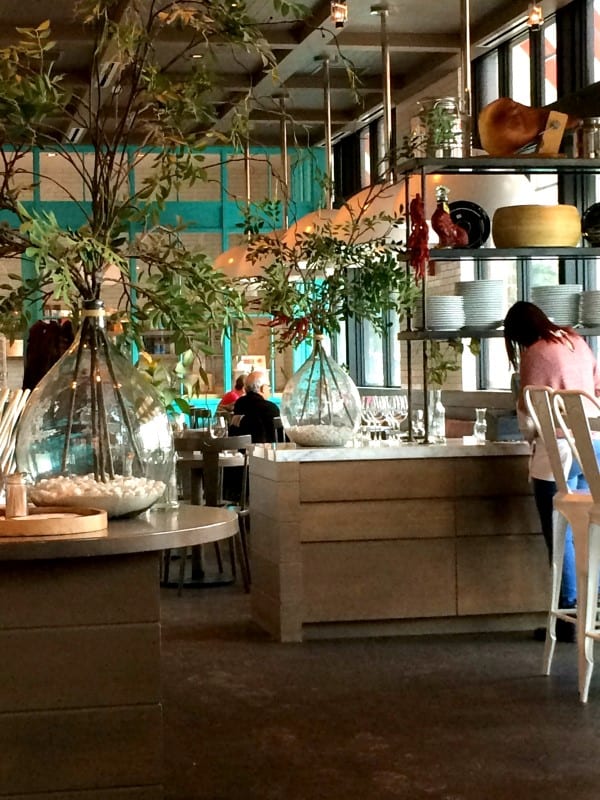 The atmosphere is bright and inviting, there is an open kitchen to the side and a prep kitchen in the back. The staff are welcoming and efficient.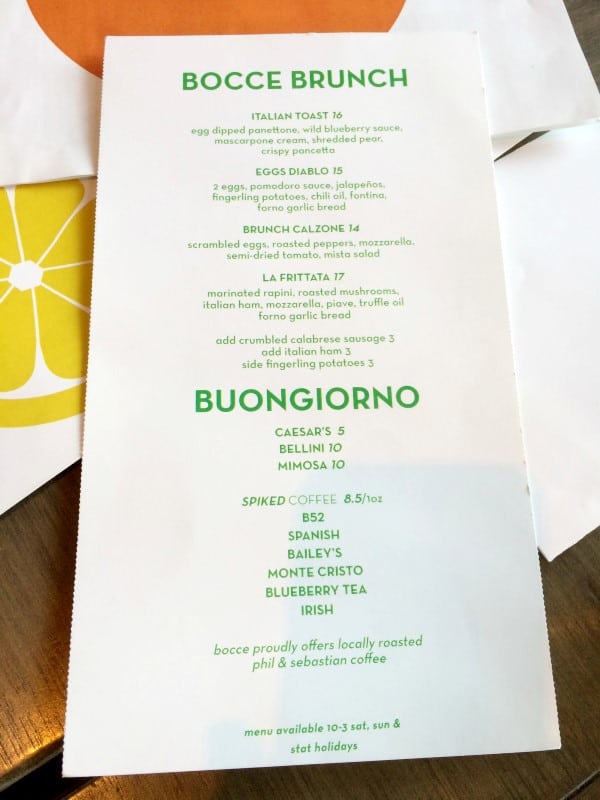 The menu had me excited, Amber asked why there were only four menu items. I said that way the chef can perfect them to the utmost and I was right!!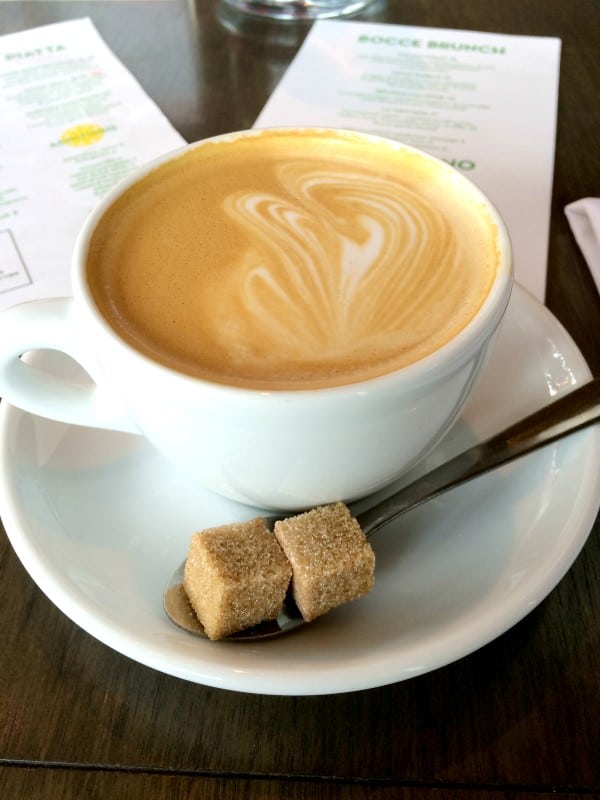 We started off with some beverages, this gorgeous cappucino was our daughter's treat.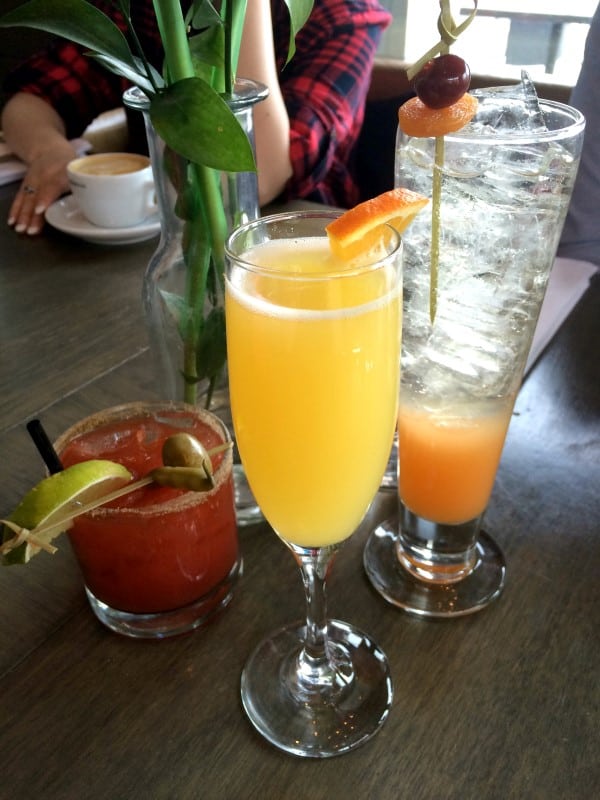 For us we got to try the cocktails, lucky us!! The first is a classic Mimosa which screams brunch, beautiful orange juice and prosecco. Great way to start a fun brunch.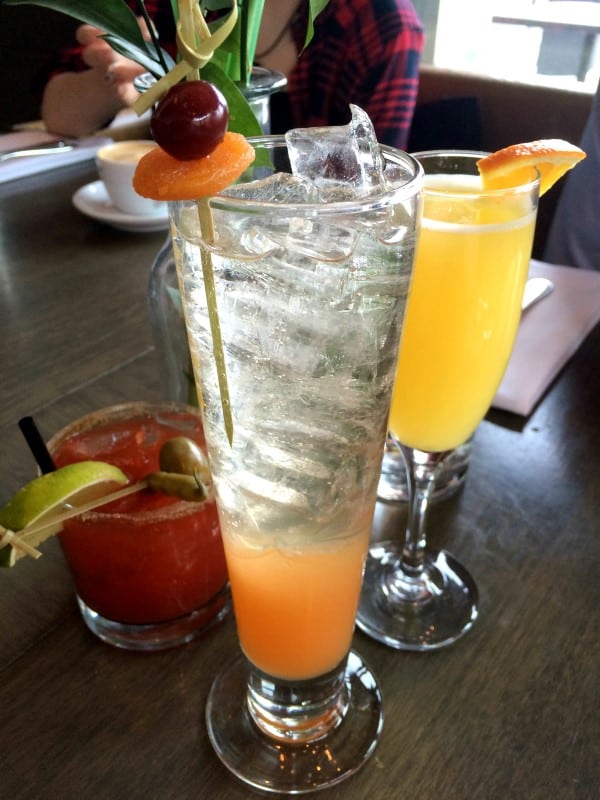 The next cocktail had me excited to try, not only was it gorgeous but also wonderfully flavored with apricot. The Bellini is another classic brunch libation, that is sure to please!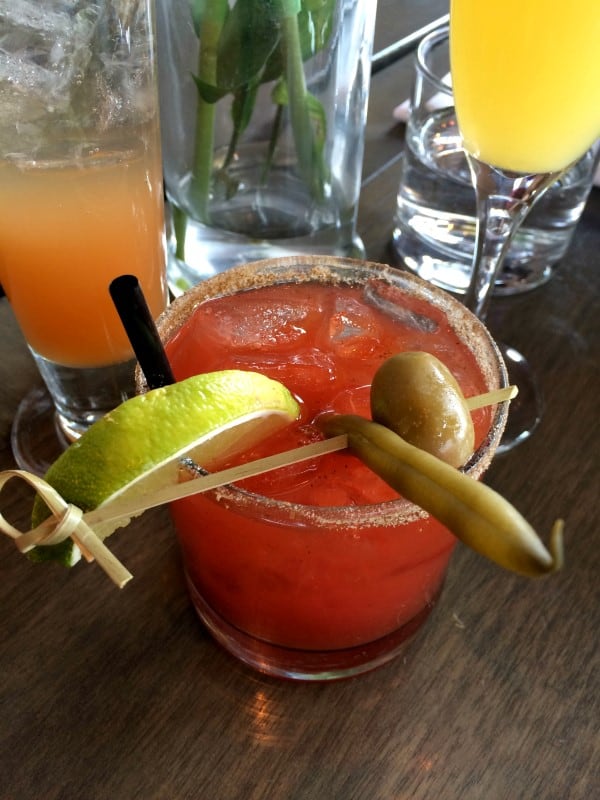 If you want to go to the savory side, another great cocktail is the Caesar, so Canadian and so fabulous. I love when it comes with a little bit of a meal, yum!!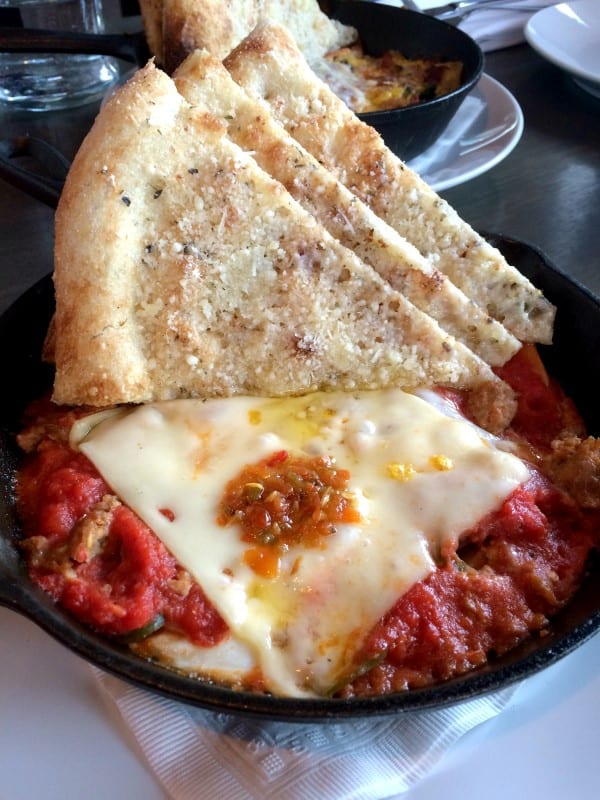 When the brunch items came out, Amber got a bit teary eyed. I asked what was wrong and she said they are all just so beautiful!! She is such a foodie, cracks me up! I barely got a taste of this one as Amber was devouring it. Eggs Diablo has just the right spice with pomodoro sauce, jalapenos, fingerling potatoes, chili oil, fontina over eggs and served with the most unbelievable forno garlic bread. That bread I have had dreams about, it is like a crispy pizza dough with so much flavor from the cheese, I could eat it all day long.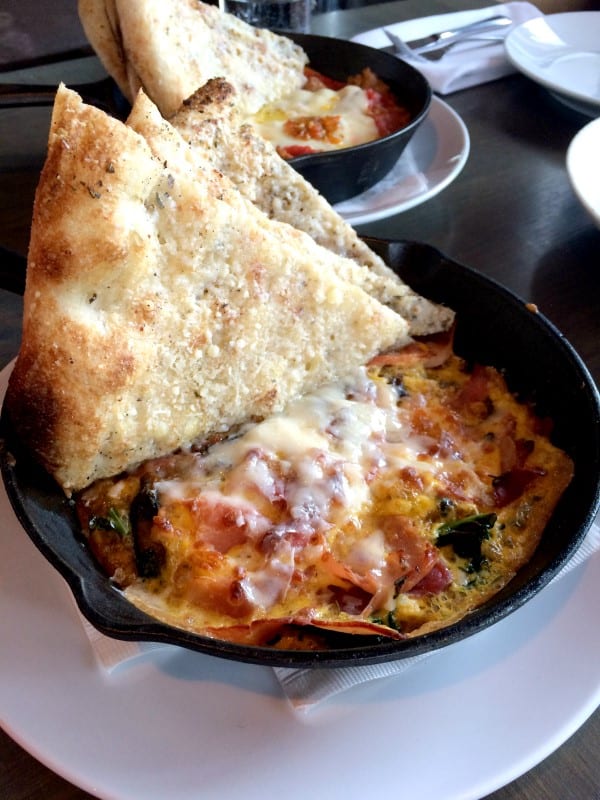 La Frittata is another explosion of flavors from marinated rapini that gives the dish a delicious bitter flavor. The richness of the roasted mushrooms, Italian ham and mozzarella and piave (cheese) work well with the bitter rapini, all bumped up a notch with stunning truffle oil. Again, that to die for forno garlic bread is served with it. I love that the meals are served in cast iron pans, it keeps them so much warmer than if they were served on a plate, genius really!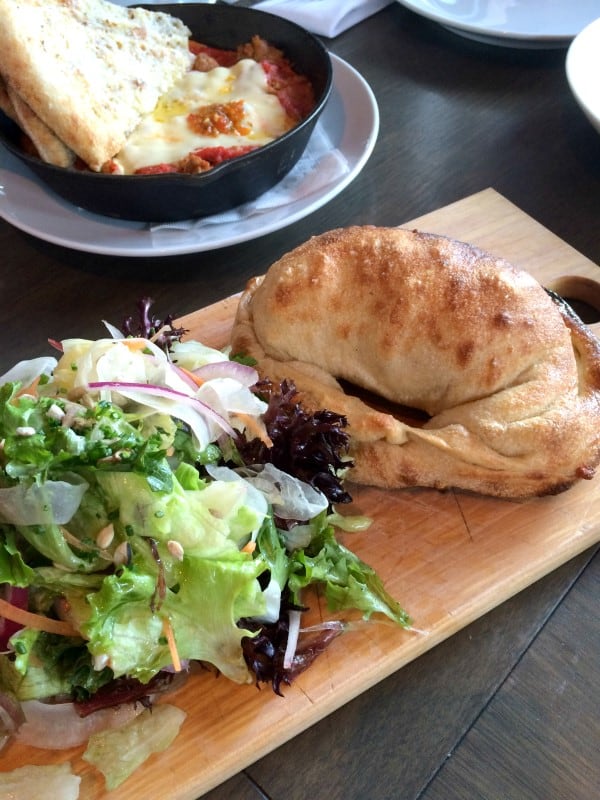 I was intrigued with this dish, I have never had a Brunch Calzone before and it was amazing. The crisp, perfectly balanced salad that accompanies it is perfection, with it's bright acidic dressing, we all loved that.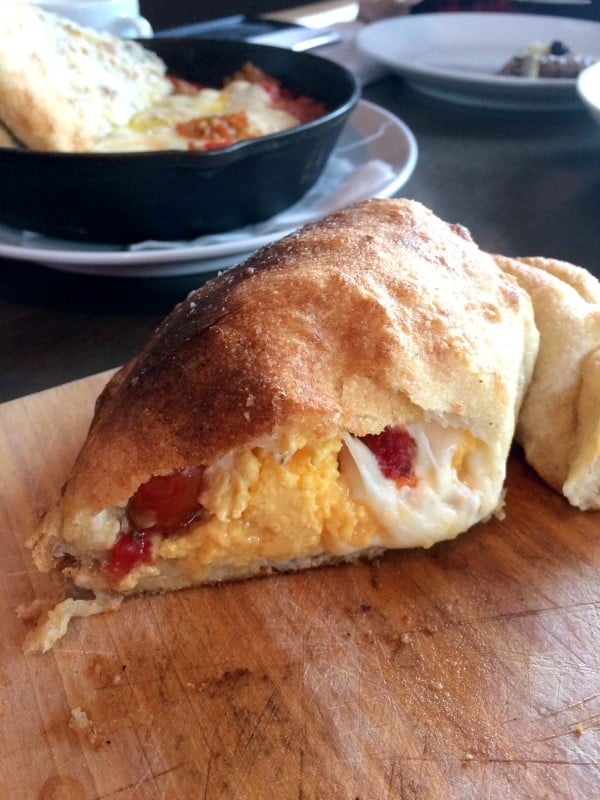 I had to show you a slice of the inside of this calzone. Gorgeous creamy scrambled eggs with roasted peppers, mozzarella and semi-dried tomatoes was a feast onto its' own. The crust is perfectly crispy, the inside gorgeous and dreamy. All of the brunch options can have calabrese sausage (which was in the eggs diablo) or Italian ham added. Otherwise this is a scrumptious vegetarian option.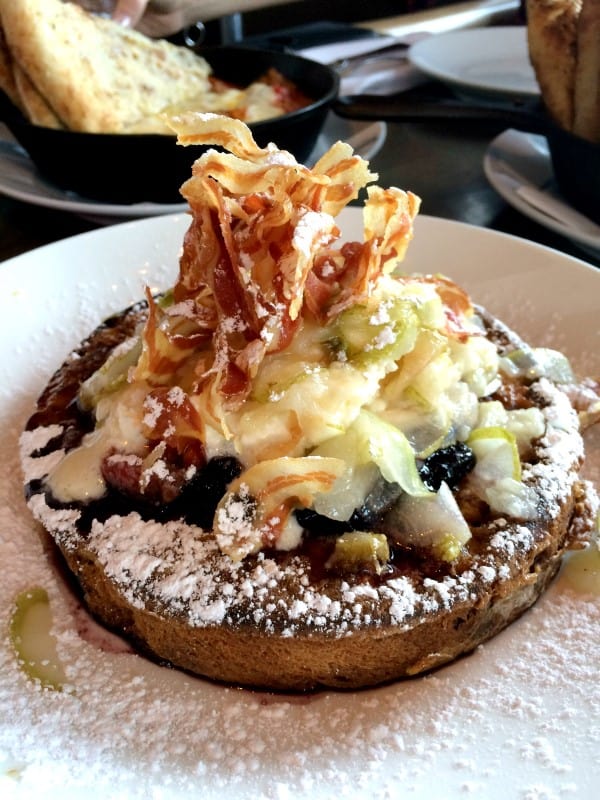 Last but far from least is the out of this world Italian Toast, which is egg dipped panetone. My taste buds exploded with all sorts of flavors from the wild blueberry sauce, to the mascarpone cheese, and the shredded pear. The crowning glory though is that crispy, salty, mind boggling proscuitto with all of the other flavors. This is a true work of art!!
Come to Bocce to experience all this and more!! Follow along on Twitter, Facebook and Instagram. You will be so happy that you did!