That's What I Think (TWIT) Review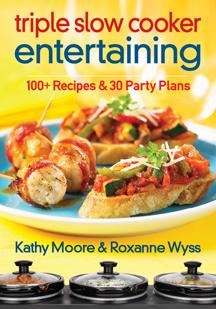 Today is a review day of this wonderful cookbook and all that it has to offer. This cookbook helps you party plan using your slow cooker. I personally only pull my slow cooker out for Monday to Friday cooking but there is a raft of ideas to help you out with entertaining!! And how easy is that!!
They have menus for all types of occasions. Great time saving ideas and make ahead tips scattered throughout the cookbook. Menus have been set up to help you with parties from the Super Bowl to the Oscars. All the holidays are covered too!! Recipes for appetizer to dips and fondues to soup, main courses and dessert. Everything is covered in this cookbook for slow cooking.
I decided to try the Bourbon Barbeque Beef Sandwiches that would feed a crowd. Great summer sandwiches where you don't have to be slaving over the BBQ!! Perfect for Calgary with Stampede coming. These turned out delicious!! With a few salads you are ready for summer entertaining and it CAN be this easy!! ENJOY!!!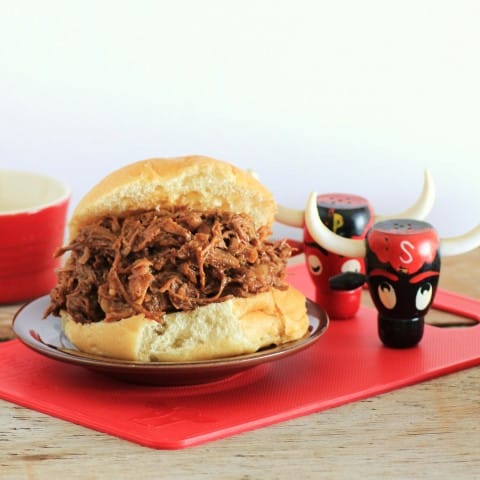 Bourbon Barbecue Beef Sandwiches from Triple Slow Cooker Entertaining
A great pulled beef sandwich from your slow cooker.
Author:
Kathy Moore and Roxanne Wyss
Ingredients
1 onion, sliced
2½ - 2¾ lb. boneless beef chuck or shoulder pot roast, blade or cross rib roast
1 Tbsp. dry minced (granulated) garlic
½ tsp. salt
½ tsp. freshly ground black pepper
¼ cup sodium reduced beef broth
¼ cup bourbon
1 cup BBQ sauce
Hamburger buns
Instructions
Arrange onion slices in the bottom of a slow cooker, overlapping as necessary. Cut roast in half (if necessary) and place on top on onions. Sprinkle with garlic, salt and pepper. Pour broth and bourbon over top.
Cover and cook on low for 8-10 hours or on high for 4-5 hours. until beef is very tender.
Using tongs transfer beef to a tray. Pour liquid into a deep bowl. Trim fat from beef. Using two forks, shred beef. Return beef to the slow cooker. Using a slotted spoon transfer onion from the liquid and return to the slow cooker. Skim fat from liquid. Measure out ½ cup of liquid and pour over the beef (discard excess liquid. Stir in BBQ sauce.
Cover and cook on high for 30 min. or until heated through. Turn to warm for serving.
To serve spoon beef and sauce onto buns.