Brewed Apple Cake
I am so excited to have Paula here today, really I am!! She has one of my absolute favorite blogs, Vintage Kitchen Notes. I can't wait to see what she has come up with each week when we are both on #SundaySupper together.
Her pictures are breathtaking and her recipes to drool over!! She even kindly had me select the recipe for today. I picked a good one!! Brewed Apple Cake!!
I think that is a perfect cowboy dessert, don't you? Cake made with beer, I couldn't go wrong!!
Reading Paula's post today you will see that she can relate to our recent flooding situation in Calgary, as she just lived through one herself recently, but not close to here, all the way in Argentina.
Yes, Paula lives in South America and I would love for you to follow along on Facebook, Twitter, and Pinterest. You won't want to miss a minute of what she is up to.
I now give you the very talented and lovely Paula! ENJOY!!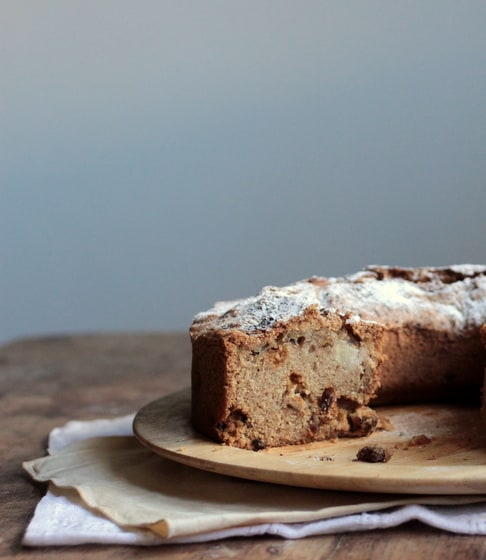 Welcome Paula
It´s a treat to be guest posting for Tara again. Remember the citrus cake with limoncello glaze? Well, that was me. This time bearing another cake, but with apple chunks, raisins, and beer. Yes, no butter but a large pouring of beer.
Tara is a friend for over a year and we usually meet on Sundays for a group post. She´s consistently helpful and caring, the kind of blogging friend you can count on.
Isn´t that the best kind? Of course, you know about her talent in the kitchen. Blue Hawaiian bundt cake maybe? Or morels in cream sauce with peas?
This recipe for brewed apple raisin cake made its way onto this post. I mean, she worked it. Really did.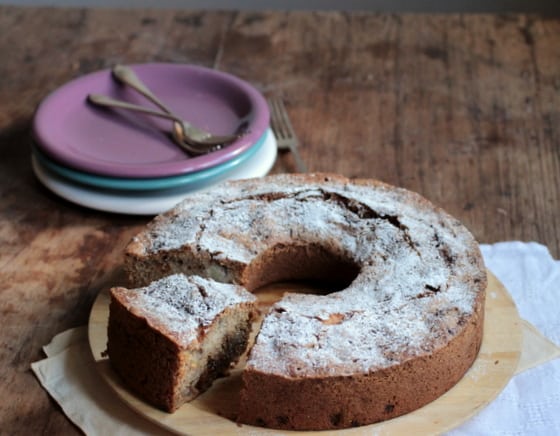 The Story
The story begins some thirty years ago, and I write it in letters because you know, 30 jumps off the screen and it makes me feel like an enormous pile of years is on my shoulder. They are, but I´m choosing to ignore them.
Anyway, I cut, pasted, and saved this recipe from a magazine. The old fashioned way. With scissors, glue, and a binder.
It turns out that my hoarding abilities saw this black binder move numerous times during those years, all the way from California, where I was living at the time I clipped the recipe, to Buenos Aires.
And then from an apartment to another one, to a big house, later to a big apartment, to a smaller house, back to another apartment. And it goes on.
Then, a few months ago, when an uninvited flood brought copious amounts of water into my house, this binder turned out to be one of its victims. Those who know me, or read my blog regularly, know that my recipes, whether it´s in the form of cookbooks, loose pages, or magazines, are sacred.
You don´t mess with them, you don´t touch them. I´m really a lion with her cubs when it comes to my recipes. No comments, please.
So this soaked binder was really an inconvenience. The pasty pages stuck together so I took the time to separate each page and put them out in the sun to dry. They did dry eventually, but the little pieces of paper, the glued recipes, started falling off. And the wind swirled them until they got mixed with the piles of fall leaves. So I frantically went after each piece of printed paper I could find on my terrace.
Who would know that this particular recipe for brewed apple raisin cake would get lost and found more than once? It either fell off the binder again, or it got misplaced while trying to recover as many pages as I could. The thing is, I kept finding it again and again. It must´ve happened four or five times.
So I decided it was a sign that I had to share it with you. Yeah, like I had nothing to do after my house was flooded…So I finally made it a few weeks later, when I went back into my kitchen and baked.
It´s a very simple, sort of coffee cake, with chunks of apple, walnuts and beer. That´s the brewed part. And it´s so good. A faint apple cider feeling to it. Or your usual apple cinnamon mix, but not quite the way you remembered.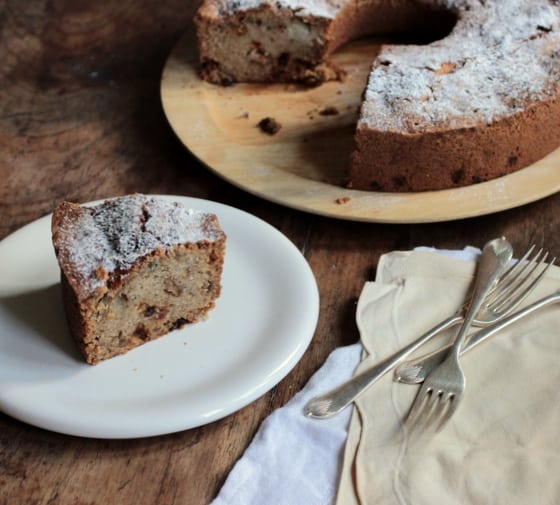 It´s the best way to use a flat beer that got forgotten. I used a pale ale, but you can even use a stout. A cake that will go well with everyone in your house, because, it turns out everyone likes apples.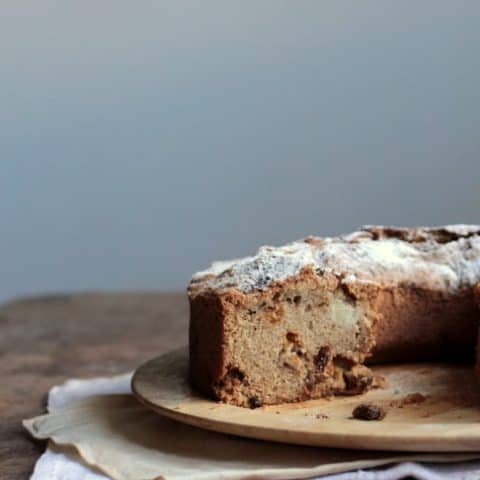 Brewed Apple Cake by Vintage Kitchen Notes
Yield: 10 Servings
Prep Time: 15 minutes
Cook Time: 1 hour
Total Time: 1 hour 15 minutes
The perfect coffee cake that even a cowboy would love!!
Ingredients
3 cups sifted flour
1 ½ cups sugar
1 teaspoon baking soda
1 teaspoon salt
1 teaspoon cinnamon
A few grindings of fresh nutmeg
3 eggs
1 cup canola oil
½ cup beer, at room tº
½ teaspoon vanilla
2 large granny smith apples, peeled, cored, and cut into chunks, about 2 cups
1 cup chopped walnuts
½ cup raisins
Instructions
Preheat oven to 350º. Grease a 9-inch tube pan.
In a large bowl, sift together flour, baking soda, salt, cinnamon, and nutmeg.
Add eggs, oil, beer, and vanilla. Beat until mixed. The batter will be thick.
Add apples, walnuts, and raisins and mix well with a spatula.
Pour batter into prepared pan and bake for 1 hour or a little bit more, until a tester inserted comes out clean.
Let cool on wire rack. Dust with powdered sugar if you want and serve.
It keeps at room tº for a few days, well wrapped.
Nutrition Information:
Yield: 10
Serving Size: 1
Amount Per Serving:
Calories: 589
Total Fat: 32g
Saturated Fat: 3g
Trans Fat: 0g
Unsaturated Fat: 28g
Cholesterol: 56mg
Sodium: 362mg
Carbohydrates: 70g
Fiber: 3g
Sugar: 37g
Protein: 8g
Recipe calculation was provided by Nutritionix and is estimation only. If you need nutritional calculations for medical reasons, please use a source that you trust.
Barely adapted from an old Glamour magazine