Here is a special Mouth Watering Mondays. This recipe I shared on BonBon Break a while back and now I have it for you here today. It is one of my favorite casseroles and it is so quick and easy to make Broccoli Cauliflower Cheese Bake.
The cheese sauce is created on its own in the casserole. You just cut up cubes of cheese and viola, it couldn't be easier!! This is great comfort food for Thanksgiving or the holidays!! Also, try our Instant Pot Broccoli Cheese Soup, Cheese Sauce Recipe or Cheesy Cauliflower Casserole too!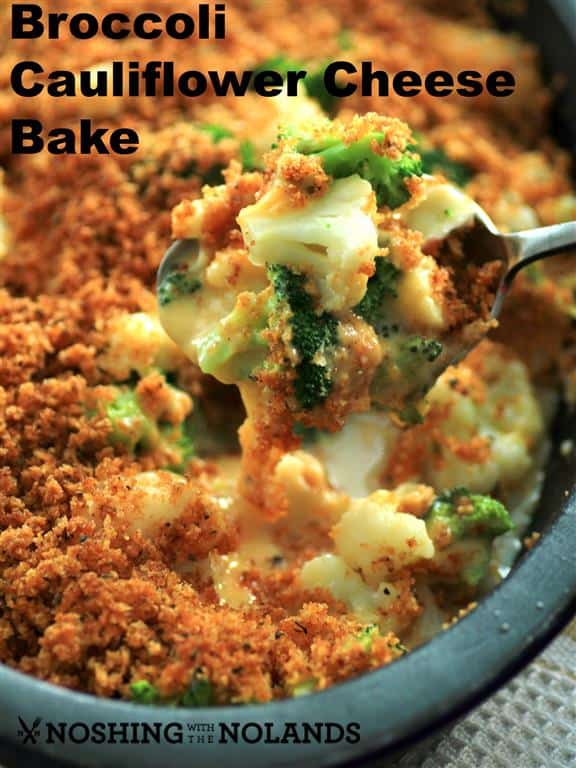 Helpful Items for This Recipe
This post contains affiliate links.
Can You Make Cheese Sauce in Advance?
There is no need to make a cheese sauce in advance for this recipe. This is the only time I have used Velveeta in baking and I have to say it works great and the cheese is melted perfectly with no effort. Camembert and Velveeta are diced and added to the veggies, it is as easy as that to make a sauce.
I love broccoli and cauliflower together. It is also one of the best casserole recipes we make.
Maybe not the healthiest of choices but "everything in moderation, including moderation," said Julia Child. You can make your own cheese sauce but for little effort, this dish makes its own sauce. If it is for the holidays then you can splurge a little!
But there are lots to love about this recipe! Perfectly done veggies that are first blanched for 3 min. and then shocked in cold water. This technique ensures that they keep their color and texture.
Then a cheese sauce that is created on its own in the oven. Lastly, a slightly spicy, crunchy gorgeous crumb mixture is mixed up in a small bowl and the perfect finish to this great dish.
Potluck Perfection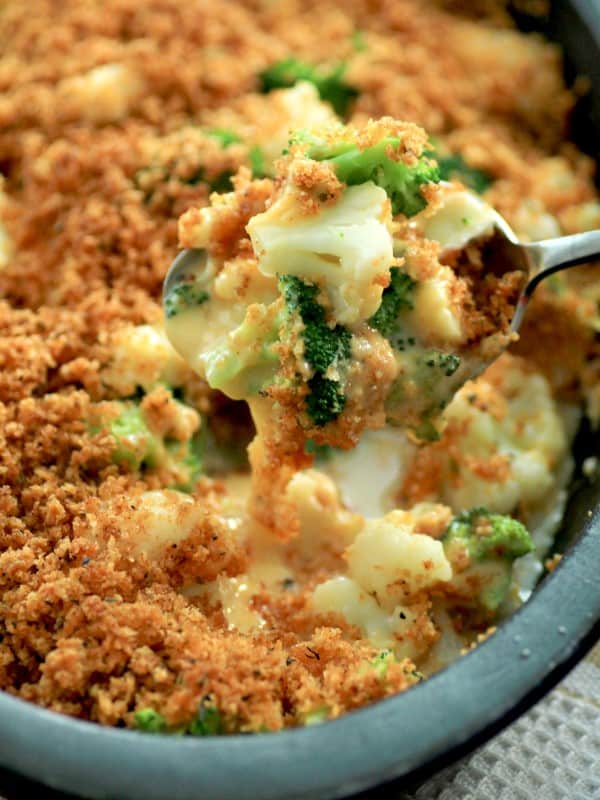 I have brought this dish to a few potlucks and it completely has disappeared. Everyone loves a casserole like this and if you use gluten-free panko crumbs or bread crumbs even more people can enjoy it.
Besides salt and pepper, for the topping, there are some other interesting ingredients that make this recipe stand out. Read the recipe to find out more!!
This dish goes with turkey, ham, roast beef and even fish. It can be easily made as a weekday casserole as it can be special for the holidays too!
It is completely portable and just needs to be popped into a preheated oven.
This dish is nice also because it is just vegetables and doesn't include rice which I find to sometimes be too filling with a big dinner.
This makes a small 8×11″ baking dish but you can easily double it for a larger crowd. A side dish that is easy to make and serves a crowd is a win, win!!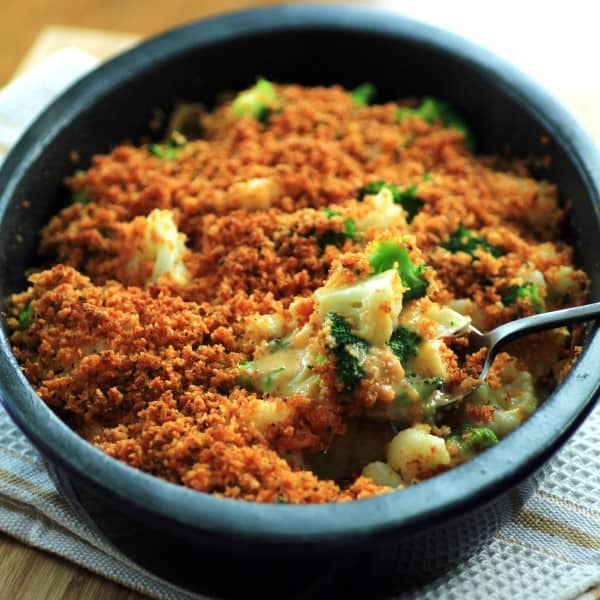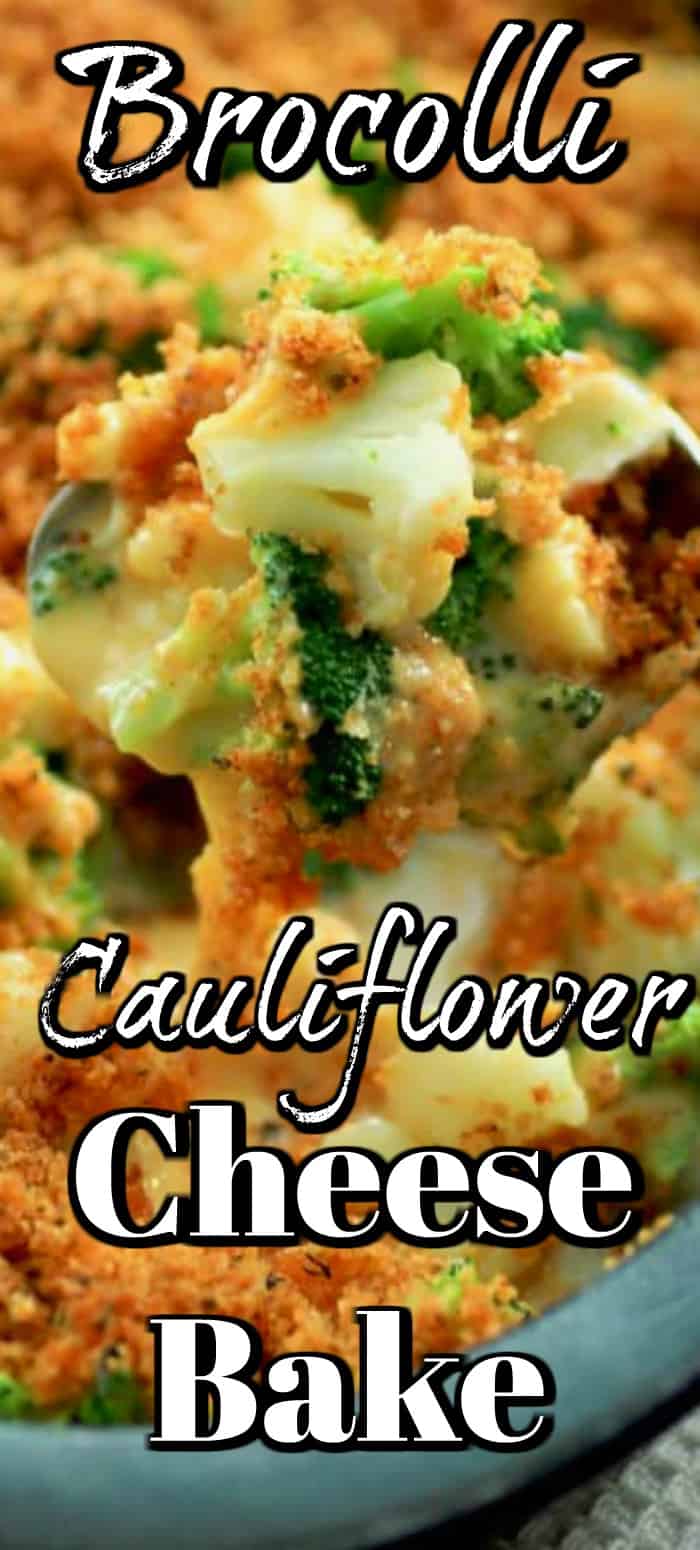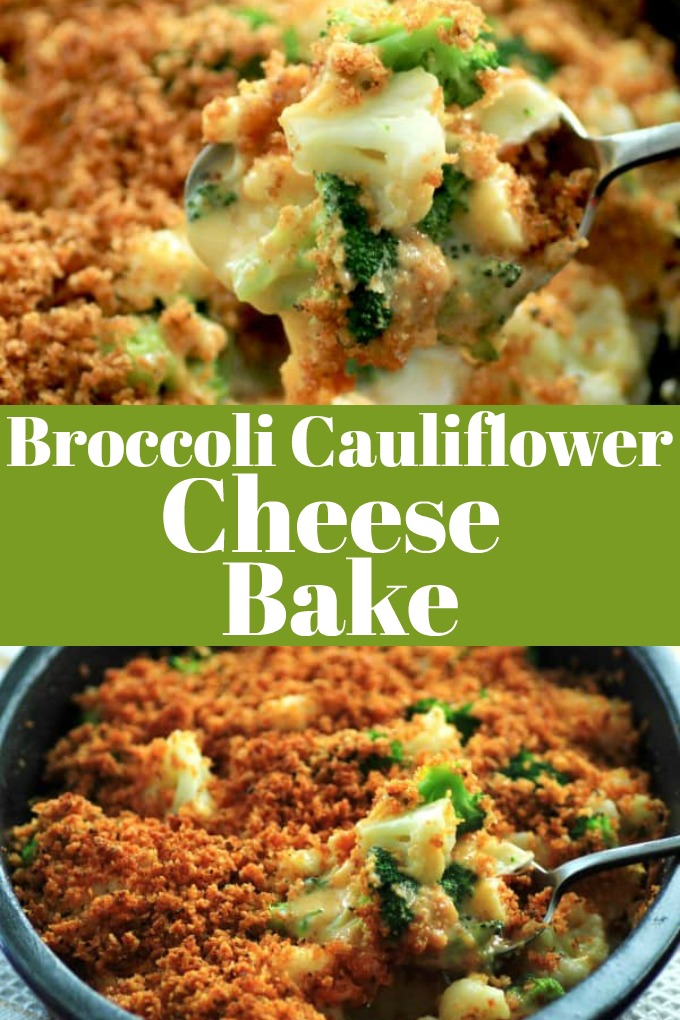 Broccoli Cauliflower Cheese Bake Recipe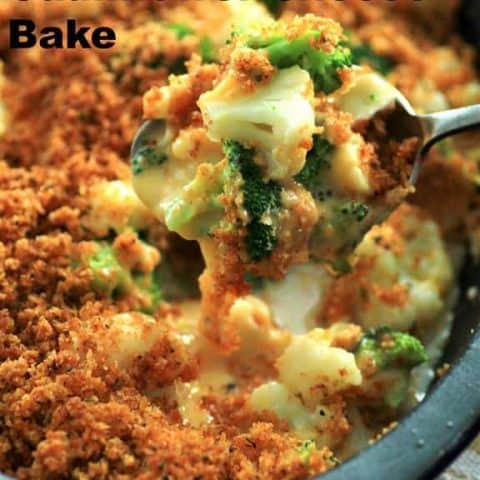 Broccoli Cauliflower Cheese Bake
Yield: 6-8
Prep Time: 20 minutes
Cook Time: 28 minutes
Total Time: 48 minutes
An amazingly easy and delicious side dish for Thanksgiving or Christmas or any night of the week!!
Ingredients
1 lb. broccoli florets and 1 lb. cauliflower florets
1 cup gluten free panko crumbs
1/4 cup melted butter
1 tsp. thyme
1 tsp. oregano
1/2 tsp. cayenne
1 tbsp. smoked paprika
1 tsp. black pepper
Salt to taste
1/2 lb. Velveeta cheese, cubed
1/4 lb. Camembert cheese, cubed
Instructions
In a large pot of salted boiling water, blanch the broccoli and cauliflower for 3 min.
Drain and place immediately in ice water. Drain again and place it on paper towels to dry.
In a small bowl, add the panko crumbs, butter, thyme, oregano, paprika, cayenne, salt, and black pepper. Mix until well combined. Set aside.
Preheat oven to 450F. In a medium-sized casserole dish (8x11") sprayed with cooking spray, add the broccoli, cauliflower, Velveeta and Camembert. Top with the panko crumb mixture. Wrap with foil and bake for 15-20 min.
Remove the foil in the last 5 minutes to brown the topping. Let rest 5 min. before serving.
Recommended Products
As an Amazon Associate and member of other affiliate programs, I earn from qualifying purchases.
Nutrition Information:
Yield: 8
Serving Size: 1
Amount Per Serving:
Calories: 270
Total Fat: 17g
Saturated Fat: 10g
Trans Fat: 0g
Unsaturated Fat: 4g
Cholesterol: 48mg
Sodium: 721mg
Carbohydrates: 20g
Fiber: 4g
Sugar: 5g
Protein: 12g
Recipe calculation was provided by Nutritionix and is an estimation only. If you need nutritional calculations for medical reasons, please use a source that you trust.