Today I have for you Becca from Amuse Your Bouche. Becca has a wonderful vegetarian site that I am always in awe over. Recipe after recipe are drool worthy. We try to incorporate a vegetarian meals into our diet at least once a week. Now that Christmas is over, you may be looking for something just as delicious but a little on the lighter side. Becca has that for you today!! Brussel Sprout and Cauliflower Pilaf is being served up, YUM!!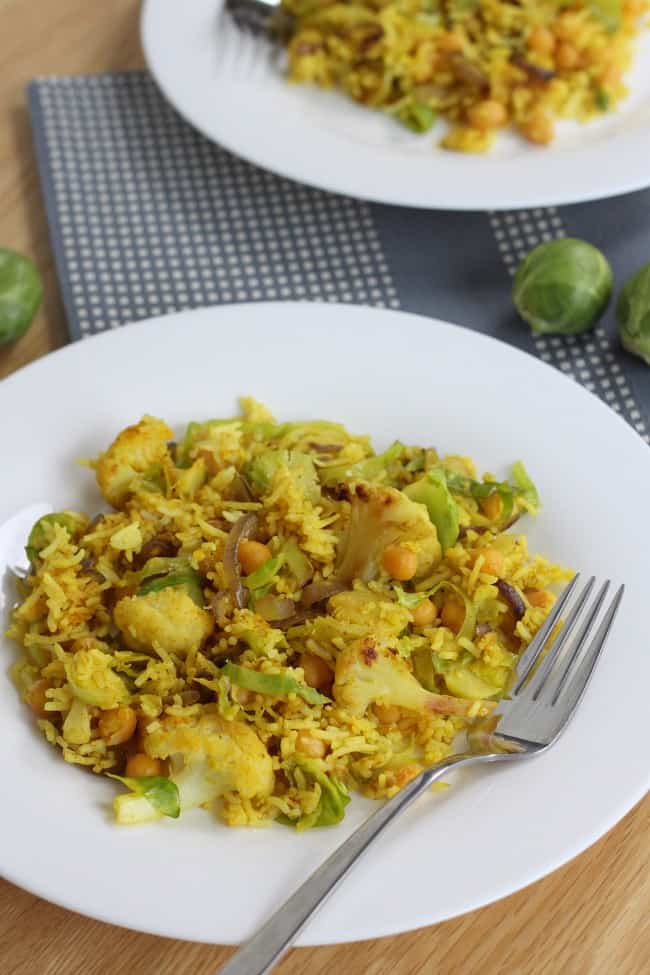 Hi, Nolands fans! I'm taking over the site today while Tara's away – thanks for having me!
I hope you all had a great Christmas if you were celebrating – are you totally sick of roast dinners yet? Don't get me wrong, I can usually eat roast potatoes until I burst, but there comes a time when even I can't bear to look at another one – and that time is a few days after Christmas. Days on end of family roast dinners, Christmas dinner itself, and of course all those leftovers… it's time to break the pattern and make something a bit different!
Of course, with most shops having fairly sporadic opening hours at this time of year, it's not always possible to go out and buy something completely different, so a great solution is to repurpose your roast-dinner-style vegetables into something totally new. This time I used some cauliflower and Brussels sprouts (staple roast dinner vegetables!) to make an Indian-style pilaf, with heaps of spices! The finished dish bears absolutely no resemblance to the meals I've been eating the past few days.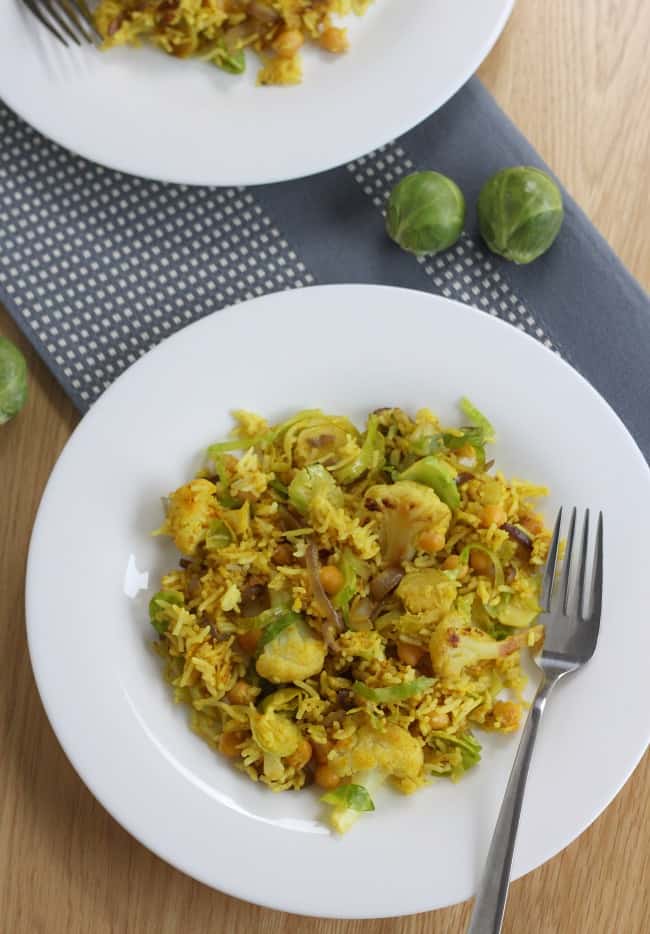 This Brussels sprout and cauliflower pilaf is really easy to make too! Much less time-consuming than a roast dinner. Cook off your veg, add your spices so they can get nice and fragrant, then stir through the cooked rice. If you have any other leftover vegetables to use up you can throw them in too – and even top the finished dish with fresh herbs for some extra flavour, or chopped nuts if you like a bit of crunch. Whatever combination you go for, this pilaf recipe is sure to be a hit.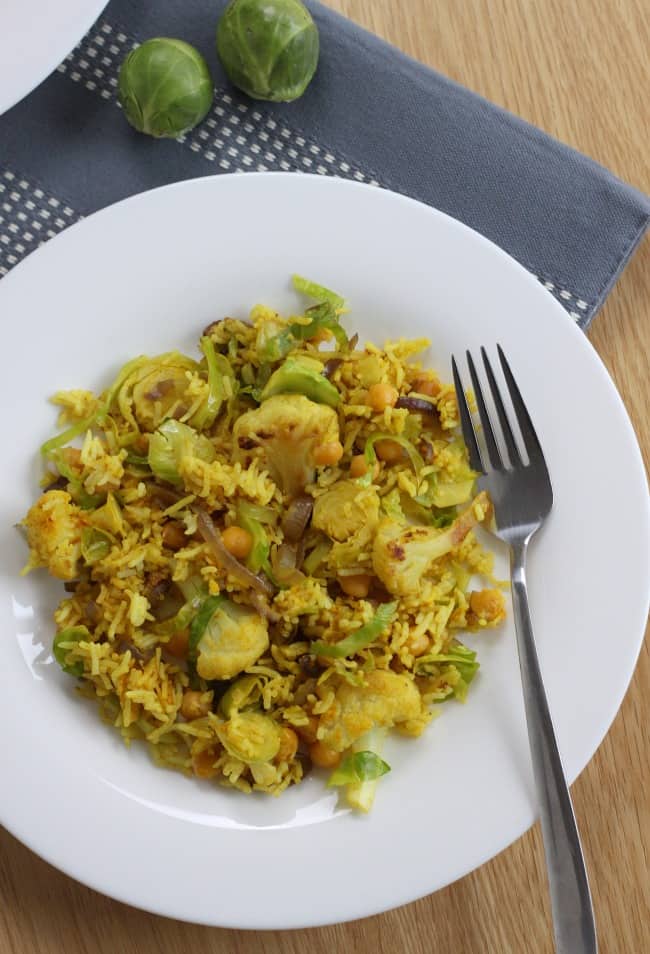 Brussels sprout and cauliflower pilaf
Serves 2
1/4 head of cauliflower, cut into small florets
1tbsp oil
1 red onion, halved then thinly sliced
~8 Brussels sprouts
1/2 tsp ground turmeric
1/2 tsp garam masala
1/4 tsp ground cumin
1/4 tsp ground coriander
125g cooked chickpeas (around half a tin)
300g cooked rice (around 1 1/2 cups)
To serve: mango chutney, fresh coriander, chopped cashew nuts (optional)
Place the cauliflower florets into a large frying pan along with a couple of tablespoons of water. Place over a medium heat, and cover the pan with a lid or large plate. Steam the cauliflower for a few minutes, then remove the lid and continue to cook until any excess liquid has evaporated.
Add the oil, onions and Brussels sprouts to the pan, and fry for a few minutes over a medium heat. Add the spices, and cook for 1 more minute, stirring constantly, until fragrant.
Add the chickpeas and cooked rice, and mix well so that the rice turns yellow. Cook for 5 more minutes until the rice and chickpeas are hot and slightly toasted. Serve topped with fresh herbs or chopped cashews if desired, with a dollop of mango chutney.
You can follow Becca on Facebook, Twitter, Pinterest, Google+, and Instagram.