Calgary Cowboy Bourbon Caramel Cheesecake Won Ton Crisps
Kim Watkinson from Ninja Baking is one of the kindest bloggers I know. She is always coming over with such supportive and encouraging comments. I know Kim from a few different blogging groups now and I am so happy she is here today to give you this delicious Calgary Cowboy Bourbon Caramel Cheesecake Won Ton Crisps recipe.
Kim rustled up this amazing dessert that cowboys, cowgirls and cowpokes would all love. Show Kim some support and follow her on Twitter and Pinterest. She will love you for it, now sit back and relax as I give the floor to Kim.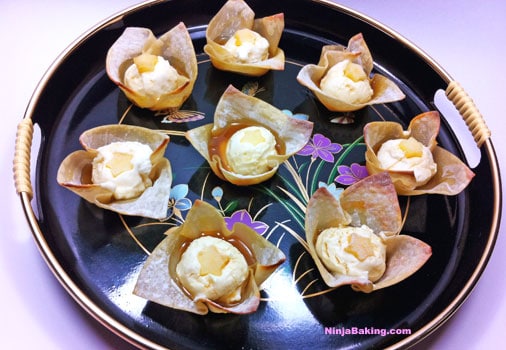 Hear the thundering hooves of horses? Yup. Calgary Stampede 2013 has arrived in Canada. Along with the cowboys showing off their rodeo tricks, giggling kids press the metal to the pedal-powered John Deere tractors. And oh the food! The sizzle of frying pies scented with cinnamon is just a start to the line up of decadent treats.
So she can enjoy Calgary Stampede 2013, my Canadian friend, Tara is taking time off from her blog, Noshing with the Nolands. I was delighted and honored when Tara asked me to guest post. This is one lady food blogger who is a maestro in the kitchen. Steal a glance at one of her desserts like Blue Hawaiian Bundt slathered with Coconut Icing, suddenly a wave of craving for cake may hit you hard. (I speak from experience.)
Although Tara has been celebrating the Calgary Stampede ahead of time with her collection of Stampede Recipes, which includes Bourbon Barbecue Sandwiches, Soft Tacos and a Cowboy Skillet Cookie. I thought I'd add to her collection with a Calgary Cowboy Bourbon Caramel Cheesecake Won Ton Crisps. Just in case you're rushing off to the Stampede, this recipe is a delicious quick 'n easy dessert – for grownups! (For children, substitute bourbon with cherry juice.)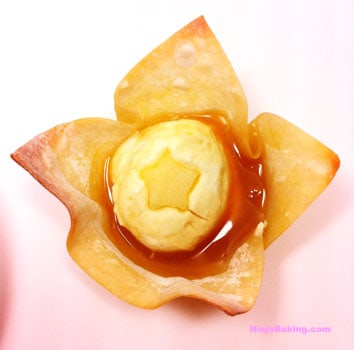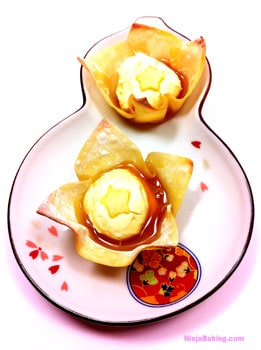 Calgary Cowboy Bourbon Caramel Cheesecake Won Ton Crisps by The Ninja Baker
A delicious dessert that would be devoured by any cow folk!!!
Ingredients
42 wonton wrappers
One 8-ounce (227 grams) whipped cream cheese, at room temperature
¼ cup (50 grams) granulated white sugar
2 tablespoons bourbon (1 to mix with cheese, 1 to add to the heavy cream)
2 teaspoons caramel sauce plus ¾ cup more for drizzling on top
1 ½ tablespoons powdered sugar
1 teaspoon pure vanilla extract
1 cup (240 ml) heavy whipping cream
3 Fuji apples, sliced
Instructions
For the wonton crisps:
Into a mini muffin tin sprayed with butter flavored cooking spray, press down wonton wraps. Bake at 375 degrees for 6 minutes. (5 to 6 mins at 375 degrees)
For the filling:
Whip the cream cheese until swirly and pretty. Beat in the granulated sugar. Add 1 tablespoon of bourbon, the caramel sauce and vanilla extract until well combined.
In a separate bowl that has been in the freezer for at least 2 hours, beat the heavy cream with the powdered sugar and remaining 1 tablespoon of bourbon. When gentle peaks appear, fold the whipped cream into the cream cheese mixture.
With a mini ice cream scoop or tablespoon placed rounded mounds of the
no-bake cheesecake filling in the middle of cooled wonton crisps. Drizzle with caramel sauce. Crown with a Fuji apple cowboy star cutout.
Wishing you days filled with cowboy courage.
The Ninja Baker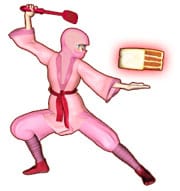 http://ninjabaking.com