California Layered Salad
We are here today to celebrate another site and recipe from #SundaySupper. Wendy from The Weekend Gourmet made this California Layered Salad when we were making dishes for a #SundaySupper Summer BBQ. The instant I saw it I knew I had to make it. This is a fantastic recipe that I have since made for my family and then made it again a week later for company. Everyone loved it!! It is so simple, plus I love all the ingredients that go into it and it is a make ahead recipe. Win, win, win!!!
Wendy has a gorgeous site where she does fabulous recipes, restaurant and product reviews and is the founder of #TheSaladBar, a monthly group that I recently joined. She works full time so I have no idea how she does it all. Amazing!!
You have to check out her recipe on her site with all of her lovely pictures. She does a fantastic job of step by step instruction, something that I don't do on my site. Her pictures will entice you to make this salad too!!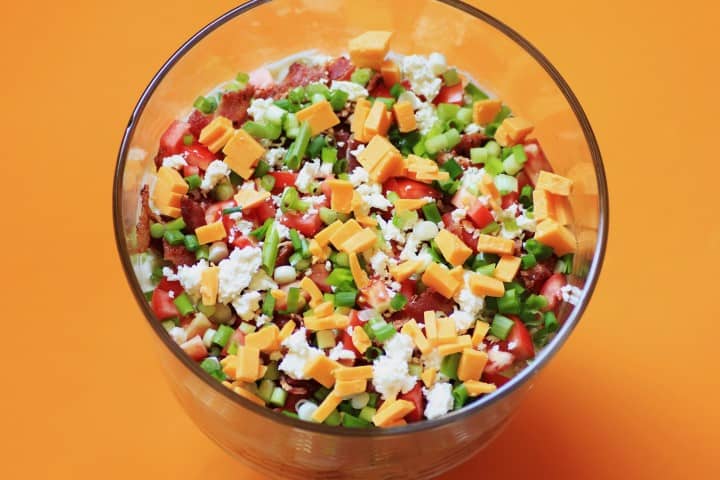 Use a bowl that is bigger than your salad ingredients and then just before serving you can easily toss it in the same bowl. Look at all those layers of yumminess!!! ENJOY!!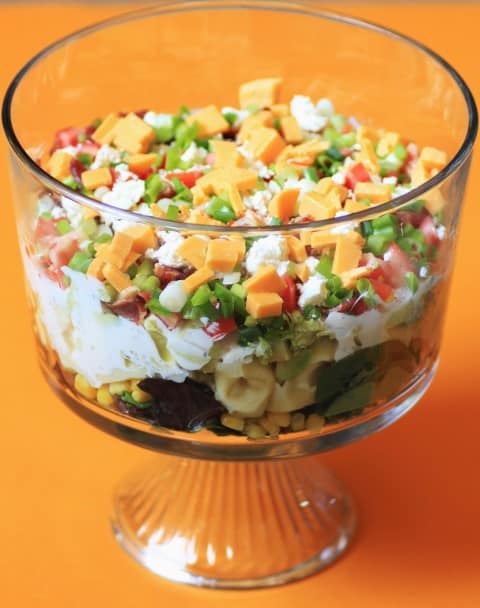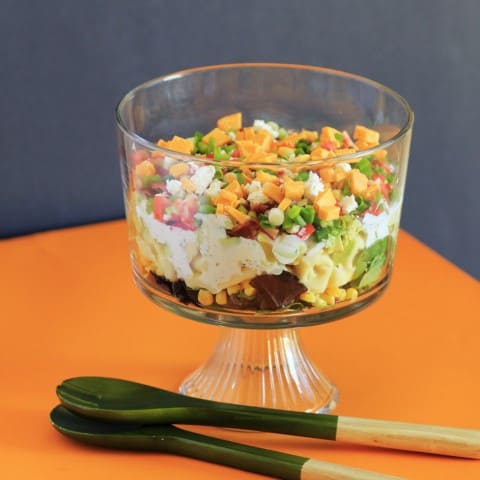 California Layered Salad by The Weekend Gourmet
An amazing layered salad!!
Author:
Wendy Wofford-Garcia
Ingredients
4 oz. mixed baby greens
¾ cup defrosted frozen corn kernels
9 oz. package fresh cheese tortellini, cooked and cooled
Vinaigrette of choice
2 small avocados, diced
Juice of half a lime
Seasoning of choice, I used Epicure Three Onion Dip Mix
1 cup Ranch dressing
4 slices crispy cooked bacon, crumbled
1-2 roma tomatoes, seeded and diced
½ cup blue cheese or feta, crumbled
½ cup small cubed cheddar cheese
¼ cup finely diced purple or green onion
Instructions
In a glass bowl place the greens in the bottom, followed by the corn and then the tortellini. Drizzle your favorite vinaigrette over the tortellini. Top with the avocado, putting more towards the outside so you can see it on the outside of the dish. Sprinkle the avocado with lime juice and your seasoning of choice. Spread the ranch dressing over the avocados. Top with the bacon, tomatoes, cheeses and onion.
Cover with plastic wrap and refrigerate for at least 2 hours. Toss just before serving!!