Canadian Beef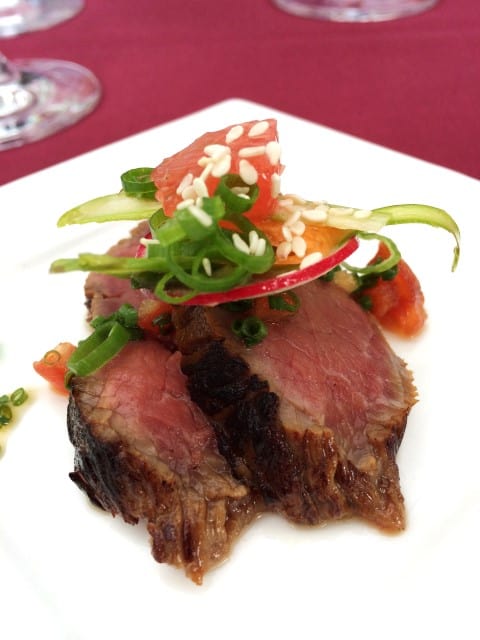 We were invited to a fabulous event at Rouge Restaurant here in Calgary, to celebrate Canadian Beef #ExperienceCDNBeef in Mexico. A wonderful collaboration between Canadian Beef, Karisma Hotels and Resorts in Mexico and Jackson Family Wines. What goes better than beef and wine?!!! Well, maybe beef and wine in Mexico!! One lucky media person would win an exclusive trip to Mexico to a Karisma Hotel, at this event. Karisma Hotels knows what people are looking for in travel these days. They want delicious food, great wines and relaxation. Canadian Beef is world-class beef right in our own backyard. Beef contributes $20 billion to our economy, and Canada is the 3rd largest beef exporter in the world.
The event got underway in a beautiful tent set up in the side yard of Rouge Restaurant.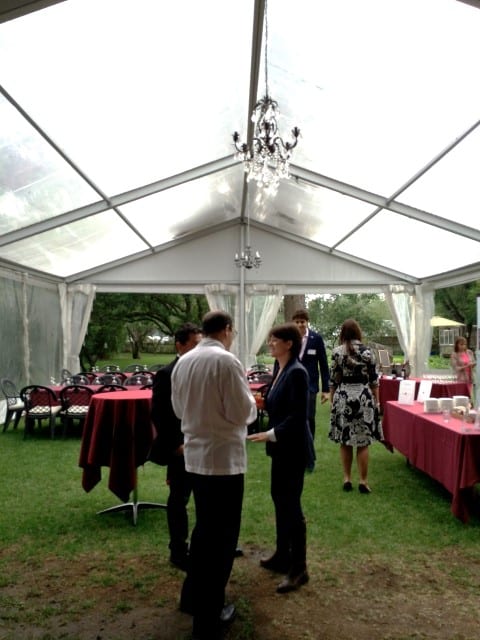 The weather held out for us and the evening was perfect!!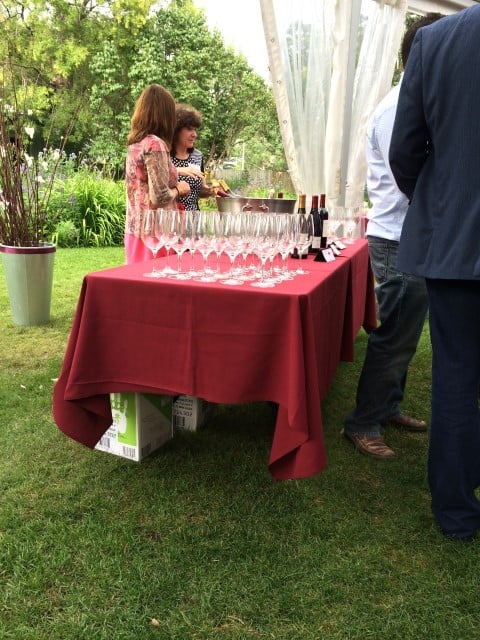 The event started off with some lovely wines from Jackson Family Wines!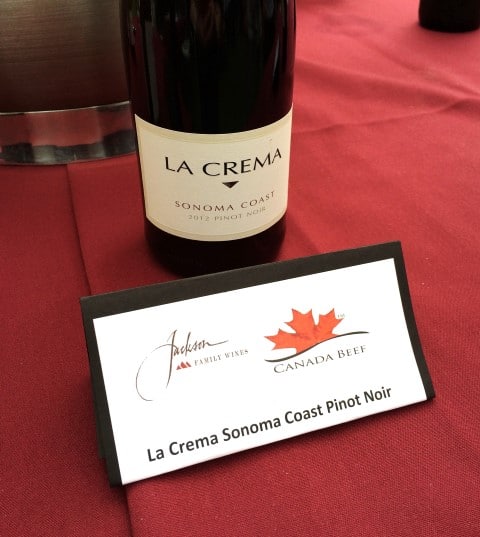 La Crema Sonoma Coast Pinto Noir, one of my favorites!! I knew the night was going to be fantastic!! This wine has vibrant flavors of red cherry and spice and is delicious. I am a big fan of ALL the La Crema wines!!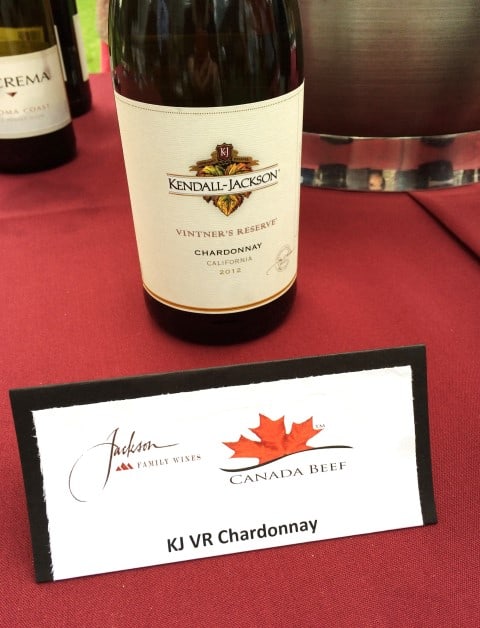 I love a Chardonnay all year round but in the summer even more. This Chardonnay by Kendall-Jackson is full of tropical fruits and citrus notes, just lovely!!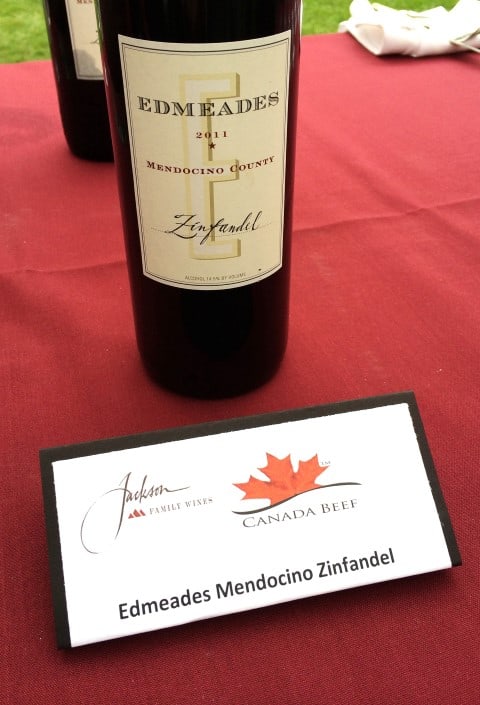 I have never met a Zinfandel I didn't liked. This wine is bold and full bodied like a Zinfandel should be. Full of fruits like cherries, blueberries, and plums. Then notes of leather, tilled earth, and sweet tobacco leaf.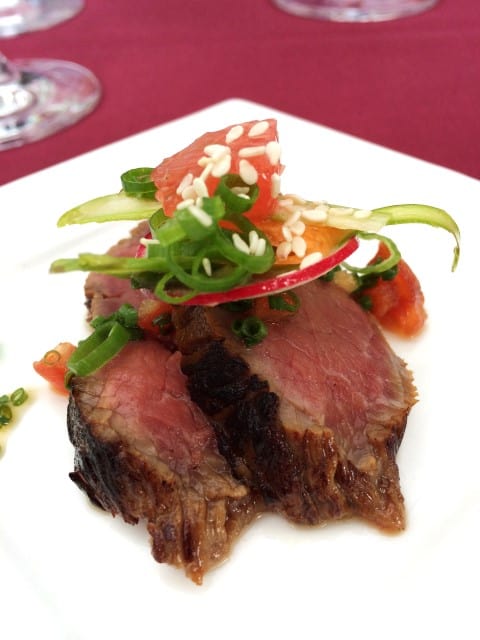 There is nothing better than Canadian Beef. We love it here!! I am of course partial to our local Alberta beef being from Calgary!! I haven't found any better. I love driving in the country seeing the beef cattle on the hill sides!! You only have to look at our site for a second to know we love beef in every way. Beef adds a ton of nutrition to you diet. Our growing teenage daughter is encouraged to eat beef frequently for the added advantage of helping with her lower iron levels. You need red meat in your diet to absorb the iron from all those wonderful green leafy vegetables. Not only does beef add iron to your diet but also protein, Vit B12 and Zinc. Beef is also lower in calories when trimmed of visible fat, than quinoa, peanut butter, hummus and black beans.
There are rules that are enforced for our beef cattle in Canada to make sure the cattle are treated well and also for our consumption of beef. For lots of fantastic information on beef please visit Canada Beef.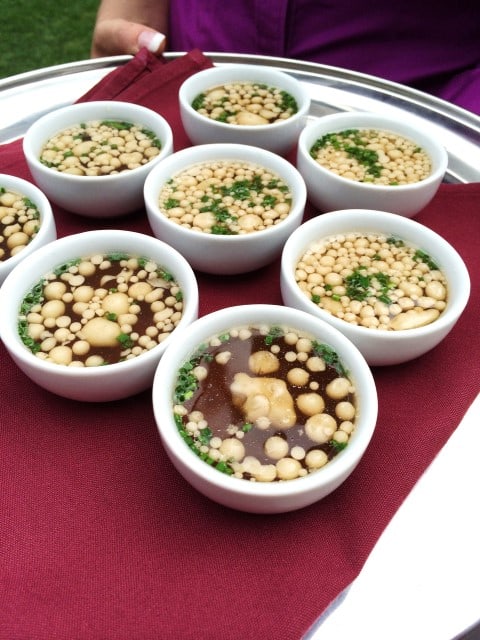 Oxtail Consumme with Bone Marrow Pearls was served. It was unique and delicious, I could have had seconds!! I should have had seconds!!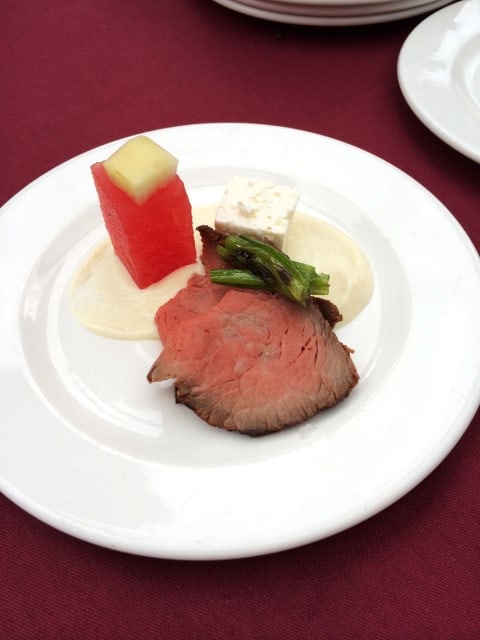 Top Sirloin with Watermelon, Feta and Lime, fantastic!!!! Who would of thought of those pairings with beef but beef is so versatile it goes with some many, many ingredients!!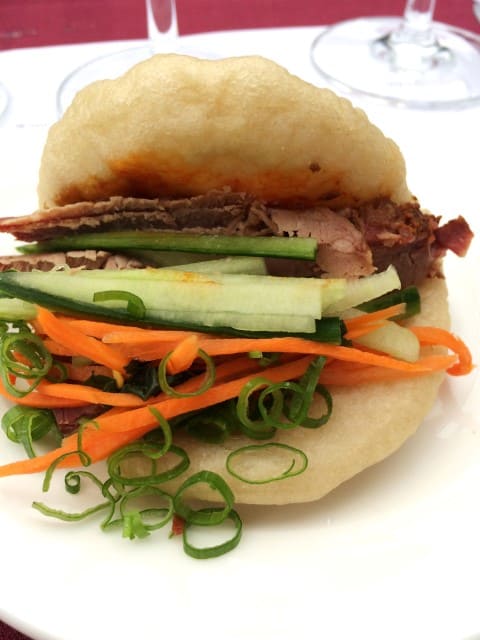 Smoked Brisket on a sticky bun with pickled carrots and hoisin. I had to have two of these, simply amazing. The wonderful flavor of the beef marries perfectly with the pickled carrots and hoisin and don't get me started on how yummy that sticky bun was!!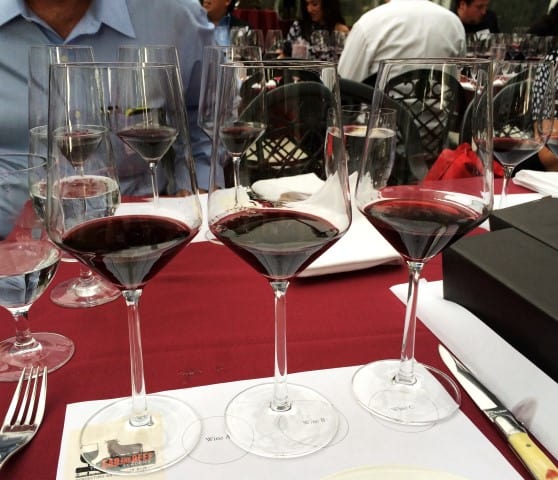 The event also included a fun and extremely informative seminar by Gilian Handelman who is the Director of Education and Communications at Jackson Family Wines. We tasted three very different Cabernet's against a tenderloin, wet aged rib eye and a dry aged rib eye. We tasted a young low tannin cab, a higher tannin young cab and an aged French cab with all of the steaks. They were no seasonings added just straight grilled beef. It was amazing how well some of them paired so much better than others with the beef. A low tannin cab went nicely with the tenderloin which has less fat. The higher tannin cab cleaned your palate of the fatty residue left behind from the wet aged rib eye and the dry aged rib eye paired beautifully with the older French cab. Wines can fight with your beef or leave both of them lack luster. It was a very powerful thing to learn.
Do you ask what is the difference between dry aged and wet aged? I did and found that very interesting too!! Wet aged beef is wrapped to preserve the moisture. Dry aged is just hung to dry, which results in weight loss but has a more intense flavor. I have to try this at home. Just ask your butcher and he should be able to supply you with the two different aged meats, even from the same animal. The meat that we normally see in our grocery stores is wet aged.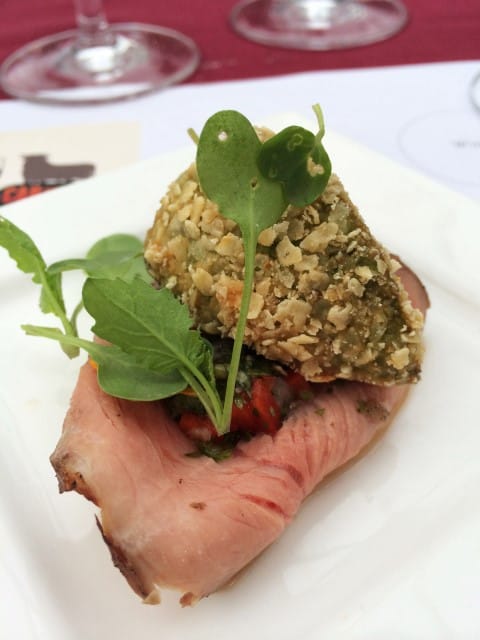 Back to the beef at hand, next we were served, Manhattan Strip Loin with Tortilla Crusted Avocado!!! I loved the creaminess of the avo with the beef!!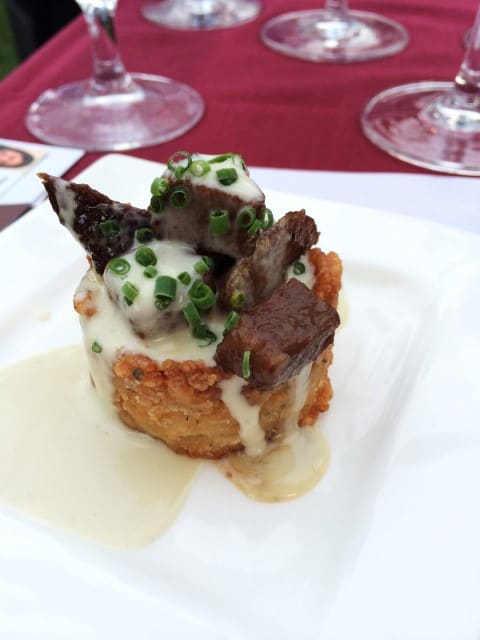 For me they saved the best for last, Braised Beef Cheek Arancini with Blue Cheese Cream!! This is better than any dessert they could have offered!! I love the pairing of beef and blue cheese, a marriage made in heaven!! Come and enjoy Canadian Beef in all it's glory in so many recipes. You will be seeing lots more here too!! ENJOY!!