Candela Lounge
Candela Lounge – I am always wanting to try out a new restaurant and my girlfriend Jill is a willing participant in my little adventures. I so do enjoy her company and exploring new delights!! We came up with this restaurant in doing some research together. The very first impression upon pulling up was WOW, they have parking stalls right out front, how wonderful especially within the busy 4th St. area.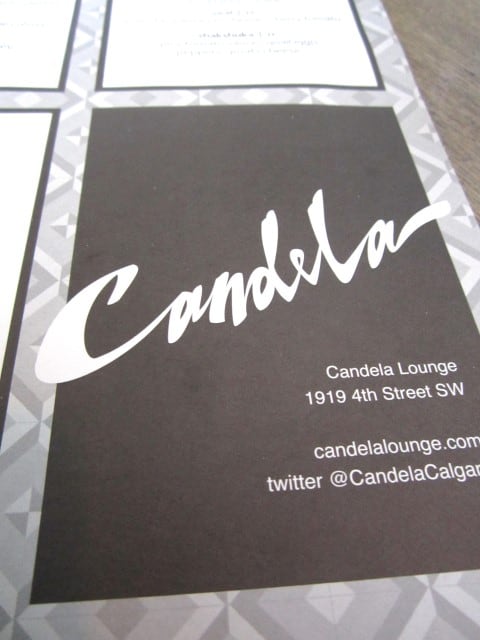 My accomplice Jill!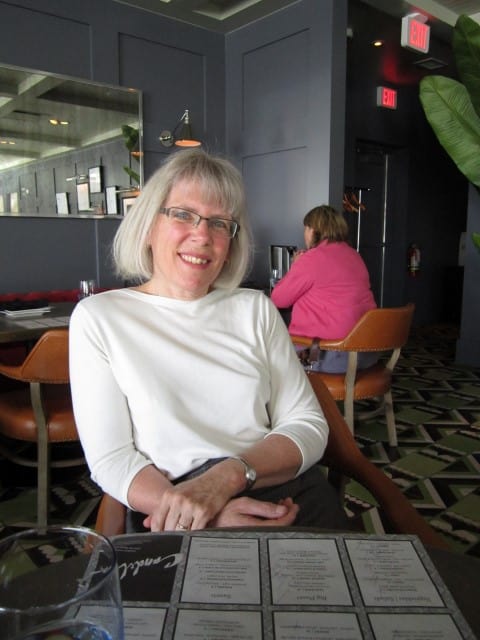 Looking over the wonderful tapas menu, we were trying to decide what we were going to have and what was gluten free, as Jill has special dietary needs. The very friendly and helpful waitress came to our aid and showed us all the options for a gluten free diet. There was loads to choose from.
My pick to start off with were the Fresh Shucked Oysters. See how pretty they are with that delicious daikon and ginger mignonette foam on top and the perfectly pink bed of salt they are laid on. Amazing!!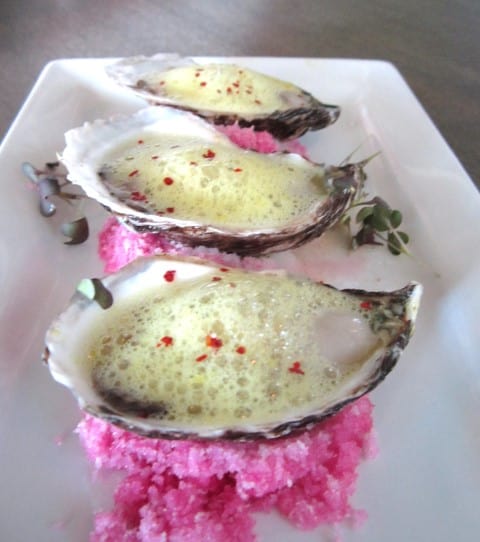 Up next were the Shrimp Tacos that were on corn tortillas with pico de gallo, black beans and lime crema. Delightfully flavorful!!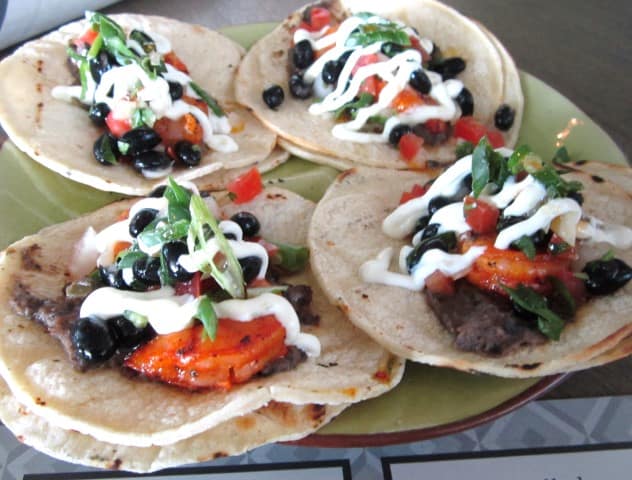 Jill ventured over to the salads and selected the beets which I was more than thrilled with. I love beets any which way but these were stupendous!! With the goat cheese, mint, arugula, pine nuts, olive oil and balsamic reduction this was one crazy good salad. Right up my alley!!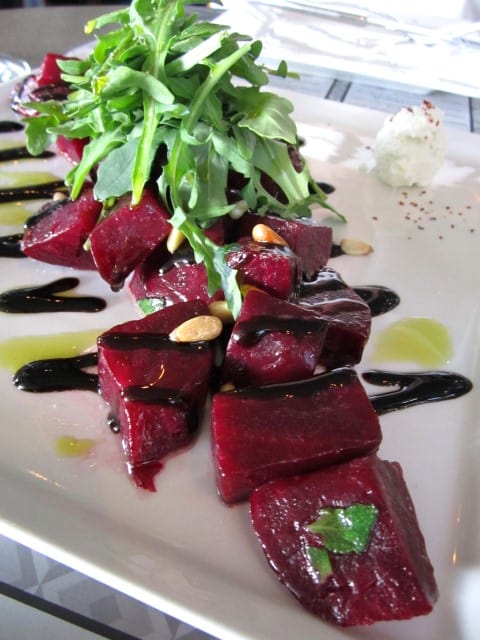 Now back to the protein and we selected these Pork Tenderloin Yakitori brushed with a miso sesame glaze and served with a spicy peanut sauce. They were very quickly gobbled down and thoroughly enjoyed.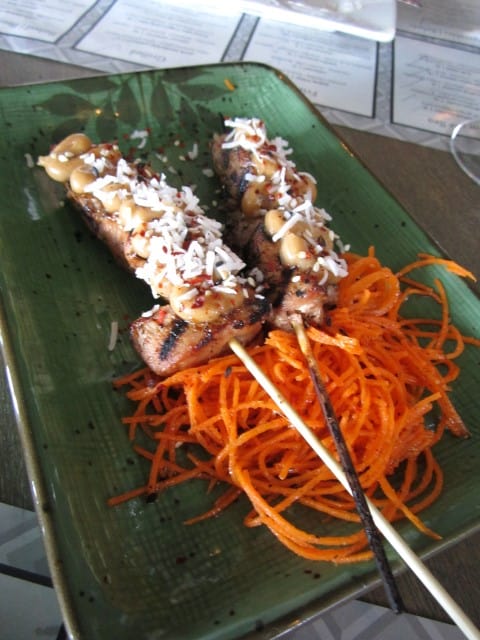 We did have one more plate before dessert but with our yakking and so enjoying ourselves I forgot to take a picture of the eggplant that was served with honey, pistachios and ricotta. Very good for eggplant as I am not a huge fan.
We topped off our marvelous lunch with a uniquely intriguing dessert. Poached pear with a gorgonzola gelato with candied walnuts. Oh my stars was that good. I love blue cheese anything but had never tasted a gorgonzola gelato before!!! It was just mildly flavored and paired perfectly with the fruit. Lovely ending to a lovely meal!!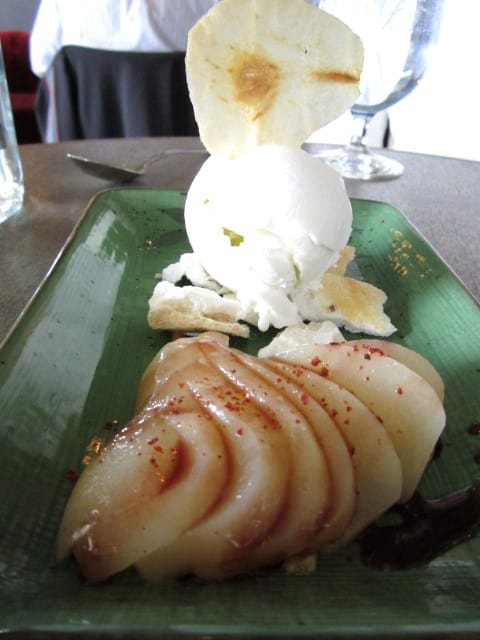 Private Dining Room, to the left is a smoked glassed window looking into the activities of the kitchen, very cool!!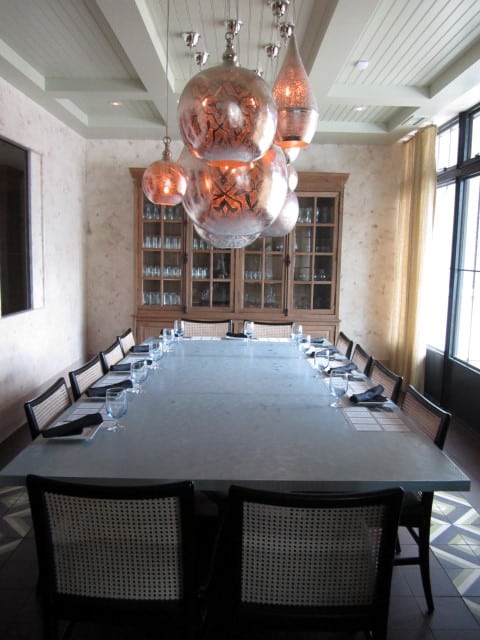 Love the floor and ceiling!!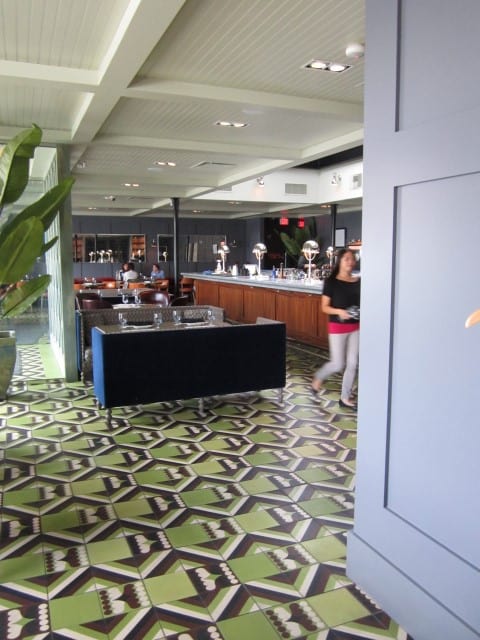 Come to Candela and bring a friend to enjoy all their wonderful tapas plates. I was eyeing a few others to try next time!! Check out their website here.