Ken is back at it in the kitchen and on his new grill!! He can't just make a plain old burger, oh no! He is always crafting some awesome feast for us in the kitchen and today I bring you this ultimate burger.
Delicious Italian sausage was added to the lean beef, onions were slowly caramelized and mushrooms lovingly sauteed, to all be served on a gorgeous ciabatta bun. We are very lucky folks here!!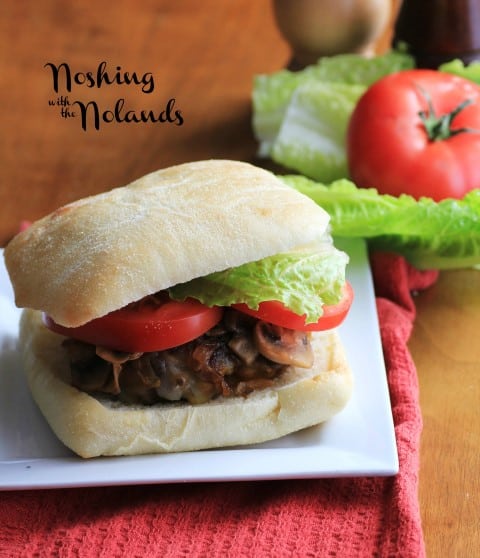 Burgers are great all summer long, and there are endless combinations. I was vying for a bison blueberry burger from him but I will take this gorgeous one any day!!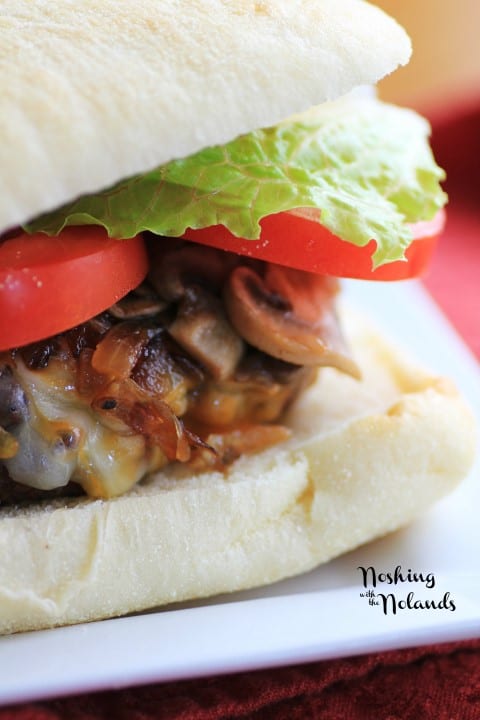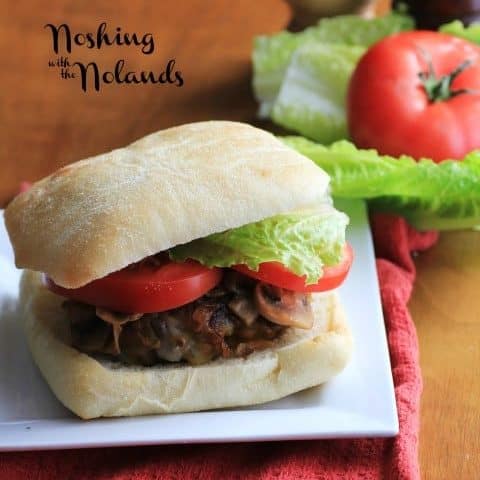 Caramelized Onion Mushroom Cheeseburger
A delicious and flavorful burger using Italian sausage!!
Ingredients
Caramelized Onion
1 1/2 Tbsp. olive oil
1 large onion, diced
Salt and Pepper
7 oz. white button mushroom, sliced
Cheeseburger
1.5 lb. extra lean beef
1 lb. Mild Italian sausage
1/4 cups bread crumbs
1 egg
1 1/2 tsp. Italian seasoning
Salt and pepper
Ciabatta Buns
1 1/2 cups shredded mozzarella, cheddar blend
Slices of tomato
Romaine lettuce leaves
Instructions
Saute onions in a large pan with the olive oil. Once the onions start to brown, add the mushroom, salt and pepper, continue cooking until mushrooms are soft and onions are caramelized. Set aside.
Mix the beef, Italian sausage, bread crumbs, egg, Italian seasoning, salt and pepper together. Form into 6-8 patties. Grill on a medium hot BBQ cooking on each side for 6-8 min. until cooked through. Place a small amount of the cheese mixture on each burger and cook until melted.
Serve each cheeseburger with the onion mushroom mixture on a ciabatta bun with fresh tomato and lettuce. Add other condiments if you like.