Cashew and Raisin-Stuffed Pork Loin
Cashew and Raisin-Stuffed Pork Loin – I am reviewing Easy Indian Cooking again today. I made another delightful dish from this cookbook. The first was Savory Indian Bread Pudding and it was a huge success!!
I had pork tenderloins in the freezer and decided to use those instead of purchasing a pork loin. They turned out great!!
I served it with a simple salad of onions, jalapenos and tomatoes, and basmati rice.
The cookbook has so many delicious recipes and it is outlined so nicely with a little blurb about each of the recipes in the left-hand column along with any necessary tips to help guide you through the recipe.
That is so very helpful. There are a few very vibrant pictures in two sections of the cookbook showcasing some of the dishes and spices, markets, and pictures of Indian.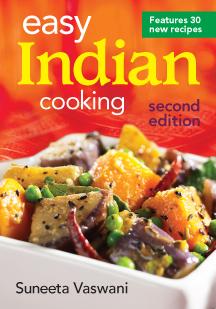 This is a must for anyone wanting to delve into Indian cuisine but not wanting to be inundated with lengthy recipes. Each recipe is easy to understand and easy to accomplish. Here is another great recipe from Suneeta Vaswani. ENJOY!!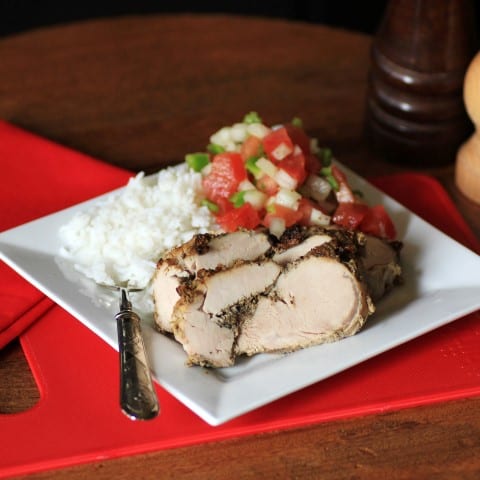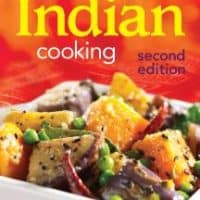 Cashew and Raisin-Stuffed Pork Loin
Yield: 6 Servings
Prep Time: 25 minutes
Cook Time: 40 minutes
Total Time: 1 hour 5 minutes
An easy pork recipe with amazing flavor!!
Ingredients
3/4 cup raw cashew pieces
3/4 cup raisins
1 piece peeled ginger root, 1" by 1 1/2", cut into pieces
8 large cloves garlic
2 green chilies cut into pieces
1 Tbsp. coriander powder
1 1/2 tsp. cumin powder
3/4 tsp. salt
1/4 cup oil
1 boneless pork center-cut single loin roast (about 2 lbs./1kg.)
Instructions
Preheat oven to 450F. In a food processor, combine cashews, raisins, ginger, garlic, chile, coriander, cumin, and salt.
Process until mixture is a coarse paste that holds together. Pour in oil and process for 30 seconds.
Set aside one-third of the mixture.
With the short end of the pork loin facing you, work a sharp knife through the center of the pork to make a tunnel. You might have to work from both ends.
Open up the tunnel with your fingers. Stuff with remaining two-thirds of the cashew mixture, packing it in and stopping 1/4" from both ends.
Cover top and sides with remaining cashew mixture, patting it on firmly.
Alternatively, slice pork loin horizontally almost, but not all the way through. Open into 2 flaps, like a book.
Pound with a meat mallet to even thickness. Pat stuffing on one flap, leaving 1/4" border. Cover with the other flap.
Tie the stuffed pork loin with kitchen string and firmly pat reserved cashew mixture all over top and sides, (This is the method I used for the pork tenderloins).
Roast in preheated oven for 15 min. Reduce temperature to 350F and for 30 min. longer or until the meat thermometer registers 160F.
Remove from the oven and let stand for 10 min. before slicing into 1/2" thick slices.
Nutrition Information:
Yield: 6
Serving Size: 1
Amount Per Serving:
Calories: 323
Total Fat: 22g
Saturated Fat: 4g
Trans Fat: 0g
Unsaturated Fat: 16g
Cholesterol: 29mg
Sodium: 313mg
Carbohydrates: 24g
Fiber: 2g
Sugar: 13g
Protein: 12g
Recipe calculation was provided by Nutritionix and is estimation only. If you need nutritional calculations for medical reasons, please use a source that you trust.
Excerpted from Easy Indian Cooking, 2nd Ed. by Suneeta Vaswani © 2013 Robert Rose Inc. www.robertrose.ca May not be reprinted without publisher permission.