We have a great little cookbook for you today, Cooking With Frank's RedHot Cayenne Pepper Sauce by Rachel Rappaport. This is one of my favorite sauces and we use it all the time in this household. From this cookbook we made Cayenne Pepper Sauce Swirled Bacon Cornbread Muffins.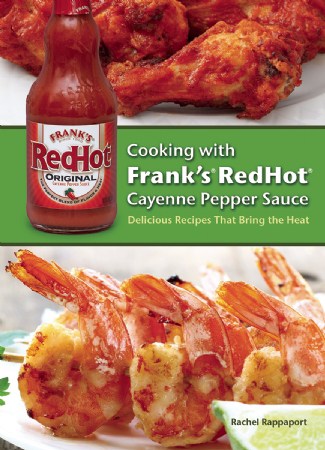 The cookbook is a full color, hardback book that takes Frank's RedHot to a new level beyond the usual drizzle on a dish or their famous wings. The cookbook has lots to offer with recipes like Cinnamon Cayenne Buns, Atomic Wings, Spiced Party Mix, Smoky Hot Bacon Mac and Cheese, Zesty Cobb Salad and one that I want to try for Super Bowl game day, Ultimate Hot Baltimore Crab Dip.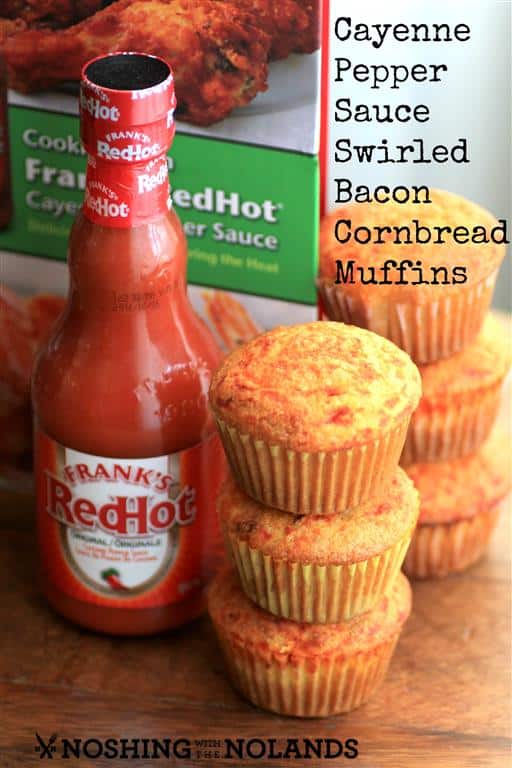 These little cornbread muffins are full of flavor from Frank's and from bacon!! They are great on their own to start off your day with a little kick or would accompany a big bowl of chili brilliantly!! Cornbread muffins are always a huge hit in this household and these lived up to their apparent deliciousness!!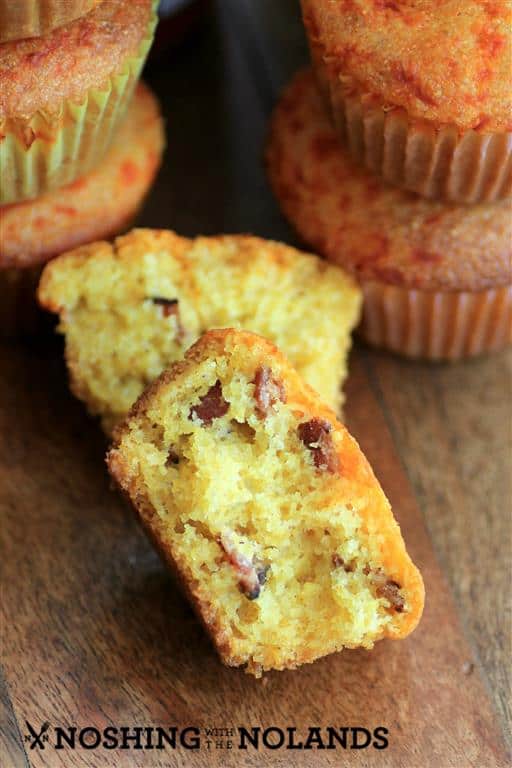 Little bits of bacon are throughout the muffin for you to enjoy in every bite!! This cookbook is the only one exclusively dedicated (not officially sponsored) to recipes featuring Frank's RedHot Cayenne Pepper Sauce.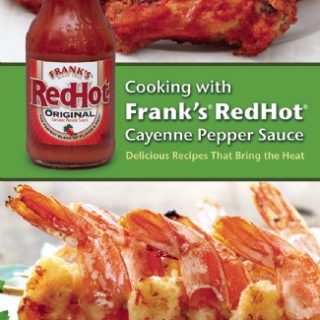 Cayenne Pepper Sauce Swirled Bacon Cornbread Muffins
Yield: 12
Prep Time: 10 minutes
Cook Time: 25 minutes
Total Time: 35 minutes
Take cornbread muffins to the next level with the addition of bacon and Frank's® RedHot® THICK Cayenne Pepper Sauce. The perfect spicy start to your day, or try them as a side with chili.
Ingredients
1 cup cornmeal
1 cup flour
1 teaspoon baking powder
1 teaspoon baking soda
1⁄4 cup sugar
1 egg
1 cup buttermilk
1⁄3 cup canola oil
1⁄3 cup cooked, crumbled bacon
12 teaspoons Frank's® RedHot® THICK Cayenne Pepper Sauce
Instructions
Preheat the oven to 400°F. Grease or line with paper liners 1 (12-well) muffin tin.
In a medium bowl, whisk together the cornmeal, flour, baking powder, baking soda, and sugar. Beat in the egg, buttermilk, and oil until well combined. Fold in the bacon.
Fill each well in the muffin tin 3⁄4 full of batter. Top each muffin with 1 teaspoon Frank's® RedHot® THICK Cayenne Pepper Sauce. Use the tip of a knife to swirl the hot sauce into each muffin.
Bake 25 minutes or until the muffins are golden brown and a toothpick inserted in the middle of the center muffin comes out clean. Serve immediately.
About the author: Rachel Rappaport is an award winning recipe developer, cookbook author and food blogger. Her blog,
Coconut & Lime
has over 1,600 recipes and was named one of the top 50 food blogs in the world by MSN's Delish.com. She has appeared on many news, radio and web show. She resides in Baltimore, Maryland.
Recipe shared with permission from Ulysses Press.