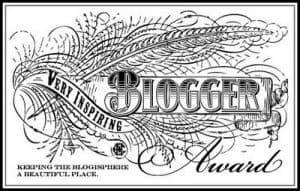 I have made it six months, posting everyday and loving every minute of it. I think we will have a little celebration tonight of some sort but I will also celebrate with this award and I am thrilled to accept. Any award is very important because it means you are being recognized by someone for your efforts. This time I was nominated by My Weekend Kitchen. Ashima has a very nice looking blog with yummy looking recipes. Take a moment and go for a visit. As with the other awards I am to name 7 things about myself and then nominate other blogs, so here goes.
Here are the rules to participate once you have been nominated
1. Link back to the person who nominated you.
2. Post the award image to your page (the initial image on the post)
3. Share 7 facts about yourself
1. Halloween is one of my favourite times of year, huge in this house!!
2. I am addicted to Scrabble
3. I love it when it rains
4. I could wear pj's all day!!
5. I love being at home, hence the love of pj's!!
6. My brain never stops creating
7. I love spending time in the kitchen with my family, all of us cooking at once!!
4. Nominate 15 other blogs and tell them they have been nominated
1. Free Spirit Eater
2. Charlotte Julienne
3. Katherine Martinelli
4. Juanita's Cocina
5. Cupcakeluv
6. 4 Little Fergusons
7. Running With The Devil(ed) Eggs
8. The Paper Cup Kitchen
9. Sally's Baking Addiction
10. Two Girls Cooking Blog
11. Carrie's Experimental Kitchen
12. An Uneducated Palate
13. My Crowded Kitchen
14 .The DIY Dreamer
15. Whipped