Ever thought of using a little potato as a vessel for an appetizer? Fun idea, eh? They are the perfect size, hold up well, are creamy and go with so many other ingredients. They make the perfect bite sized appetizer. This appetizer also couldn't be easier as it has only four ingredients. You would think there is a lot more to these though, as these little Cheese and Chutney Stuffed Creamer Potatoes give you a whollop of flavor.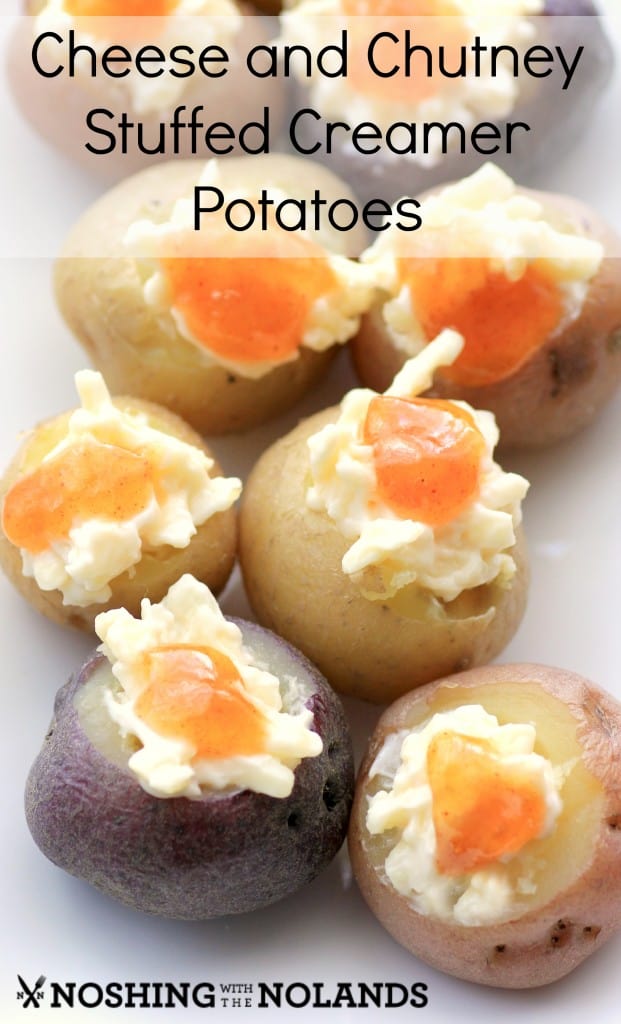 I was just in Scotland and while touring the Britannia, we had lunch aboard the royal yacht. It was much fun to poke around and see the accommodations of the queen at sea. In their tearoom I enjoyed a delightful cheese, mayo and chutney sandwich along with a cream of turnip soup, all so very British and divine. So the idea to stuff these little potatoes with cheese and chutney was born. My husband, Ken actually located a cheese called Britannia. The cheese they used was called Lockerbie but any really good white cheddar will do. The combination of the cheese and the chutney with the creaminess of the little potato is heavenly.
Fun Fact: Potatoes were introduced to Britain and Ireland in the late 1500s. It didn't go so well at first. Many people blamed them for diseases and condemned them because they weren't mentioned in the Bible.
Fun Fact: Potatoes were often eaten aboard ships to prevent scurvy because they are loaded with vitamin C, (I am sure the queen had potatoes aboard the Brittannia but not for this reason).
Fun Fact: The world's largest potato was grown in the UK in 2010. It tipped the scales at 3.76 kilograms (8 lb 4 oz) – the weight of a newborn baby!
Okay those are my three tie ins for potatoes and the UK! Fun facts aren't they!!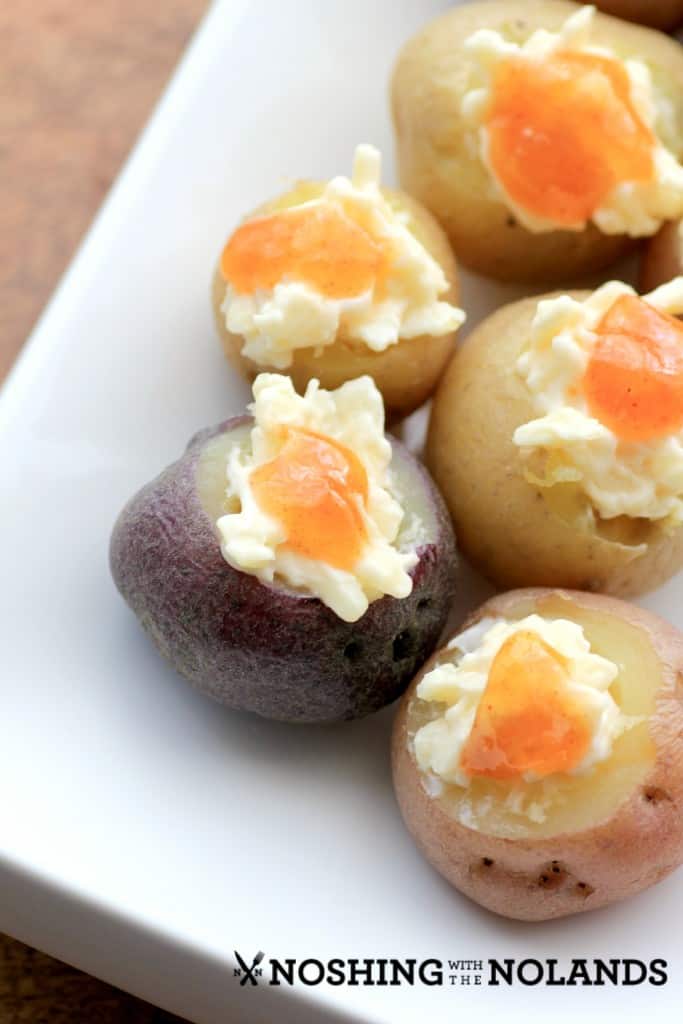 Did you know that Creamer potatoes are not baby potatoes or immature potatoes? They are not small potatoes or new potatoes. They are fully mature potatoes. Check out the video on The Little Potato Company's front page. It will explain it all in a very informative and cute way, love their video.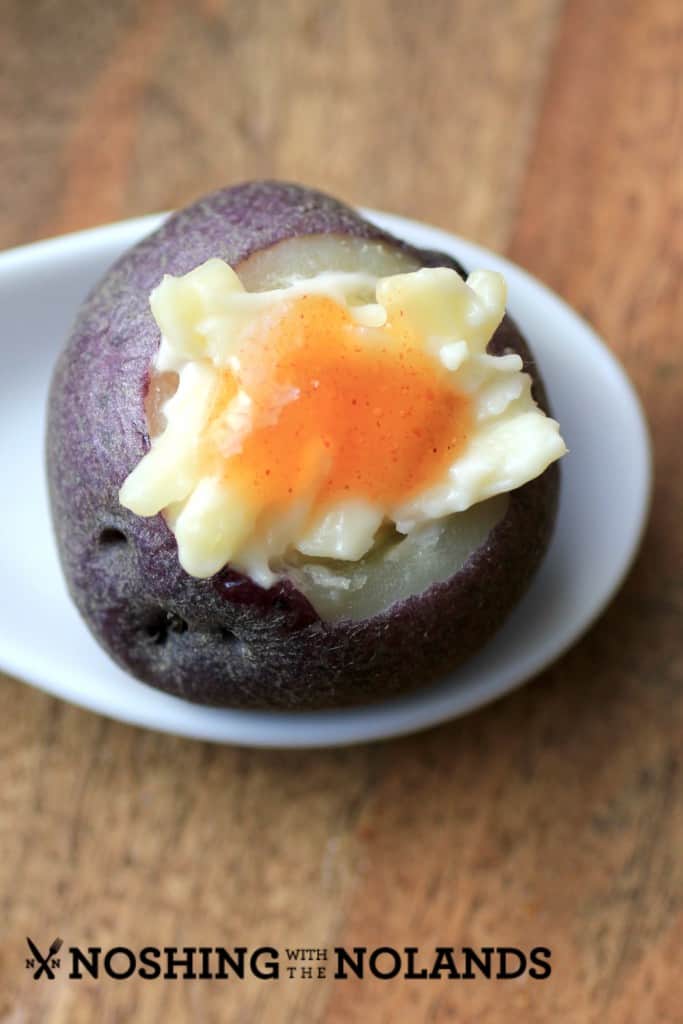 This appetizer can be served at room temperature or slightly warmed in the oven if you like. Just a little dollop of chutney and you are ready to go. Serve them on a platter or individual spoons. I used Little Potatoes' Terrific Trio for this appetizer. You get three of their great varietals in one package, red, yellow and blue Creamer potatoes. They make an attractive presentation in any dish!
Little Potatoes are already washed and ready to be cooked, boiling them like I did for this recipe only takes 15 min.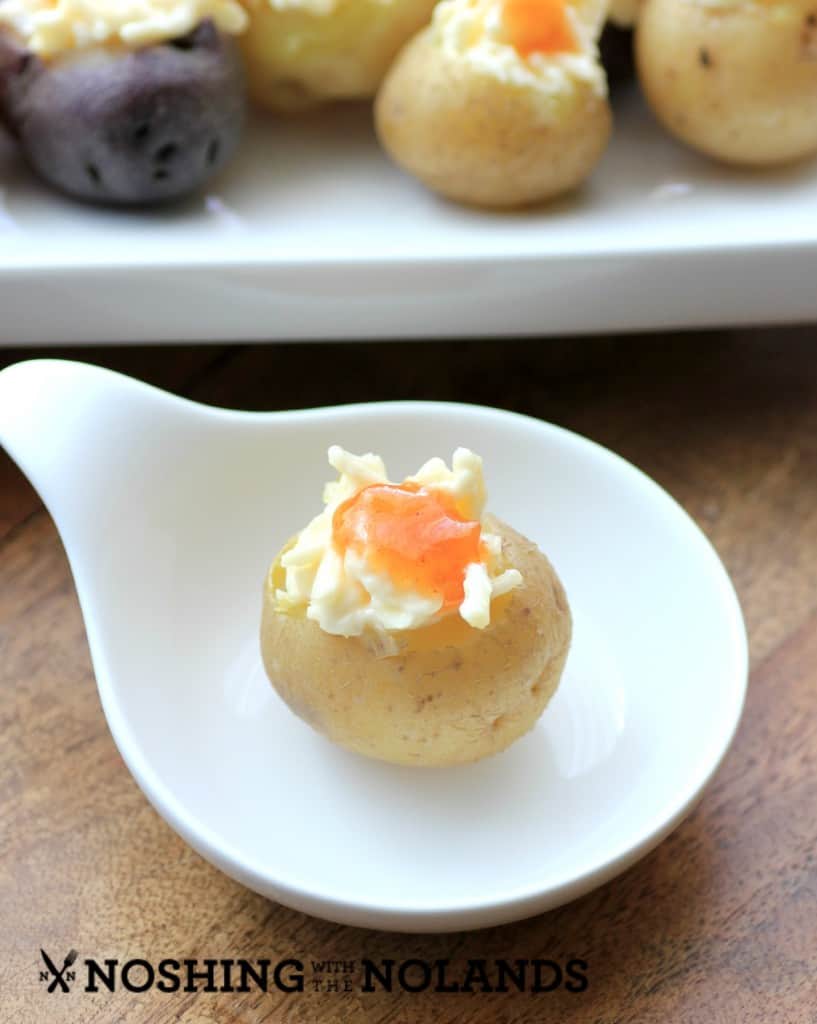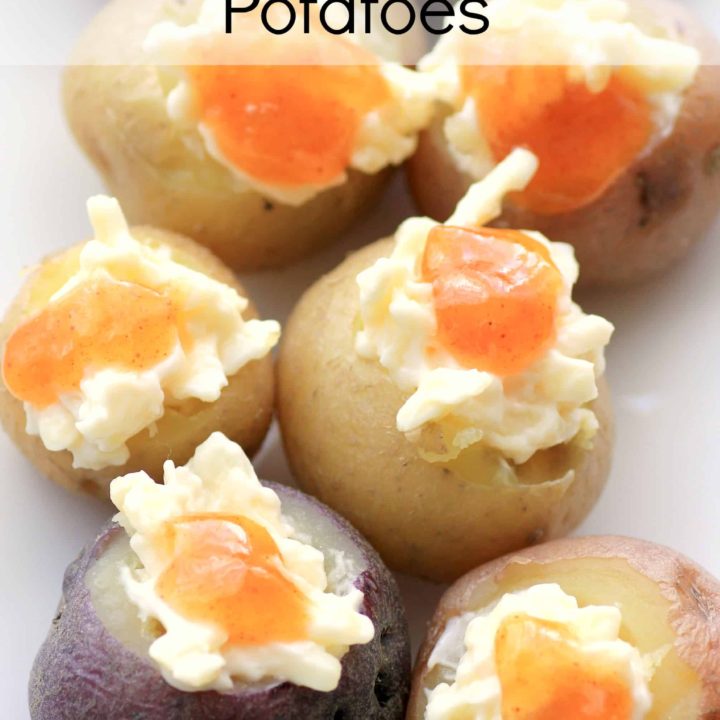 Cheese and Chutney Stuffed Creamer Potatoes
Prep Time: 20 minutes
Cook Time: 15 minutes
Total Time: 35 minutes
Four ingredients are all that it takes to make this super flavorful potato appetizer.
Ingredients
1.5 lb. Little Potato Co. Creamer Potatoes
Salt
100 gms. (3.5 oz.) Britannia cheddar cheese (or any sharp cheddar), grated
Scant 1/2 cup mayonnaise
Sweet mango chutney
Instructions
Boil potatoes in salted water for about 15 min. or until just fork tender. Let cool. Meanwhile mix cheese and mayonnaise together. Set aside or if making ahead refrigerate.
Sit each potato on the counter to find the flat side. With a sharp knife cut the top off of each potatoes. Cut all the way around so not to tear the skin. With a grapefruit spoon cut out a small circle of the potato. Fill with a small amount of the cheese and place on a serving platter. Top each potato with a small amount (1/2 tsp.) of the chutney.
Tip: The potatoes can be served at room temperature or slightly warmed and then topped with the chutney.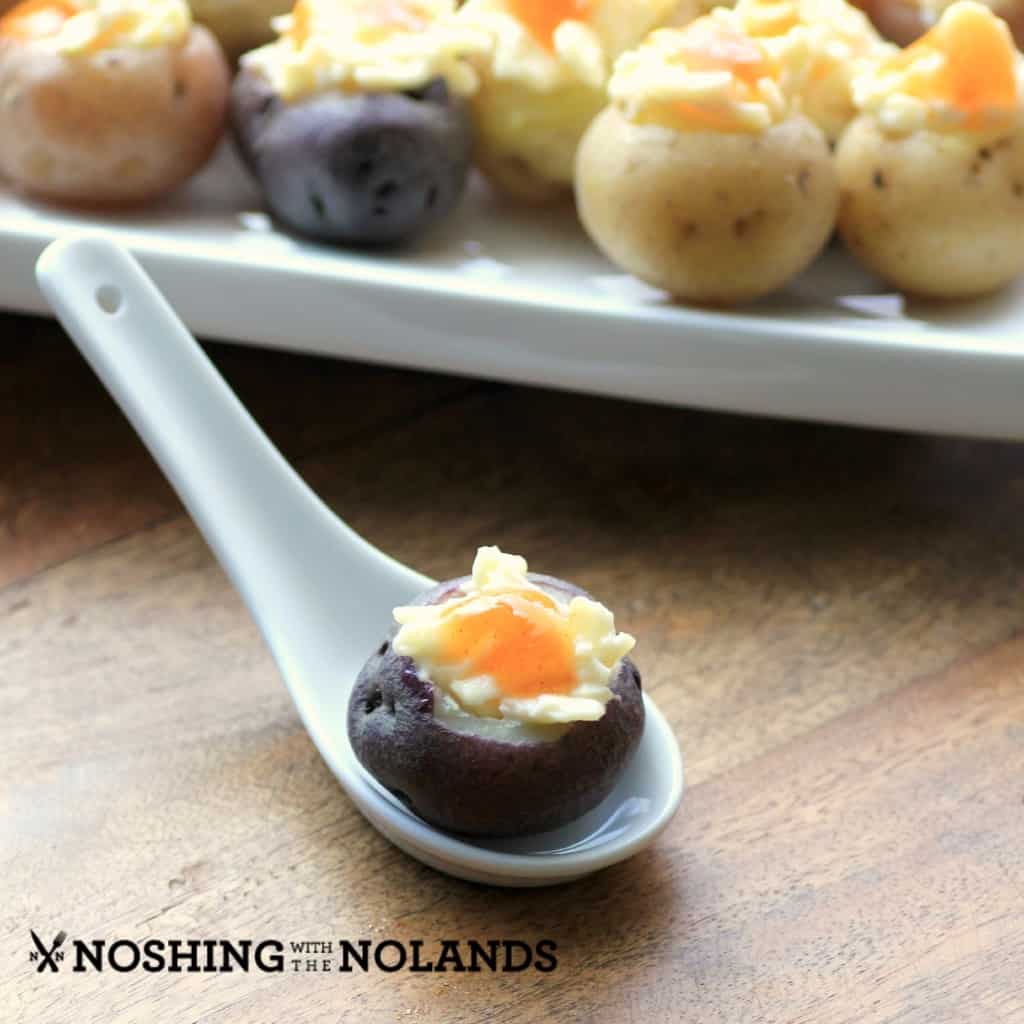 For this month we have a fun giveaway of one free month of Little Potatoes Company Potatoes. The giveaway is available for Canada and the US. Think of all the wonderful dishes you can make with these little potatoes!! The contest ends on April 22 at 12:00am.
a Rafflecopter giveaway