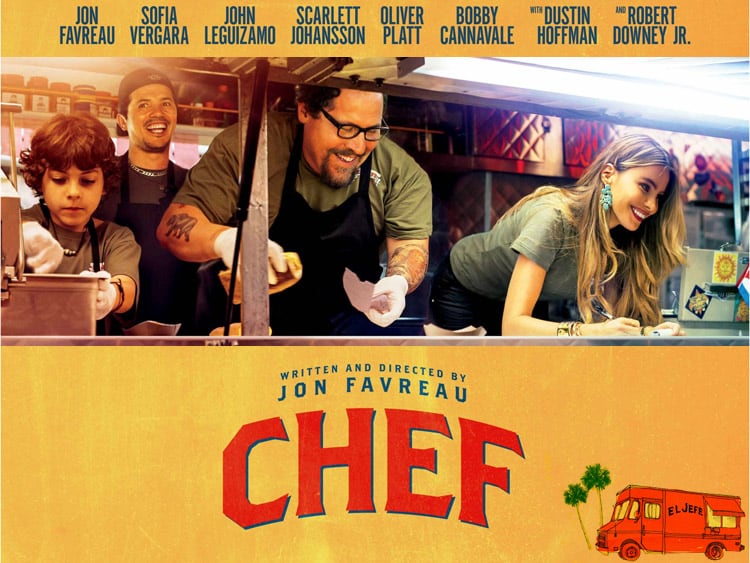 This is not a spoiler, don't worry. I saw this movie yesterday and loved every breathing second of it. The acting was amazing!! The movie is about Chef Carl Casper (Jon Favreau) who loses his restaurant job and starts up a food truck business while trying to piece together his estranged family. The movie has an all star line up with Sofia Vegara, John Leguizamo, Scarlett Johansson, Dustin Hoffman, Robert Downey Jr., and Bobby Cannavale.
Jon Favreau, not only acted in the lead, but directed and wrote this poignant comedy that is 115 min. long but moves through without a glitch. I think this is his best movie he has ever done and will be something that his work will be remembered for, for a long time.
For a foodie like me I lapped up all the exquisite mouth watering foods that were shown throughout the movie. Load up on the popcorn and treats or it will kill you!! Chef Carl Casper is an artist pursuing her love, his dream, his passion. Through all this are wonderfully touching and comedic scenes that leave you wanting to know more about this man, his journey and his family. The all star cast provides for great entertainment and Sofia Vegara, who plays Carl's ex-wife gives a warm and likeable performance away from her usual character roles.
Robert Downey Jr., one of my favorite actors, takes on a small but enjoyably zany role.
Social media, mainly Twitter plays a significant role in this movie, which for me is my everyday existence and I loved how they incorporated graphics of the little blue bird fluttering around. The soundtrack is very enjoyable also.
See it, love it and gobble up every second of this delightful movie. Here is a little taste for you!!