Today we are baking bundts, not just any bundts but rocky road bundts, well I love this combination of flavors. Nuts, chocolate, dried fruits, marshmallows and cookies if you like. This is the English version of the rocky road . Today's bundt is Cherry Chocolate Walnut Bundt and the event is hosted by the lovely Laura from Baking in Pajamas. Thank you so much Laura.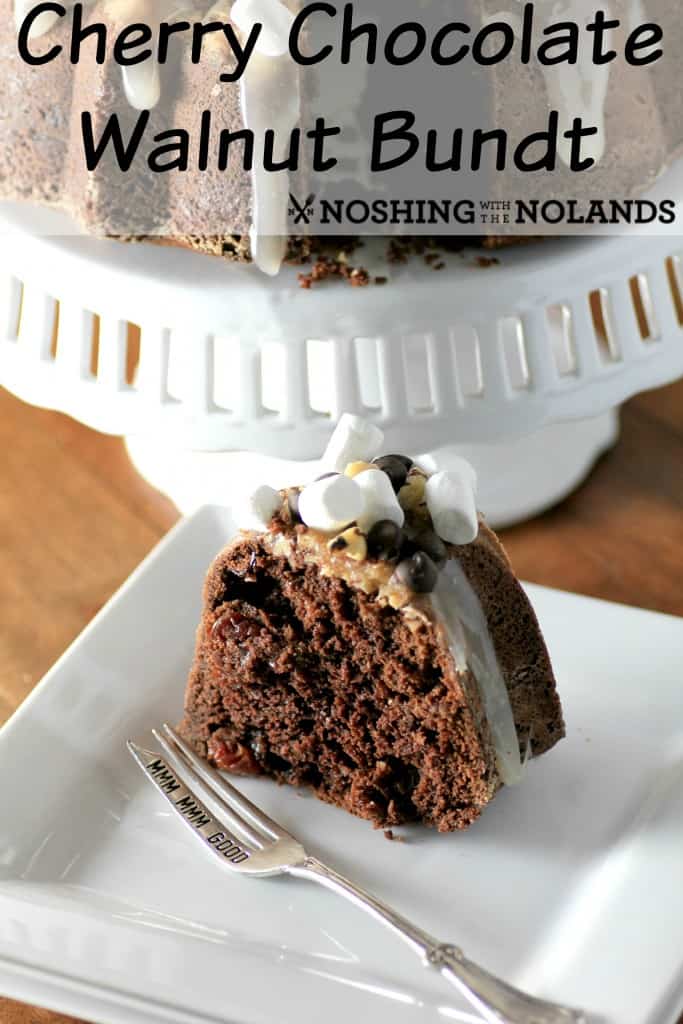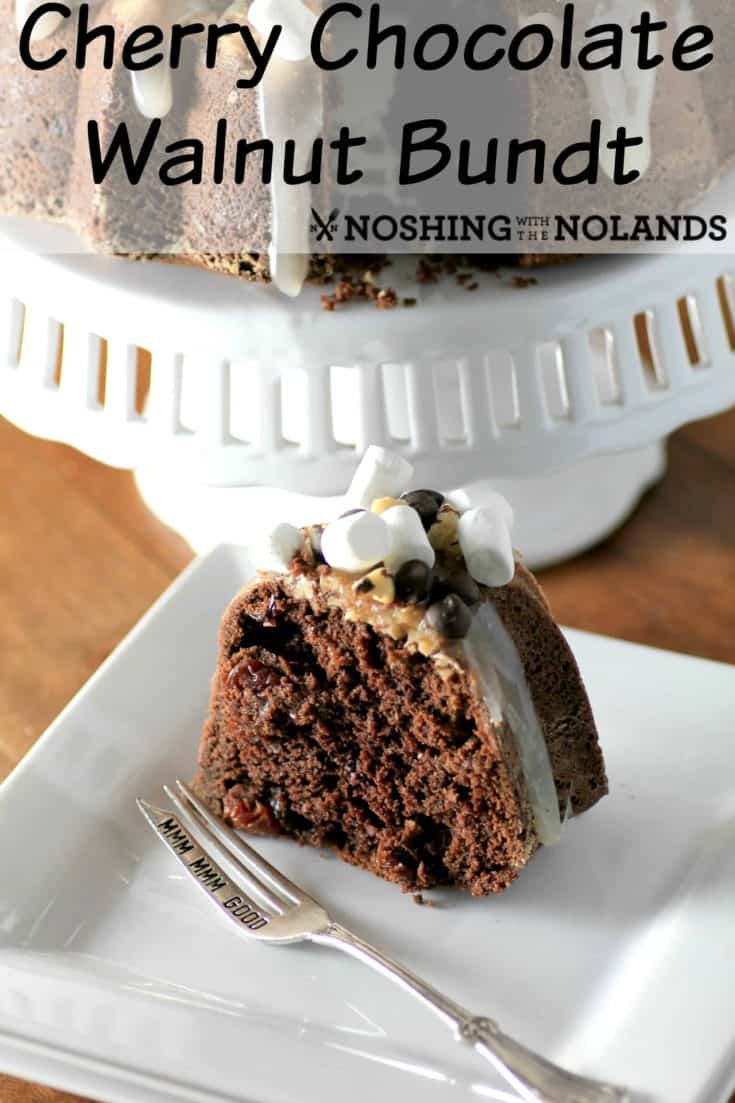 Not only is the outside loaded with flavor but the inside has wonderful dried cherries to add to the decadent chocolate cake. Under baking this slightly keeps it moister. I would take it out when just done at about 50-55 min. The glaze is melted marshmallows, cream and butter and it ooey gooey sticky yummy. And it works perfectly well in getting the topping to adhere to the cake!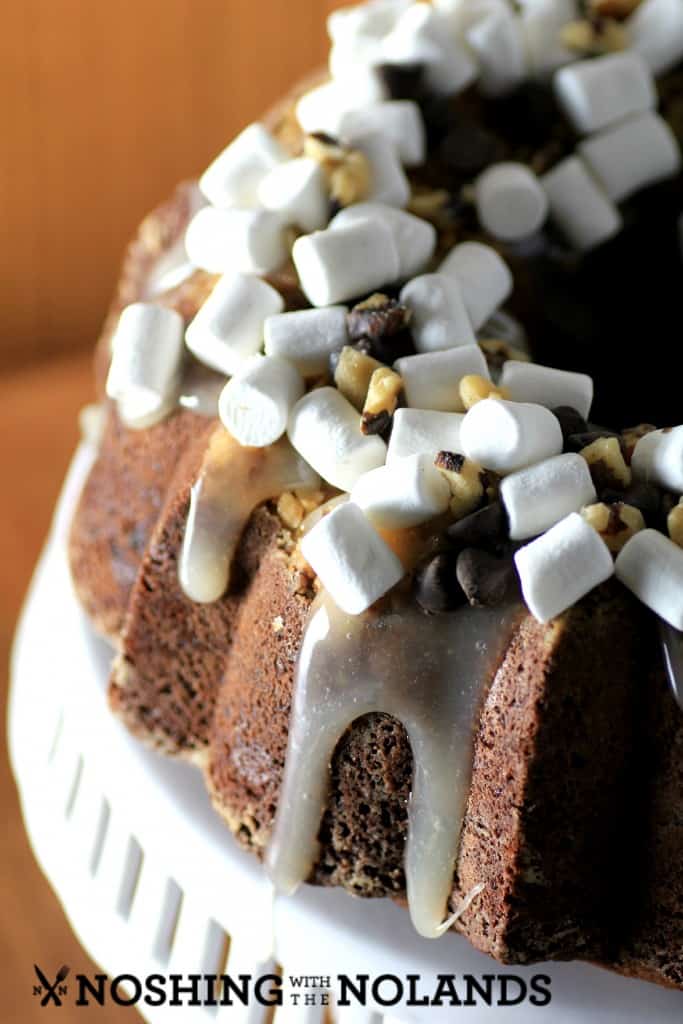 The top has a good solid layer of walnuts baked right into the cake, I can never get enough nuts. With this amount of nuts the cake just popped out the bundt pan without a problem.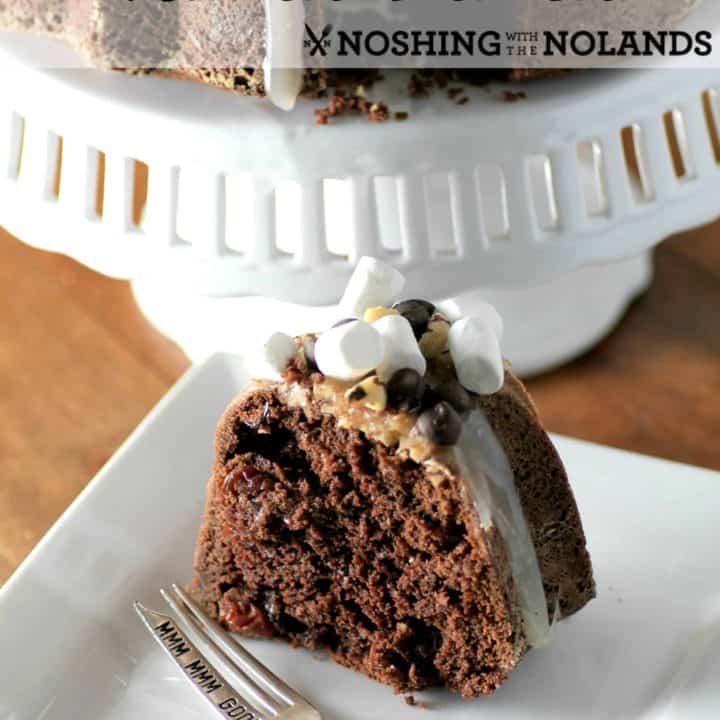 Cherry Chocolate Walnut Bundt #BundtBakers
Yield: 12 servings
Prep Time: 15 minutes
Cook Time: 55 minutes
Total Time: 1 hour 10 minutes
A gorgeous rich chocolate cake with the additions of rocky road flavors!!
Ingredients
1 cup chopped walnuts
1/2 cup butter
1 1/2 cup sugar
2 eggs
1 1/2 tsp. vanilla
2 cups flour
1/4 cup cocoa
1 tsp. baking soda
1/2 tsp. salt
4 oz. melted dark chocolate chips, cooled slightly
1/2 cup sour cream
1/2 cup half and half
1 cup dried cherries, 1/4 cup diced
Glaze
2 cups mini marshmallows
2 Tbsp. half and half cream
1 Tbsp. butter
Toppings
Mini marshmallows
Walnuts
Dark Chocolate Chips
Instructions
Grease and flour a bundt pan. Pour the walnuts in the bottom. Preheat the oven to 350F.
In a standup mixer with a paddle attachment. Cream butter and sugar together, add eggs and vanilla and mix until smooth. Whisk flour, cocoa, baking soda and salt together. Add to the batter alternating with the cooled melted chocolate. Add the sour cream and half and half. Mix well scraping down the sides as needed. Fold in the cherries
Bake for 50-55 min. until a cake tester comes out clean. Don't over cook.
Just before serving, melt the marshmallows, cream and butter in a microwave safe dish on half power for 2 min., stirring at 30 second intervals until melted and smooth. Pour over the bundt cake and top with mini marshmallows, walnuts and chocolate chips. Serve with vanilla ice cream if you like also!!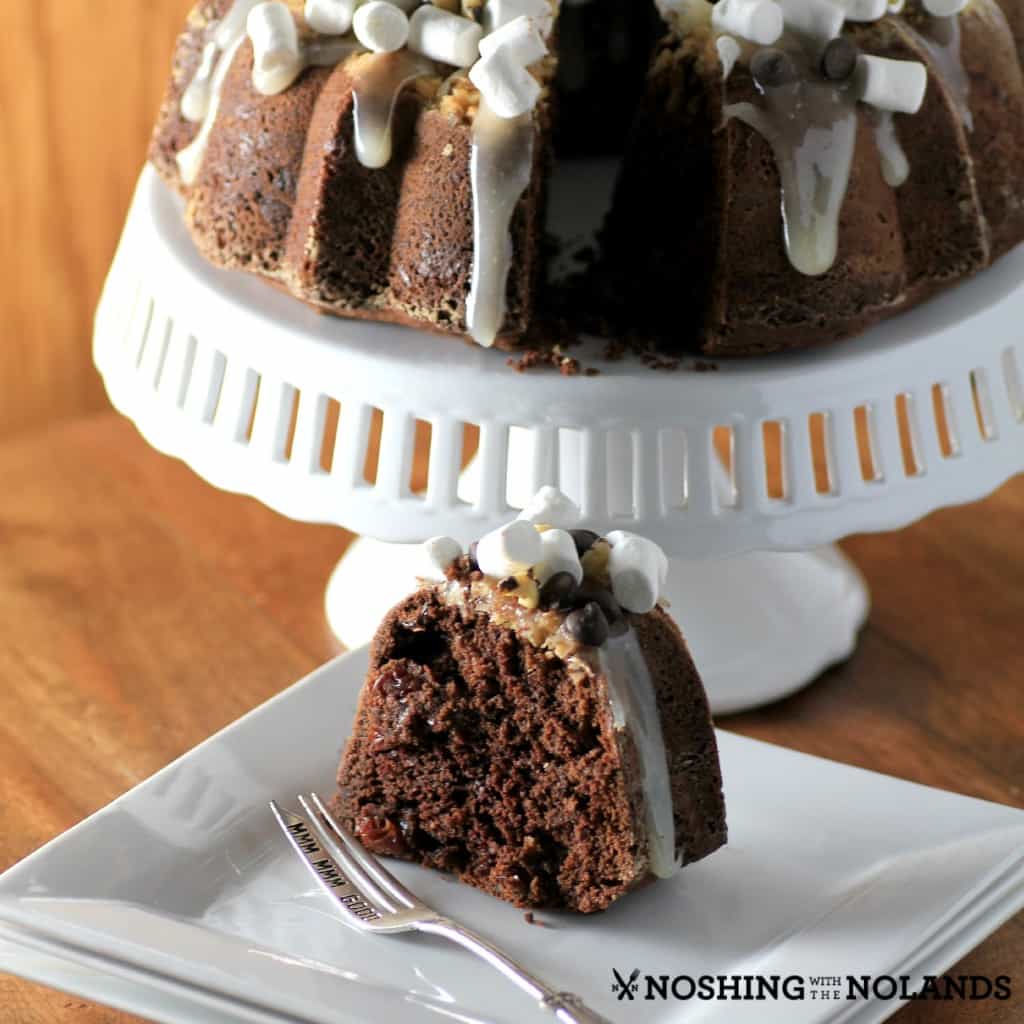 #BundtBakers is a group of Bundt loving bakers who get together once a month to bake Bundts with a common ingredient or theme.
Follow our Pinterest board right here. Links are also updated each month on the BundtBakers home page.
Check out all these wonderfully inspired Rocky Road bundts!!