Chevre Torte with Mango and Sweet Pepper Salsa for #SundaySupper
#SundaySupper is here again and what a great one this is. Huge variety!!! It is Cheese, Cakes, and Cheesecakes. What fun!! I decided to do a Chevre Torte with Mango and Sweet Pepper Salsa for #Sunday Supper, savory cheesecake.
One that I have made many times before and makes a great sit down appetizer. The pairing of the cheese with the sweet salsa is fabulous.
You can make it in a small springform pan and it will be thicker or if you make it in a larger one as I did you have more to go around and it is not quite as filling for an appetizer. Appetizers are one of my favorite things to make and this one you can either dress up or dress down for the occasion.
It can be served warm, at room temperature or a little chilled, your choice. It can be made ahead along with the salsa and chilled until ready to serve.
The recipe is from the Chatelaine Food Express Starters cookbook which has many other great recipes that I have tried. Try this one on for size for your next dinner party or gathering.
Happy #SundaySupper!!!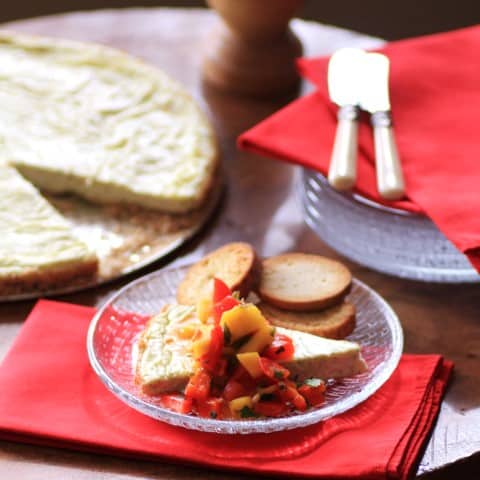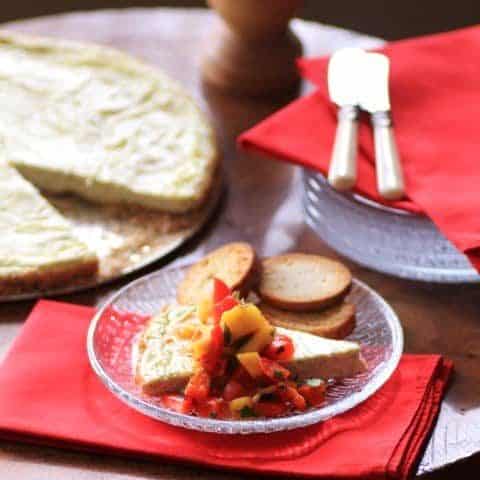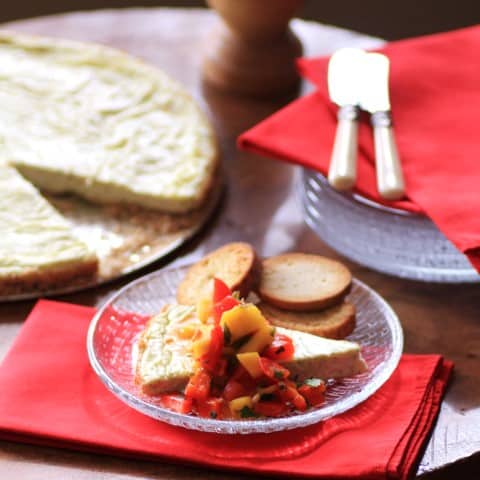 Chevre Torte with Mango and Sweet Pepper Salsa for #SundaySupper
Yield: 10 Servings
Prep Time: 30 minutes
Cook Time: 1 hour
Total Time: 1 hour 30 minutes
A wonderful savory cheesecake!!
Ingredients
1/2 cup dry bread crumbs
3 Tbsp. hazelnuts
140 gm. chevre cheese, plain
250 gm. package light cream cheese
3 eggs
2 small cloves of garlic, minced
3 Tbsp. chives, chopped
1/4 tsp. each salt and black pepper
Butter for the springform pan
Salsa
3 red peppers, halved and seeded
2 jalapenos, halved and seeded
3 Tbsp. lemon juice
3 Tbsp. olive oil
1 clove garlic, minced
Salt and pepper to taste
1 ripe mango, peeled and chopped
1/4 cup chopped fresh cilantro
Crackers for serving
Instructions
For the salsa, preheat the broiler. Broil the peppers and jalapenos on a baking sheet until just slightly singed on the edges.
Turn and continue to broil until softened about 15 to 20min. You might not want to have the pepper really close to the broiler element as you don't want them blackened.
In a bowl stir together the lemon juice, olive oil, garlic, and salt and pepper. Add the mango.
Without peeling coarsely chop the red pepper and finely chop the jalapenos. Stir into the mango mixture and add the cilantro.
Refrigerate until ready to use.
Preheat oven to 350F. Generously coat an 8 1/2" springform pan with butter.
In a food processor whirl the bread crumbs and the hazelnuts. Press lightly into the buttered pan. Coat up the sides of the pan also about 1".
Wipe out the processor and whirl together the chevre and cream cheese. Add the eggs, garlic, chives and salt and pepper, and whirl to mix well.
Pour over crumbs and spread evenly. Bake for 35-40 min. until the center seems firm when jiggled. Let cool at least 10 min.
About 20 min. before serving let the salsa come to room temperature. Serve slices of the chevre torte with the salsa and Melba toasts like crackers.
Nutrition Information:
Yield: 10
Serving Size: 1
Amount Per Serving:
Calories: 239
Total Fat: 16g
Saturated Fat: 7g
Trans Fat: 0g
Unsaturated Fat: 8g
Cholesterol: 82mg
Sodium: 337mg
Carbohydrates: 15g
Fiber: 2g
Sugar: 8g
Protein: 9g
Recipe calculation was provided by Nutritionix and is estimation only. If you need nutritional calculations for medical reasons, please use a source that you trust.
Adapted from Chatelaine Food Express Starters Cookbook
Cheese
Cakes
& Cheesecakes
Join the #SundaySupper conversation on twitter each Sunday.
We tweet throughout the day and share recipes from all over the world. This week we will be sharing our love of Cheese, Cakes, AND Cheesecakes! Our weekly chat starts at 7:00 pm EST!
Join us Around the Family Table this Sunday at 7 PM Eastern Time and share your favorite Cheese, Cake, and Cheesecake Recipes with us!