Chicken Breasts with Spinach and Ricotta
Today I have a cookbook and a diet for you. I have not tried the diet, so I am not endorsing it in any way but making you aware of it through this cookbook review and the recipe Chicken Breasts with Spinach and Ricotta.
The diet came twofold, one in the shape of a small paperback called the 5:2 Diet and then the other with a cookbook entitled The 5:2 Diet Cookbook filled with delicious-looking recipes.
The premise of the 5:2 diet is to feast for 5 days and fast for two.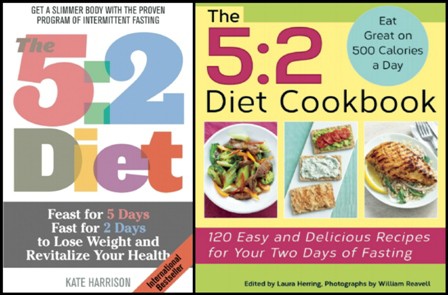 You limit your caloric intake to 500 calories just two days a week, eat whatever you want the other five days, and lose weight doing it. It is also called Alternate Day Fasting (ADF).
They say you will learn how to slim down naturally, increase energy, reset your metabolism and heal your body on a cellular level, while also fighting the onset of cancer, diabetes, and heart disease.
The 5:2 cookbook helps you with your fasting days. It has over 120 recipes and 60 full-color pictures. I decided to try the Chicken Breasts with Spinach and Ricotta. You would never know that it is only 360 calories.
My family wanted the orzo and carrots, which is not included but lovely asparagus is!!! My chicken breasts were pretty small too, you could get 5 1/4 oz. ones.
I might have overdone the pancetta, I think you are only allowed one strip/slice per breast. All in all, this was a delicious meal!! I loved smelling the rosemary while the dish baked. The whole house was filled with its aroma!!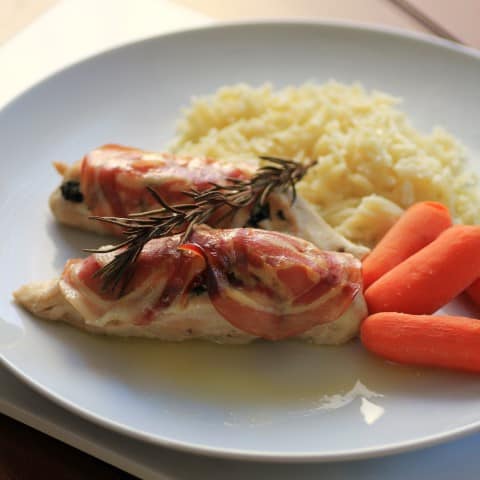 And There's More!
There are other recipes like Glazed Chicken Wings, Butternut Squash Soup with Parmesan Crostini, Steak with Pepper Sauce, Fettucine with Gorgonzola, and Spinach and Roasted Chicken with Deviled Sauce.
There is a helpful meal plan in the back of the cookbook utilizing all the recipes. All of which are under 500 calories.
Kate Harrison who is the author of the paperback 5 and 2 Diet is an accomplished author, novelist, and journalist.
She has also been a reporter and producer in news, investigative/consumer shows, food programs, and documentaries.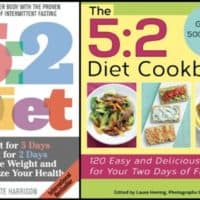 Chicken Breasts with Spinach and Ricotta
Yield: 4 Servings
Prep Time: 30 minutes
Cook Time: 40 minutes
Total Time: 1 hour 10 minutes
Ricotta cheese makes this meal light the spinach and pancetta add all the flavor you will need.
Ingredients
2 oz. baby spinach
3.5 oz. ricotta cheese
1 oz. freshly grated Parmesan cheese
Freshly grated nutmeg
4 x 5.25 oz. boneless, skinless chicken breasts
4 slices smoked pancetta
4 rosemary sprigs
2/3 cup dry white wine
1 1/4 cup hot chicken stock
2 Tbsp. butter, chilled and diced
9 oz. asparagus
salt and pepper
Instructions
Preheat oven to 400F. Wilt the spinach in a pan and squeeze out the excess water, then roughly chop and place in a bowl. Add the ricotta, Parmesan, and plenty of nutmeg, salt, and pepper. Mix together well.
Using a sharp knife, make a deep horizontal slit in each chicken breast through the thicker side, to make a pocket. Spoon the filling evenly into the chicken pockets.
Wrap a slice of pancetta around each chicken breast, tucking a rosemary sprig into each. Secure with a toothpick, if necessary.
Lay the chicken breasts in a wide shallow pan or ovenproof casserole and pour in the wine and stock. Cook in the oven for 30-40 min. until cooked through. remove the chicken breasts with a slotted spoon and keep warm.
Bring the liquid to a boil. Simmer rapidly until reduced by half. Remove from the heat and whisk in the cubed butter, to enrich the sauce and to give it a shine. Taste and adjust the seasoning. Steam the asparagus until tender.
Serve the chicken breasts on a plate with some asparagus alongside and a little sauce spooned over the top.
Nutrition Information:
Yield: 4
Serving Size: 1
Amount Per Serving:
Calories: 591
Total Fat: 32g
Saturated Fat: 13g
Trans Fat: 0g
Unsaturated Fat: 15g
Cholesterol: 178mg
Sodium: 521mg
Carbohydrates: 10g
Fiber: 2g
Sugar: 3g
Protein: 58g
Recipe calculation was provided by Nutritionix and is estimation only. If you need nutritional calculations for medical reasons, please use a source that you trust.