Chicken Mole Potato Skins for Cinco de Mayo #SundaySupper
Chicken Mole Potato Skins for Cinco de Mayo #SundaySupper. We are celebrating Cinco de Mayo on #SundaySupper today!! Ole!! I loooooove Mexican food, can't get enough!! We were all at a small Mexican store just a couple of weeks ago as Ken was hunting for some jarred whole jalapeno peppers. While there we bought lots of wonderful meals and items. One of them was a jar of mole sauce or paste. Although I had no idea what I would make with it at all. Then I looked at this week's event and it is Mexican!!
Mole
I started to think about that jar of mole, pictured it with chicken but then what to do with it. For some reason potato skins popped into my head but I didn't want them deep fried but healthier, so here is my recipe for Chicken Mole Potato Skins. They turned out to be absolutely fabulous. Something I will for sure make again and again. A new found Mexican treat!! We all loved them so much!! Plus the homemade salsa went perfectly!!! Enjoy this week's recipes and may they take you to a little sunny spot in beautiful Mexico!!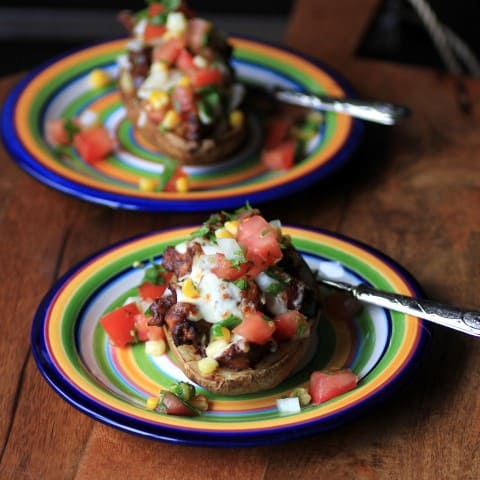 Chicken Mole Potato Skins for Cinco de Mayo #SundaySupper
A delicious Mexican meal!!
Ingredients
3 large baking potatoes, washed and dried
Cooking spray
400 gm. of cooked chicken
¼ cup mole paste
1 cup chicken broth
¾ cup mozzarella, shredded
Salsa
1 cup frozen corn, defrosted
1 large tomato, chopped
⅓ large sweet white onion, chopped
½ cup cilantro, chopped
juice of one lemon
Salt to taste
Instructions
Preheat oven to 350F. Spray potatoes with cooking spray evenly and place on a small baking pan. Bake for approx. 1 hour or until done. Let cool enough to handle.
Mix salsa ingredients together and refrigerate. Shred chicken and set aside.
Mix mole with the chicken broth and heat in a medium saucepan, whisking to mix together.
Preheat oven to 475F. When potato are slightly cooled slice in half lengthwise and scoop out some of the middle the potato to desired thickness. Spray the cavities with cooking spray and return to the oven to brown, 10-15 min. Add the chicken to the mole sauce and heat through.
Fill the potato skins with the chicken mole and divide the mozzarella cheese among the potatoes. Broil until the cheese melts and is lightly browned, 2-3 min.
Top each skin with salsa and serve immediately.
Look at all the wonderful recipes to celebrate Cinco de Mayo, ENJOY!!!
Cinco de Mayo Appetizers & Sides {Aperitivos}:
Cinco de Mayo Main Dishes {Platos Principales}: Part 1
Cinco de Mayo Main Dishes {Platos Principales}: Part 2
Cinco de Mayo Desserts {Postres}:
Cinco de Mayo Drinks {Bebidas}: