Chicken Noodle Soup
This is the best soup at anytime of the year. Nothing better than a good old fashioned big bowl of chicken noodle soup. Cures what ails you!!!
This is an easy recipe using the carcass of a pre roasted chicken from the store. I like to cook it in chicken broth, you won't believe how much flavor you get!!! You can have this soup on the table in no time and it looks like you slaved all day!!! Save the other half of the chicken for sandwiches. I used butternut squash instead of carrots and it gave such a nice flavor. Everyone raved over this soup. Enjoy!!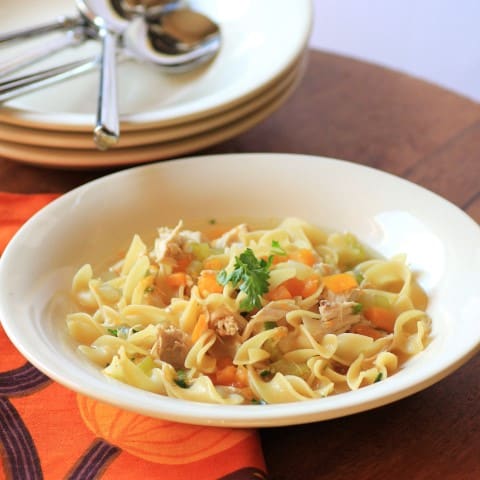 Chicken Noodle Soup
A classic old fashioned bowl of chicken noodle soup!!
Ingredients
2-900 ml. chicken broth
2 cups water
Pre roasted chicken, meat removed and carcass reserved
1 sweet onion, diced
¼ butternut squash, diced
3 stalks celery, diced
1 Tbsp. olive oil
Bay leaf
2½ cups no yolk egg noodles
Salt and pepper to taste
Instructions
In a large pot add the broth, water and chicken carcass. Boil for 30-40 min. Drain reserving the broth and discarding the carcass.
In the same pot add the olive oil and heat over medium heat. Saute the onion, squash and celery, until the onion is translucent. Add back the broth with the bay leaf. Bring to a boil and add ½ of the chicken reserving the other ½ for another use. Add the egg noodles and cook per manufacturers instructions. Adjust seasoning with salt and pepper.