I love veal or chicken parmesan!!! One of our favorites, so I started thinking about something slightly different. Little mini sliders!! Kids will go crazy for these plus the whole family will love them too. They are quick and easy especially with store bought tomato sauce.
Crispy chicken and melty mozzarella and parmesan, oozing with a great tomato sauce. You have to try these little sliders. Add your favorite tomato sauce!! Make it your own!! ENJOY!!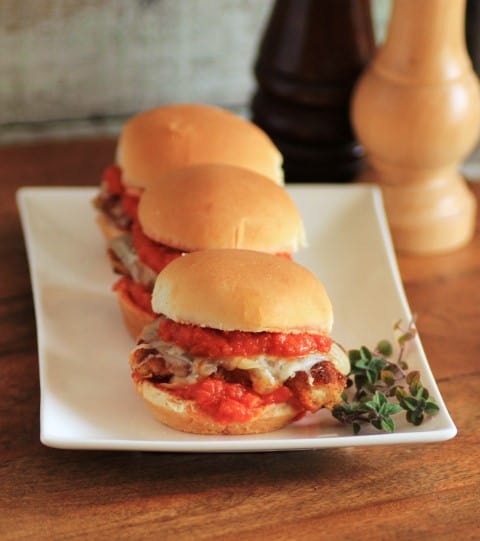 Chicken Parmesan Sliders
A twist on a classic chicken parmesan!!
Ingredients
10 slider buns
2 large chicken breasts, pounded thinly
Scant ½ cup flour
Scant 1 cup bread crumbs
1 tsp. garlic powder
1 tsp. oregano
1 tsp. basil
Salt and pepper to taste
1 egg, beaten with a splash of milk or water
Mozzarella cheese, sliced
Parmesan cheese, grated
Homemade or store bought tomato sauce
3 Tbsp. Canola oil for frying
Instructions
Cut each breast into 5 pieces. Add salt and pepper to taste in the flour. Add the garlic, oregano, basil, salt and pepper to taste in the bread crumbs. Arrange three dishes, one with the flour, then one with the egg and lastly one with the bread crumbs. Dredge the chicken in the flour, then egg and then bread crumbs.
Heat the tomato sauce in a small pot and keep warm.
In a large fry pan add the canola oil and heat over medium heat. Fry the chicken until lightly browned and cooked through. Place the chicken in a 9 x 13" pan and top each with mozzarella cheese and a grating of Parmesan. Broil until the cheese is lightly browned and melted.
Slice each slider in half. Place a dollop of tomato sauce on the bun and top with the chicken followed by another dollop of sauce. Serve immediately.