Cookbook review day and it is a Diabetic-Friendly cookbook that everyone will love!! Quick & Easy Chicken by Linda Gassenheimer. From this cookbook we chose the extremely delicious Chicken Parmesan with Basil Linguine. I was blown away with how fantastic this one was. So easy and so full of flavor.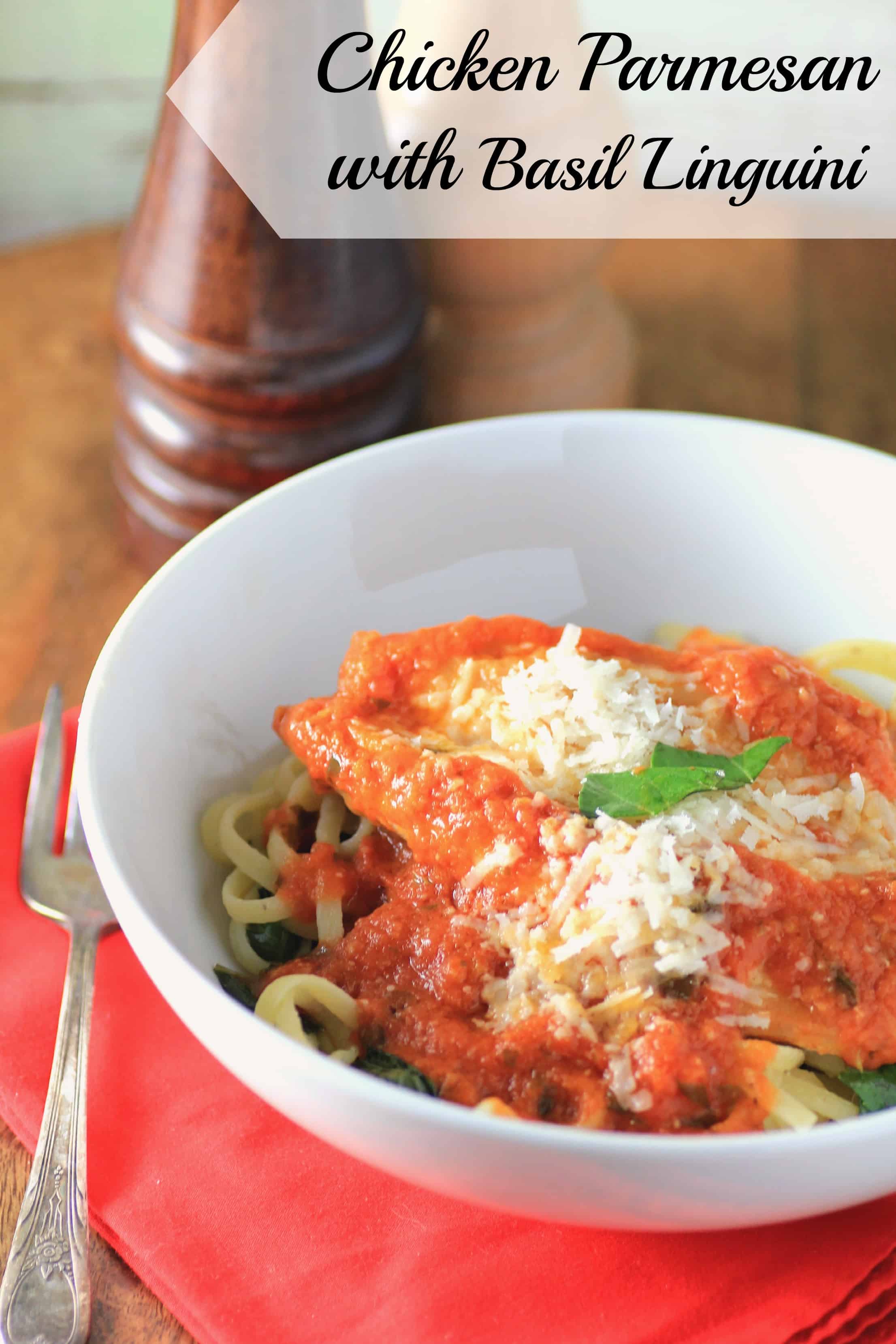 This recipe was so good. Was it that I used fresh thinly sliced chicken, that cooks up so fast. Could it have been the simple and amazing Basil Linguini or the perfectly balanced tomato sauce. Maybe it was a combination of all three. We all loved it and it was a nice change up from the BBQ but still not having the oven on.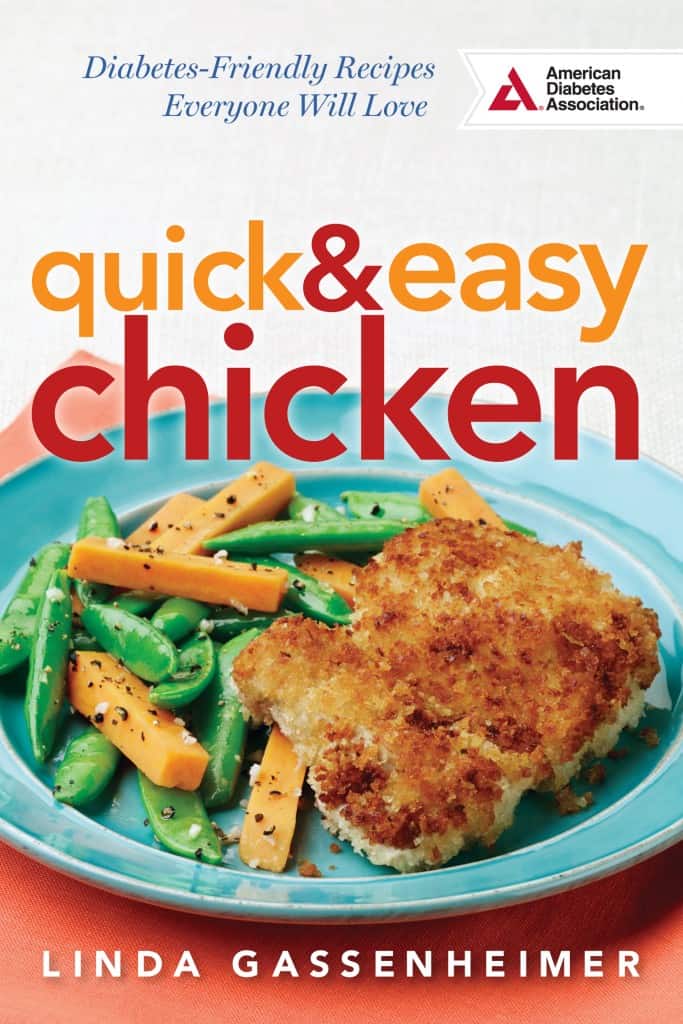 The cookbook is full of hearty, healthy meals that can be done in a hurry. Recipes like Brazilian-Style Chicken and Quinoa, Italian Meat Loaf with Hot Pepper Lentils, Curry-Kissed Chicken with Rice and Carrots and Sun-Dried Tomato and Chicken Sandwich. I love the added recipe like the linguine, quinoa, lentils etc. that accompanies the main just perfectly.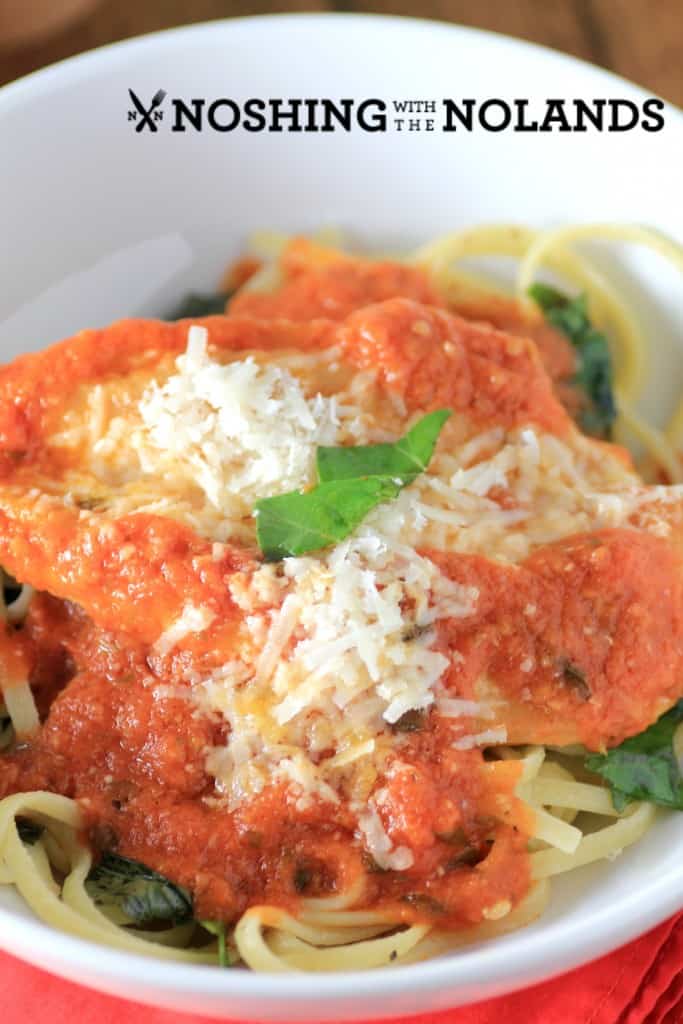 The American Diabetes Association has teamed up with best-selling author Linda Gassenheimer to give you this collection of recipes in Quick and Easy Chicken. There are dozen upon dozens of recipes that take you around the world with comfort chicken dishes. Grilled, sauteed, roasted or poached you will love how incredibly versatile chicken can be. All recipes are complete with exchanges and nutritional information.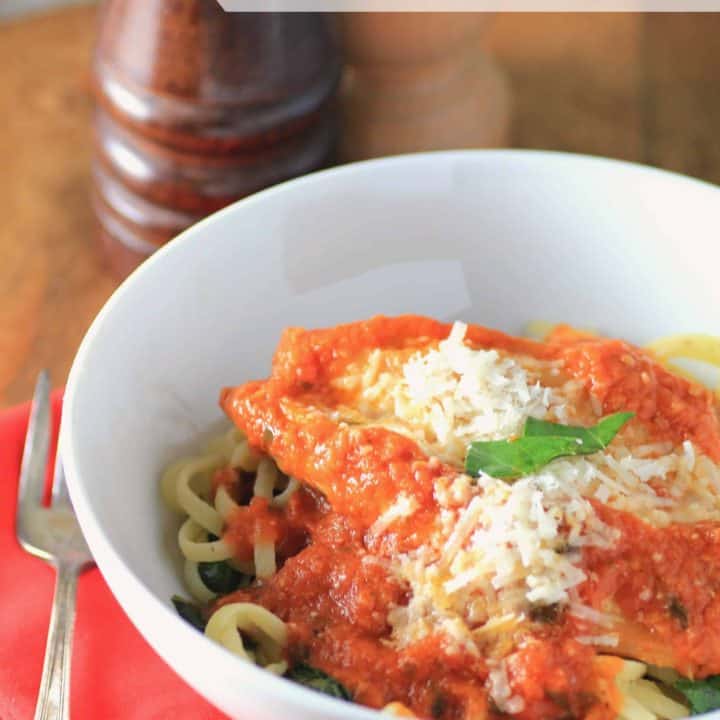 Chicken Parmesan with Basil Linguine
Chicken breasts cooked in a spicy tomato sauce and topped with parmesan cheese is an Italian comfort food that has become one of America's favorite meals.
Ingredients
Chicken Parmesan
2 tablespoons flour
Salt and freshly ground black pepper, to taste
3/4 pound boneless, skinless chicken breasts
2 teaspoons olive oil
1 cup low-sugar, low-sodium marinara sauce
2 teaspoons minced garlic
Several drops hot pepper sauce
2 tablespoons freshly grated parmesan cheese
Basil Linguine
1/4 pound whole-wheat linguine
2 teaspoons olive oil
1/2 cup snipped basil leaves
Salt and freshly ground black pepper, to taste
Instructions
Chicken Parmesan
Add flour to a plate and sprinkle with salt and pepper to taste. Roll the chicken breasts in the flour mixture, making sure all sides are covered. Shake off excess and set aside.
Heat oil in a medium-size nonstick skillet over medium-high heat. Add chicken and brown 3 minutes. Turn and brown 3 more minutes.
Add marinara sauce, garlic, and hot pepper sauce. Mix to combine ingredients. Bring to a simmer, cover with a lid, and simmer 2 minutes; do not boil. A meat thermometer inserted into chicken should read 165°F.
Add salt and pepper to taste. Sprinkle parmesan cheese on top.
Exchanges/Food Choices: 1 other carbohydrate, 5 1/2 lean protein, 1 fat
Per serving: Calories 350, Calories from Fat 110, Total Fat 12 g, Saturated Fat 2.5 g,
Monounsaturated Fat 5 g, Cholesterol 135 mg, Sodium 200 mg, Potassium 1020 mg,
Total Carbohydrate 16 g, Dietary Fiber 3 g, Sugars 7 g, Protein 43 g, Phosphorus 455 mg
Basil Linguini
Bring a large pot filled with 3–4 quarts water to a boil.
Add the pasta and cook 3–4 minutes if fresh, 10 minutes if dried, or according to package instructions. Remove 2 tablespoons cooking water to a bowl and set aside.
Drain pasta. Add the olive oil to the reserved water and mix. Add pasta and basil to bowl and toss well. Add salt and pepper to taste.
Divide between 2 dinner plates, and spoon the chicken and sauce on top.
Exchanges/Food Choices: 2 starch, 1 fat
Per serving: Calories 240, Calories from Fat 45, Total Fat 5 g, Saturated Fat 1 g,
Monounsaturated Fat 3.5 g, Cholesterol 0 mg, Sodium 5 mg, Potassium 140 mg,
Total Carbohydrate 43 g, Dietary Fiber 5 g, Sugars 2 g, Protein 9 g, Phosphorus 150 mg
Linda Gassenheimer, the author is a TV and radio personality, syndicated journalist, best-selling author, spokesperson and food consultant.